Navigation apps are vital to reaching the destination as soon as possible: they show you roads, the estimated time, the price for paid roads, and potential public transport routes. So, knowing which one will better suit your situation is crucial.
Before we start
Save your time and let professionals resolve your issue in minutes!
Want to start solving your problem immediately? Experienced Howly troubleshooters can fix your issue ASAP. They're already waiting for you in the chat!
The benefits you'll get while troubleshooting your issue with Howly experts:
Qualified help with laptops HDD

Quick advice right in your device 24/7/365

Expert reply within 60 seconds

Clear step-by-step guidance

Limitless number of follow-up questions

Understanding and empathetic help till your laptop HDD issue is fully resolved

All answers you need in one place
As of today, there are only two worldwide popular services: Google Maps and Apple Maps. Like everything in our world, they have advantages and drawbacks. In this article, Howly experts compare features of the two most popular navigation services and tell you what's better: Apple Maps or Google Maps.
Availability
When picking between Google Maps VS Apple Maps, consider the first option is more accessible. You can launch GMaps on Android or iOS, use a web version or create a stand-alone app for your computer.
On the other hand, Apple Maps is available only as a built-in app for Apple devices under iOS, iPadOS, and macOS.
Google Maps are available in over 200 countries. It works with 70 languages, including even rarer ones, such as Cherokee and Welsh. On the other hand, Apple Maps is available in 80 countries, including Europe and North and South American countries.
So, technically speaking, in the availability battle "Apple Maps VS Google", the second version from Alphabet is more winning. But, general US, Canadian, or European users won't see that much difference.
Map design and interface
Both apps have a clean and modern user-friendly map design with intuitive icons. However, there are some distinctions between Google Maps VS Apple Maps. GMaps have a brighter and more colorful interface, even when the device sets a night theme. It launches with mixed satellite, traffic, and public transportation maps.
Apple Maps app offers four different maps, which you should switch manually. Their developers say their only focus is providing easy-to-read maps without visual clutter.
They both provide 3D map views. It will be easy to navigate in new places. But if you want to get a detailed description of some public places, consider GMaps. Apple Maps review has more basic features like working hours, contact numbers, and Tripadvisor rankings. If you want to view some landmarks, it may redirect you to their website or to a ticket dealer to buy tickets.
But Apple has a much cleaner map. While Google tries to show users as many place icons as possible, Apple tries to display them in a minimalistic manner, providing you with only crucial landmarks.
So if you prefer minimalistic maps, your winner in "Apple Maps VS Google Maps" is Apple's product. Google may seem too cluttered for you. But if you prefer to explore as much as possible on one map, choose GMaps. Apple navigation applications may seem too blank and hollow for you.
Navigation
Both applications provide step-by-step navigation with voice directions. So, when you say to your phone, "Give me directions to work", both apps will make the fastest possible route for you. But there are a lot of questions in forums asking, "Which is better: Google Maps or Apple Maps?". Howly experts gather the information that helps you to understand which option is more suitable for you.
GMaps offer you a mixture of navigation features, including real-time updates, alternative routes, public transportation with approximated prices, and lane guidance for highways.
It also has seamless transactions with Google Assistant, so you can use your voice to adjust your destination point or control app while driving. Unfortunately, the voice assistant feature is not seamless in the Google Maps iPhone app. You should tap on the mic icon, tell your request and wait for an answer from Google Assistant in the Maps app.
The compass method allows users to orient the map in the direction that they are going. It will be helpful while driving in the new city with many turns and interchanges.
Apple Maps also offers fine navigation with voice guidance, traffic updates, and alternative routes. But you should beware that sometimes their alternative routes can be too long. You can also ask Siri to change directions on Apple Maps.
You can also find here the Flyover feature that allows you to view major landmarks in big cities from the bird's point of view. Apple uses satellite and street-view information to build realistic 3D models of buildings. You can change viewing direction, move around, or even get an aerial 3D tour of some landmarks.
So, when you ask yourself questions like "Which is better, Apple Maps or Google Maps?" In terms of navigation, consider your operating system. If you are an Android user, GMaps gives you a more seamless user experience. But if you are using an iPhone, Apple apps will be more beneficial in terms of navigation.
Keep in mind your preferred transportation method while looking for the best map app for the iPhone. Apple Maps is perfect for cars and fine with public transportation only in big cities. Once you've decided to visit a small city or travel to Europe, GMaps will give you better navigation.
Real-time traffic data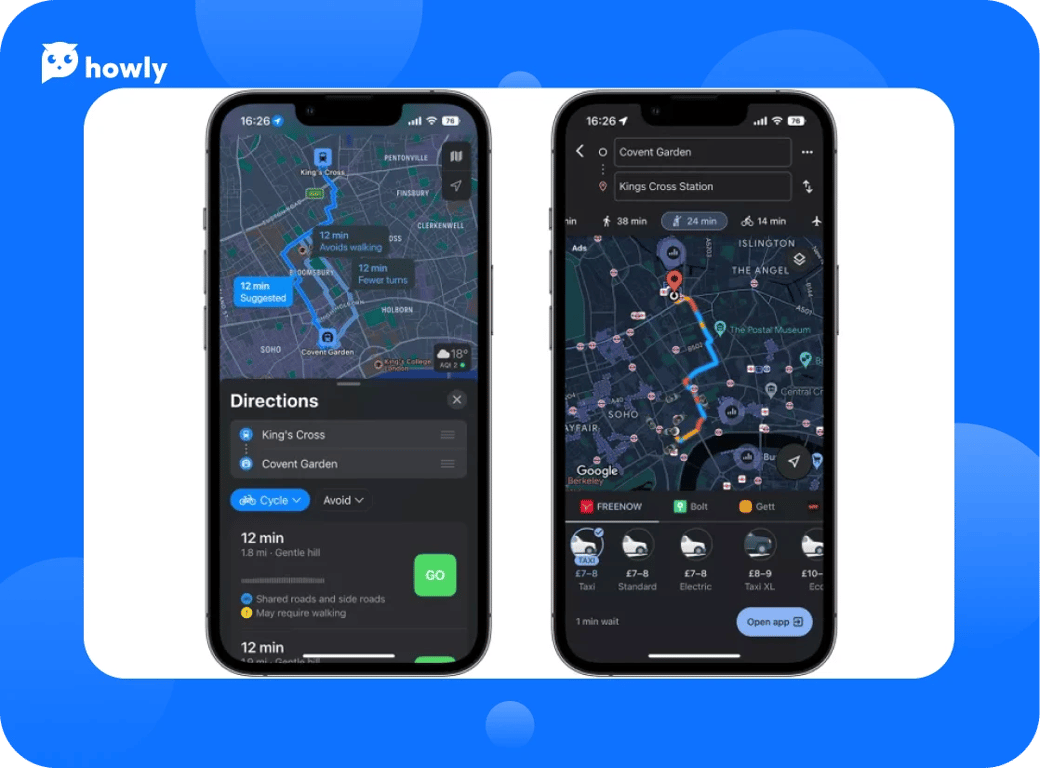 Both services provide it, so you can bypass jams and reach your destination on time. There is no such contrast between Google Maps and Apple Maps. Let's examine both apps more deeply.
GMaps provide reliable traffic data. This service uses ML algorithms to predict patterns and provide alternative routes. It gives fine public transport, cycling, and walking routes, which may benefit those who live in New York, Philadelphia, or other cities with adequate car alternatives. It also provides color-coded traffic that shows districts with heavy traffic which you should avoid.
Apple Maps also delivers real-time data. It works better with road traffic but worse with public transportation and walkable alternatives. This approach suits most American sites, but not European ones. And you should consider this information while choosing a navigation service.
So, while choosing Google Maps versus Apple Maps, consider the city where you live right now. If you have multiple router alternatives (like on a Europe vacation), try Google. But if you need correct information about car traffic, paid and free roads, and other car-related route alternatives, Apple Maps suits you perfectly.
Public transportation
As we said before, they both give information about public transportation. But in the public transportation battle between Google Maps VS Apple Maps, the first option is more comprehensive.
Apple Maps provide great public transport alternatives only for big cities. And yet it's fine for the US because there is poor public transportation outside big cities, which can cause a problem on a European trip. It doesn't have public transport alternatives for non-touristic cities, so it may be hard to plan a vacation there.
On the other hand, GMaps offers comprehensive public transportation both for small and big cities worldwide. It works perfectly in North America, Europe, and Australia, and fine in South America and Asia. It starts to face difficulties in building public transportation routes in Africa.
From the point of view of US or Canadian citizens, you may not see significant distinctions between Apple Maps and Google Maps while you are in your home country.
But once you decide to travel somewhere else and use public transport there, consider GMaps. This service will work fine even in small cities, while Apple Maps are suitable for cities like Paris or Berlin. Keep in mind that information while choosing the best map app for iPhone.
Street view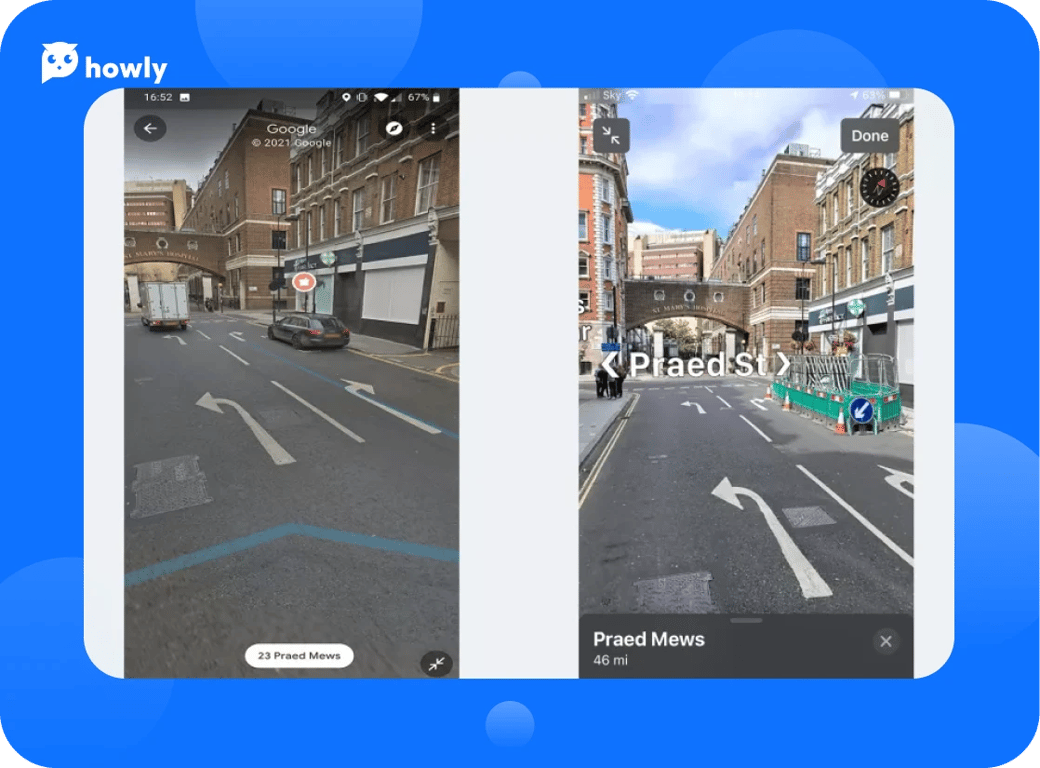 GMaps is famous for its Street View feature which is also available in the Google Earth app. This sub-service is widely known due to its availability almost everywhere. You can explore the streets of rural Australia, switch to Europe's landmarks and even take a glance at some small island cities in the middle of the Pacific Ocean.
Apple Maps also suggest a Look Around feature, but it works only in big cities. So in this battle between Apple VS Google Maps, the Gmaps service is more appealing. You can spend hours there, looking at the streets in different parts of the world.
Places of interest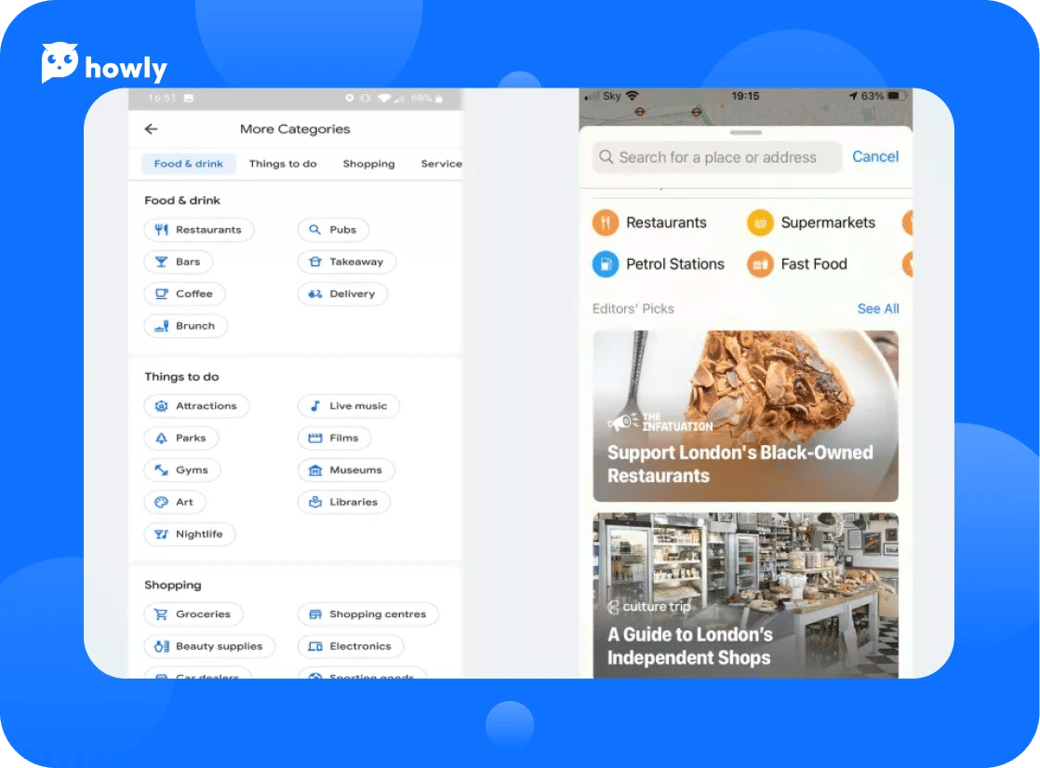 Both services provide users with features that help to find new areas of interest like museums, restaurants, theaters, etc. But which to choose in the battle of Apple Maps VS Google Maps depends on what you are looking for.
If you need to filter your results by diverse criteria and get fresh reviews about some place, choose GMaps. If you like to sort your favorite places, consider Apple Maps. Here you can use a Collections feature to save and organize spots into organized guides.
If you like to create reviews, Apple Maps help you to gather them together without visual clatter. In GMaps, your custom pins may get visually lost in the clutter from other places' icons.
Google Maps vs. Apple Maps: Discovery
Both Apple and Google Maps have features allowing users to find new spots. GMaps gives its users an Explore tab, which provides personalized recommendations on where to eat, drink or just hang around. You can find pizza places, restaurants, museums, and other attractions. It works fine both in big and small cities all around the world.
Apple Maps offers a Nearby feature for discovering interesting places. It has filters for different categories, which allows you to find places suiting your needs perfectly. Also, Apple offers you a Favorites feature authorizing you to keep your favorite spots on the checklist. Unfortunately, the Nearby feature works just in North America, the western part of Europe, and the biggest Asian metropolitan areas.
So, when you decide between Apple or Google Maps, you should rely on the place you are currently visiting. If you are traveling North America or some tourist places in Europe, both tools are completely fine.
But if you've decided to visit a country that is not as encouraging to tourists, it would be better to install GMaps. Is Apple Maps good in this situation? Not quite. It will fit your discovery needs in popular cities like Paris or Berlin. But once you decide to discover some small rural area, Google will be more beneficial to you.
Hands-free control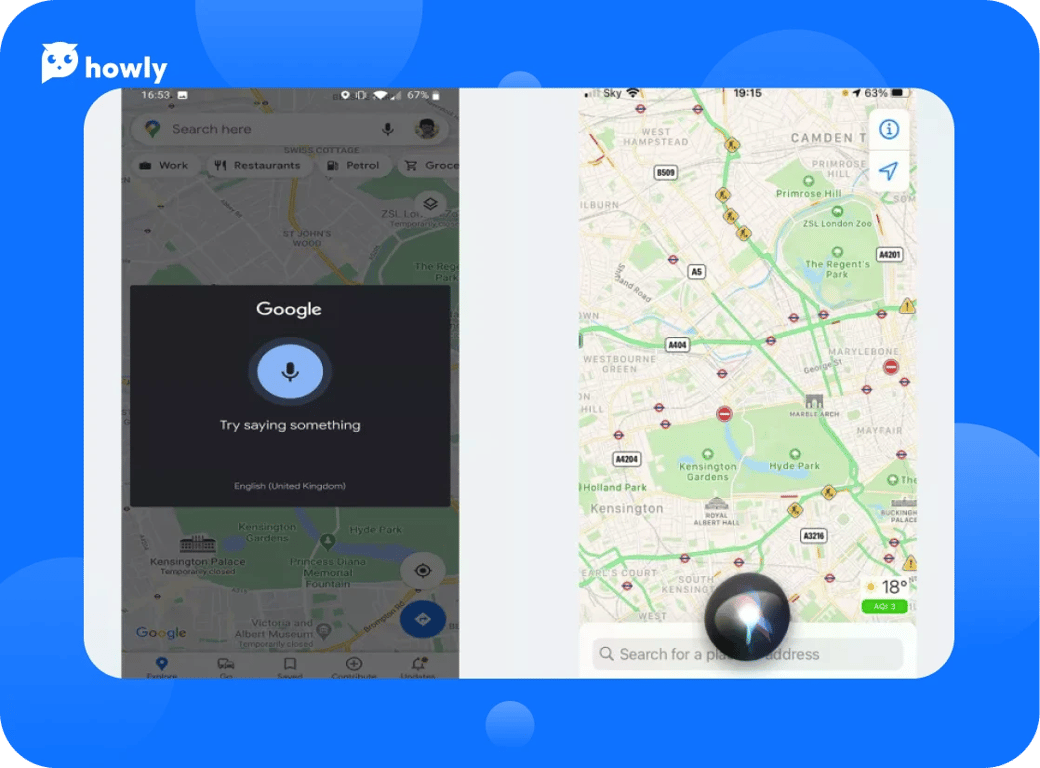 Both applications provide hands-free features that allow you to access basic features only with your voice. If you said to apps "Hey, start navigation to home", they both will build a route in less than a few seconds. But both have this feature only on a proprietary platform: GMaps has hands-free control only on Androids, and Apple Maps has its feature only on an iPhone and iPad.
So, if this feature is necessary to you, choose the app that is proprietary to your system. There is no winner in the "Apple VS Google Maps" battle there.
Unique features
Both applications have their unique features. So let's compare the most distinctive characteristics of iPhone Maps vs Google Maps. Google tool has five exclusive features:
Live View. It's an AR tool that can provide directions on objects right on your display.
Street View. You can explore roads and landmarks in 360-degree imagery worldwide.
GMaps Platform. It's a developer platform allowing businesses to integrate maps and location-based services into their websites.
Incognito mode. You can browse the map without saving your requests and navigation history.
Integration with Google services. GMaps offers you integration with GCalendar and Photos to provide an even more personalized experience.
But what about its main competitor? To find out which is better, Google or Apple Maps, we need to show five unique characteristics of the last app:
Look Around. This feature uses map information to provide a street view from a birds-eye perspective.
Indoor maps. You can find maps for major indoor spaces. But as with many other features, it mostly works in North America and big European cities.
Siri integration. You can ask Siri to change directions while driving, and the app immediately changes your route.
Enhanced privacy. Apple Maps uses on-device processing to provide personalized recommendations without sharing sensitive data even with Apple.
Environmentally friendly transportation. While creating a route, Apple prioritizes the most environmentally friendly options, like cycling routes or electric vehicle routing with regular charging stops.
So, in this part of comparing Google Maps versus Apple Maps, both options are run on par.
Privacy
Last but not least, what you should keep in mind while choosing the best map app for iPhone or Android is their privacy. Especially when it comes to apps that use sensitive data, like maps. You need to make sure that they operate this data securely. It will be the final step in finding out which app is better: Google Maps or Apple Maps.
GMaps has location history control allowing users to control their location history and remove it from their account. In the Incognito mode, you can use the app without recording any data to the profile. In basic mode, you can modify your advertising and location-based recommendations.
Apple Maps offers you on-device processing, which helps your phone give you personalized recommendations without sharing your data with Apple. Developers publicly affirm that they stick to a minimal and anonymous data-sharing policy. The service collects only essential data, but at the same time, this data is anonymous, without any links to actual users. Moreover, you can customize your privacy settings by allowing or declining the usage of certain services.
F.A.Q.
Which is better, Google Maps or Apple Maps?
It depends on the location where you mostly use the app and your preferred transportation. Apple is perfect for car and public transport navigation in major cities. But once you decide to travel outside North America and use public transportation in a non-touristic city, choose Google.
What was better in 2022: Apple Maps vs Google Maps?
The first service is great for most US and Canadian car-centric cities. Public transportation is rare, so Apple can list most options in big cities there. But once you've decided to travel to a country with great public transport, it will be better to install GMaps.
Is Google Maps better than Apple Maps?
It depends on where you live. If you are currently in North America, both options are great. But if you decide to travel to Europe and go on public transport, it will be better to use both apps.
Final verdict
So, what is the best map app for iPhone: is Apple Maps better than Google Maps or vice versa? As we said before, it depends on your needs. There are no major differences for an average user from the US or Canada. Both apps have great driving and public transport navigation for North America.
But you may see a difference when you decide to travel outside the USA or Canada. GMaps helps discover places worldwide, providing street views in any part of the world in small and big towns.
On the other hand, Apple Maps provide fine exploration features and street view only for big and popular cities. It may be hard to explore some small rural towns in the Middle West or plan your European trip if you decide to explore non-touristic towns.
If you want to visit Europe and use public transport there, it will be better to install Google Maps on the iPhone. But if you are looking for a car navigation service within the US, choose Apple Maps on the iPhone. This app is far better at calculating car routes.
Both services have a great interface. Apple Maps are fully adjusting to your color scheme, but GMaps tend to stay light and colorful. They both have features that allow you to save your favorite locations in a checklist.
While you browse that list on Apple Maps traffic, the service shows you only icons of saved places and crucial landmarks that help you navigate faster. Google tends to show you more information, which may lead to visual clatter.
So, answering the question, "What is the best mapping app?'' We can say that it depends on your needs. It will be perfect if you can keep both apps on your phone and use Apple while driving and Google in a small city or an indifferent part of the world. This decision will bury the hatchet of a never-ending war between Apple Maps VS Google Maps.