Apple Fitness+ is an app that allows you to train anywhere, anywhere, anytime. And no lockdowns with the closure of fitness clubs are a problem.
Before we start
Save your time and let professionals resolve your issue in minutes!
Want to start solving your problem immediately? Experienced Howly troubleshooters can fix your issue ASAP. They're already waiting for you in the chat!
The benefits you'll get while troubleshooting your issue with Howly experts:
Qualified help with laptops HDD

Quick advice right in your device 24/7/365

Expert reply within 60 seconds

Clear step-by-step guidance

Limitless number of follow-up questions

Understanding and empathetic help till your laptop HDD issue is fully resolved

All answers you need in one place
Apple Fitness+ is a pre-recorded workout service exclusively developed for owners of Apple devices. To start using it, you need an Apple Watch and an iPhone, iPad, or Apple TV. Your watch must be registered for the service and serve as a sensor to collect data. You can also work out without the Apple Watch, but then the magic is lost. You watch the workout on one of the devices, sweat, and suffer on your own (and this is probably the only drawback of the service so far. It would be better if the technology allowed you to do nothing, but the fat kept burning, and the muscles grew:).
It's clear from the introduction that we love Fitness+. It has everything one needs for a home workout. At least for non-professional athletes.
How it works?
You can choose from 11 types of workouts that last from 5 to 45 minutes. All the most sought-after and necessary on-site: infernal cardio (HIIT, exercise bicycle, running and walking on a treadmill, rowing, and dancing), strength training with and without your weight (bark training and classics with weights), mixed (Pilates and yoga). Separately, there is a warm-up and meditation.
Personally, I lack cardio in my life, my Apple Watch has long hinted that I need to improve my cardio endurance, so the first thing I tested was dancing.
To avoid rushing from the spot and to take up sports gradually, I started with a 20-minute workout. And to make it more fun, I chose to work out to the world hits of the 2000s (Apple still has Apple Music, so everything gets even better with the upbeat songs).
The next important stage in any sportsperson's life is a trainer's choice. In Fitness+, they, of course, gathered the world stars. What is particularly pleasant is that there are world stars for all tastes, different ages, races, and builds. I think this is very important. Then you start thinking: "So, if this woman, looking about 60 years old, can, then I also can."
Each workout has a business card, a 30-second video with a welcome message, and a cut of what to expect. I got comfortable in my chair and cast all these star trainers. I picked Ben. I decided that since he had the coolest dance school in LA and was a Will.i.am dancer, it would have to work for me.
Why is it so helpful?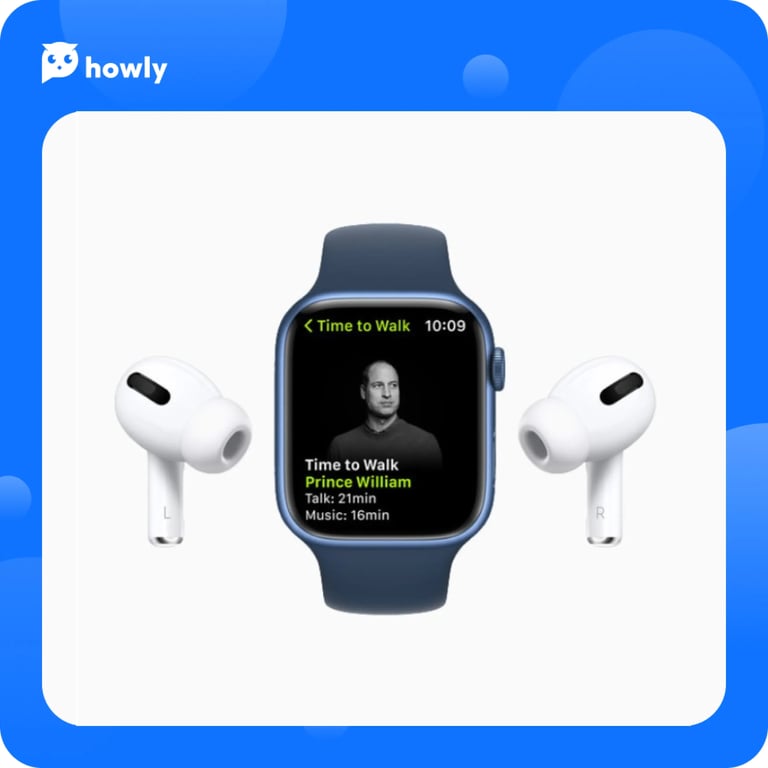 Apple Fitness+ trainers treat their workouts differently. Somehow they even broadcast through the screen the incredible joy of every movement, of being right there with me, bouncing, moving, and sweating (thank you very much for not retouching and hiding this, a sweating trainer is beautiful).
During my first quarantine, I did the online workouts that World Class did, and they have the same approach. But no. Those trainers were pissing me off. Because I'm having a hard time, my abs are on fire, the cat looks at me like I'm crazy, and they're like: "How great – your abs are starting to burn!" No, it's not great, I'll turn you off.
Apple Fitness+ trainers somehow manage to inspire rather than irritate. At least for me. My - now fondly beloved dancer Ben - so cheerfully led the class that somewhere in the second half of the workout, in a wet T-shirt and with a heart rate under 170 (heart rate, calories spent, and most importantly - how much time left to the end of the workout - are reflected on the screen), I caught myself smiling and even trying to sing along with Ben to Backstreet Boys. And it's freaking beautiful!
This charge of positivity made me want to open Fitness+ and work out a little bit the next day, too. And being able to choose a short, 10-minute workout also really gets me pumped up about working out. Just 10 minutes is just enough time for coffee to brew.
This app is about inspiration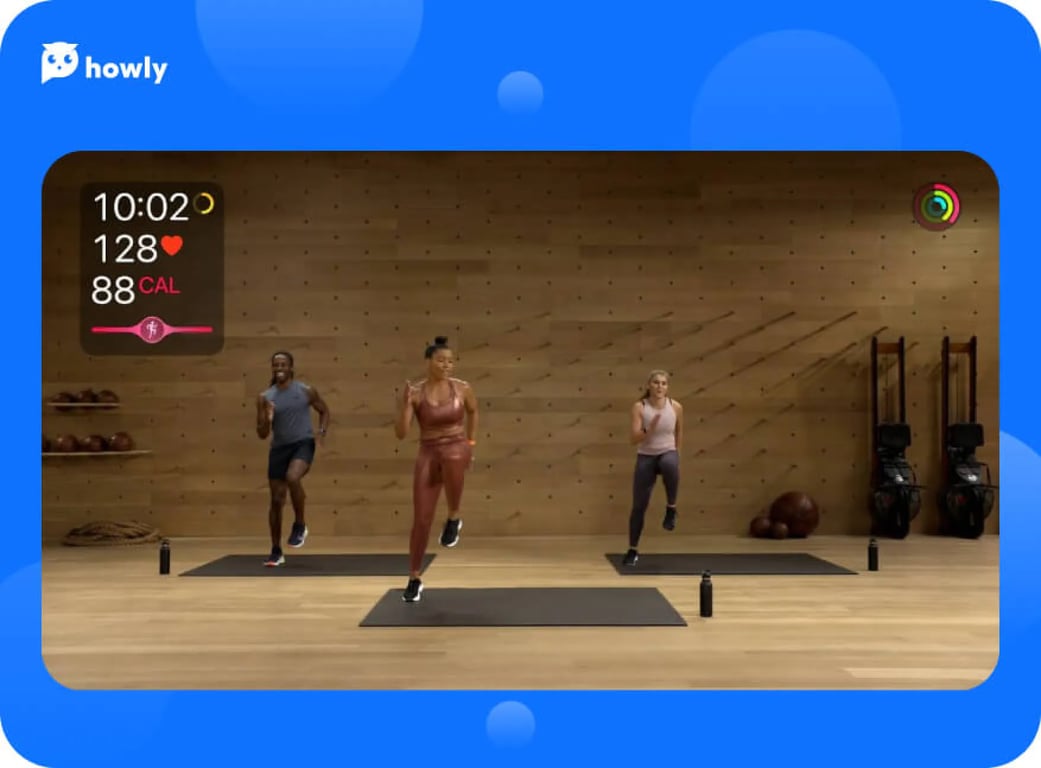 The inspiration at Apple Fitness+ is really some magic. First of all, in some workouts, you also see a group of people working out with you. Clearly, this is all recorded video, but you watch how others try, and you want to keep up. Plus, the information on the screen is refreshing, displaying data from the Apple Watch. A couple of times, I could even ride the exercise bike faster than the group.
Second, the coach's speech is so well delivered that it makes you want to exercise. With other online workouts, this kind of mash-up didn't happen to me. Nike and Freeletics, for example, show some robot people who are great at telling you the technique, but there is no emotional cohesion. Here it's the opposite.
What can you find there?
Workouts. There is a selection of workouts for beginners, pregnant women, and the elderly. There are new ones appearing every week. And there are three trainers on each tape. The main one leads it, and the two behind it show easier and harder exercises. Now all the tapes are in English.
Activity tracking. Apple does not allow you to take a screenshot of the video itself, but you can see all the information. As you close the activity rings, the screen will show that you are doing well.
Personal comfort. Or you can not repeat the movements but just lie down for a minute and catch your breath. No one will judge. No one! You don't have to think, "Oh my God, everyone sees that I can't do anything. I'll go away from here to burn with shame. No one sees, you're home. You can even practice in your underwear. It doesn't really matter what you're wearing, as long as it's comfortable. You can work out a little at 5 a.m. or 2 a.m.. You know, you need to cheer up.
Warm-ups and meditations. I really liked that Apple Fitness+ has not only active workouts but also deliberate warm-ups and meditations. After a strenuous strength workout in the gym and a frenetic ride on the exercise bike with a sweaty trainer, it was great to retreat to a corner of the gym with a mat and turn on a warm-up video. Again, a very encouraging man told and showed me how to stretch my arm, leg, and bark muscles properly and how to sit up and think about something good.
SharePlay feature. Plus, there are group workouts and a SharePlay feature that brings you and up to 32 of your friends together in one session with video and data from the Apple Watch. You can watch how fast your friends close the rings, and in some workouts, you can also compete with the group.
Especially nice is that all the training is designed for a place with no special equipment. One and a half square meters for dancing was enough for me (although sometimes I stumbled on the couch). For working out on the bark muscles, the main thing is to have a place to lay the mat. You don't have to go anywhere, just open the Fitness app and start a workout. In short, finding excuses not to work out has become really hard. Thanks for that, Apple Fitness+. Welcome to the club!