There are a lot of reasons to hard reset the Lenovo IdeaPad laptop. Those can be severe system glitches, full memory, or your wish to sell a used PC. So, without further interruptions, Howly experts will show you three ways to factory reset your Lenovo IdeaPad.
Before we start
Save your time and let professionals resolve your issue in minutes!
Want to start solving your problem immediately? Experienced Howly troubleshooters can fix your issue ASAP. They're already waiting for you in the chat!
The benefits you'll get while troubleshooting your issue with Howly experts:
Qualified help with laptops HDD

Quick advice right in your device 24/7/365

Expert reply within 60 seconds

Clear step-by-step guidance

Limitless number of follow-up questions

Understanding and empathetic help till your laptop HDD issue is fully resolved

All answers you need in one place
Laptops from this manufacturer have two options for removing data: delete apps and settings or clean the drive completely to start from scratch. If the software doesn't work, you can use the physical button. Lenovo laptops that were manufactured after 2017 have a NOVO button, which can launch a factory reset.
How to reset your laptop and save personal data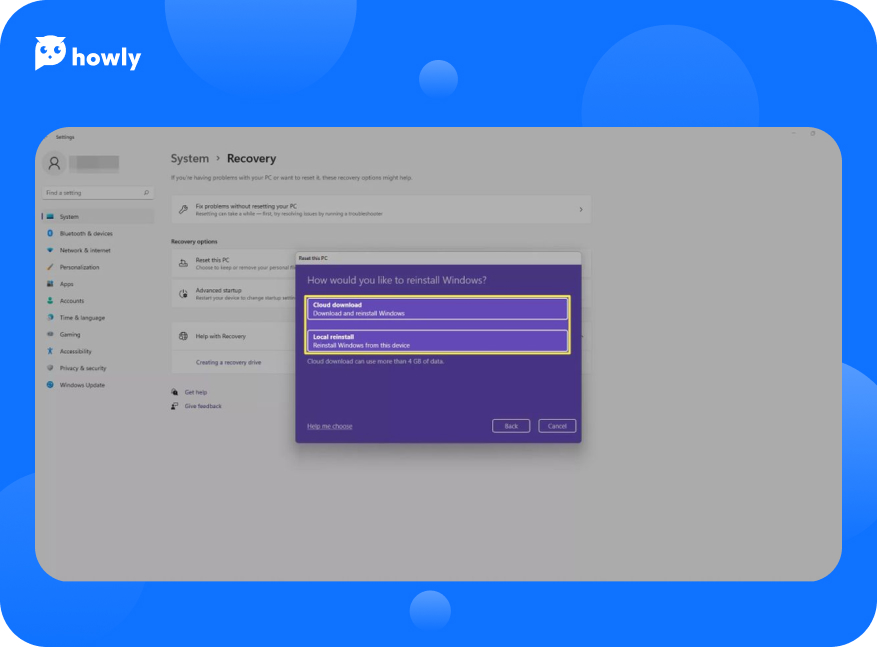 This action is also called soft reinstalling. It removes apps, settings, and system files from the PC, but personal data, like photos, videos, and audio files, stays on the drive. Stick to this instruction on Windows 10 and 11:
Open the Windows menu and choose Settings.
Follow the next path: Recovery → Reset → Get started →  Keep files.
Then select how you want to reinstall your system: Cloud or Local. In the first case (Restore from Cloud), your PC gets a fresh system version from the Microsoft servers. Beware that this is a 4+ Gb patch, so you should have stable high-speed Internet. With Local reinstalment, the laptop will reinstall with the same Windows version you have now.
Confirm intentions by clicking Next.
It would be better to save the crucial files on the cloud storage or some external drive. If something goes wrong, you will have a copy.
How to factory reset your Lenovo IdeaPad
Consider this way of resetting if you're going to sell your device or temporarily give it to other people. It will remove every bit of information, wiping everything to the default value. The guide looks similar to the previous one, but with slight differences in the end.
Click on Windows and choose Settings.
Stick to this path: Recovery – Reset – Get started – Remove everything. On Windows 10, you should select Remove files and clean the drive.
Choose Next or Reset to launch the reinstalling process.
There is no way back. So make sure you've saved all information on external drives. Also, check that you've remembered essential logins and passwords.
How to hard reset your Lenovo with the NOVO button
We still have one trick if the software ways described above don't work for you. Most Lenovo laptops have a NOVO button to start the factory reset or open BIOS settings. It's a small button or pinhole on the laptop's left side. It often has a pictogram that resembles a mix of the "upside down U" and arrow. Here is what you should do:
Turn off the device as usual
Use a toothpick to press the NOVO.
Select System Recovery → Troubleshoot → Reset.
From here, restarting will stick to the same scenario as usual. You can select Keep my files or erase every bit of the data with the Remove everything option.
Conclusion
You can reset most Windows-based Lenovo laptops using Settings. Go to the system settings and select recovery. After that, choose the type of reset: removing apps and settings or removing everything from the drive.
Beware that the second option can take much more time, up to 4-6 hours for 1-2 TB drives. So if you are not going to pass the computer to another person, it would be more than enough just to remove apps and associated files.
Also, you can reach your goal by pressing NOVO. It's a unique Lenovo button that calls a BIOS. All you need to do is to hold the NOVO while the laptop is booting.
Still have any questions? Ask Howly experts for help! Some Lenovo IdeaPad laptops refuse to hard reset, and some don't have a NOVO button. Each case is different, and we are ready to help you anytime, day or night!