Do you love Twitter and want to develop your account here? Then you'll definitely need these Twitter tips and tricks to help you use the app effectively and promote your account to a new audience. In this article, you'll find 20 cool tricks for using your account, as well as a list of rules of what you should and shouldn't do. After reading this article, your use of social networking will be many times more effective.
Before we start
Save your time and let top professionals in use of Twitter fixing resolve your concern in minutes!
Are you having trouble using Twitter? Then to save time and not to waste nerves in vain, use the help of professionals. That way, you can get your problem solved by real pros. Chat with Howly experts and get instant help. They are available 24/7 to answer your questions about use of Twitter.
The pros you'll get troubleshooting your use of Twitter concern with Howly experts:
Professional help with use of Twitter

Quick advice right in your device 24/7/365

Expert reply within 60 seconds

Clear step-by-step guidance

Limitless number of follow-up questions

Patient and friendly help till your use of Twitter concern is fully resolved

All answers you need in one place
TOP-10 tips Twitter that makes it easier
This section contains Twitter tips and tricks that will make your daily use of the platform easier and more comfortable. Here you'll learn how to do advanced searches with additional filters, leave a swap location, add polls, and more.
Pin your tweet
You can lock one tweet post at the top. This is one of the cool and useful tips and tricks that you should definitely try. The Twitter feed is a chronological format where newer posts are displayed at the beginning and older posts are pushed down. But if you want people to be the first to see a particular tweet when they enter your profile, you can lock that tweet. To do that, you have to choose a tweet and click on the three dots next to it. Among all the functions listed, select Pin. Now this tweet will be the first and will not be lost in new posts.
Comment on other people's tweets with retweets
If you see an interesting tweet from another user and want to comment on it, so your followers can see it, here are some helpful tips&tricks. You can retweet the post and add your comment in the process. That way, you can show your agreement or disagreement with what's written and explain your point of view. That way it will be a formatted standalone tweet, not just a response. In order to do this, you need to click on the retweet button and then click on "Quote". If you're using the web version, the ability to add a comment will appear immediately when you retweet.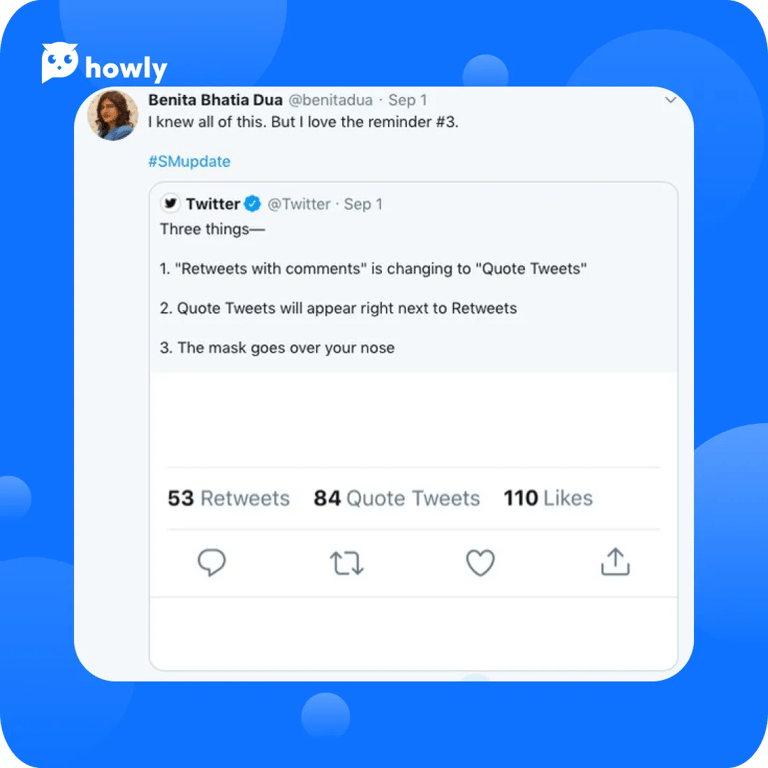 Search by hashtag
A hashtag is what Twitter is known for. It's a major feature because it makes it easy to search through hundreds of thousands of tweets. It allows you to find relevant publications on a given topic. To search for tweets by a specific hashtag, you need to go into search. There, enter the # symbol first, and then enter the keyword without a space. The system will offer you several popular hashtags for your query. Also, if you see an interesting tweet with a popular hashtag, you can just click on it. This will take you straight to the popular tweets with that hashtag. This makes it much easier to search and helps you find relevant results faster.
Leave or delete information about your location
Twitter gives you the ability to post your geolocation directly in a tweet. You can show your readers where you are at a given moment with one of the helpful tips and tricks. To be able to leave your location, you need to allow the platform access to track your geolocation. You can do this in the settings. You can then easily add a geo-position marker as you publish each of your tweets. By the way, if you don't want your position to be displayed, you can also disable this feature in the settings.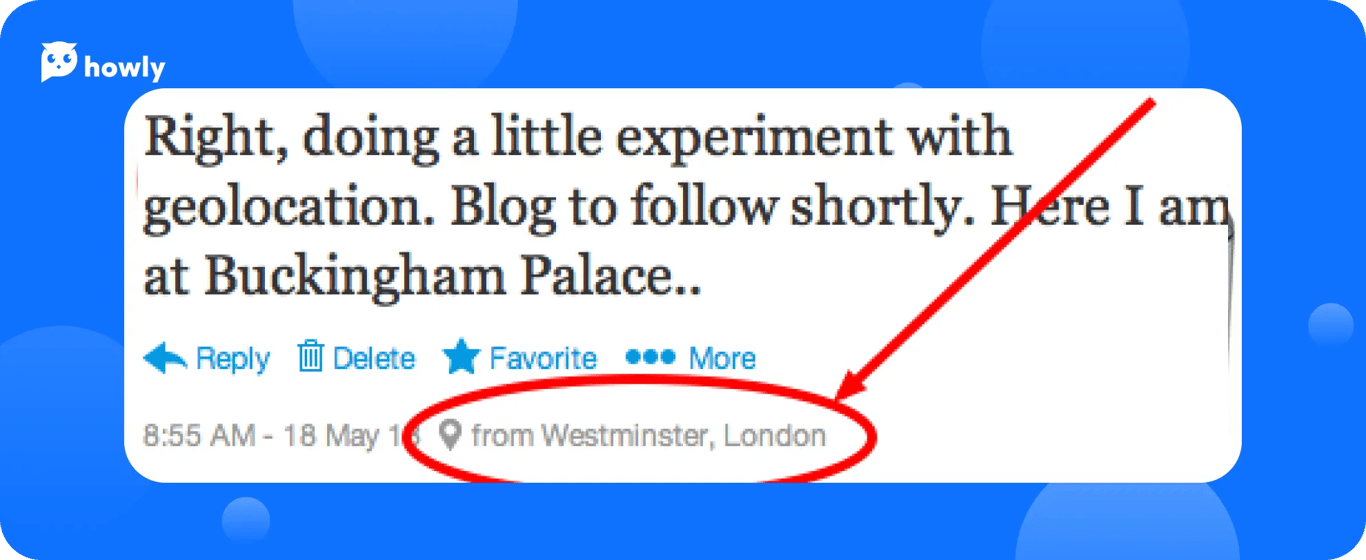 Find tweets by geolocation
On Twitter, not only can you add your location, but you can also search by any geolocation marker. This is one of the most useful and convenient Twitter search tips. To do this, you will need to:
First, into the map app from iPhone or Google and find the location you want there. After that, copy the location data.
Go to Twitter and go to the search bar.
Enter the query in this format, geocode:the data you copied. And click Enter.
You will now get search results with tweets that are close to the location you specified.
Also, if you see an interesting tweet that already has geolocation listed, you can just click on it. That way, Twitter will give you popular tweets for that position.
Use a maximum of parameters to search
Save yourself another one of the coolest Twitter search tricks. If you don't have enough search parameters, you can easily expand them using Twitter's built-in features. To do this, you have to go to the search bar and search by keywords. After that, click on the gear icon at the top, next to the search bar. This will open up additional filters to help you refine your search and find the most relevant results.
Create lists by category
If you read a lot of Twitter accounts of different topics and different directions, you probably have a mess in your feed. Then you just need to use this one of the cool and useful tips&tricks. You can create Lists where you can structure your accounts thematically. You'll be able to choose the number and topics of your Lists, as well as whether your List will be public or private.
To create your Lists, just click on the profile icon and choose Lists from the menu that opens. When you go to this tab, you'll see the option Create List. Click on it and fill in all the required fields.
So in order to read news on a particular topic, you'll simply and quickly go to the necessary thematic category.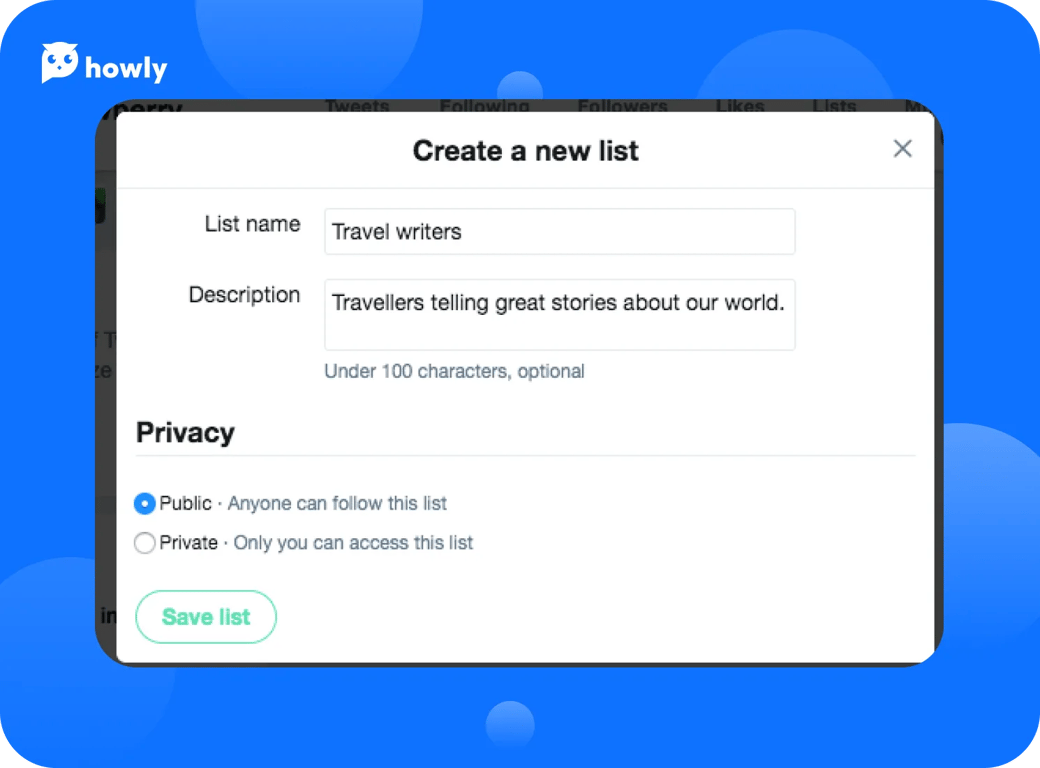 Add polls to your tweet
Another one of the awesome Twitter tricks that will help make your Twitter content more interesting is polls. You can create tweets with polls, encouraging your followers to vote. After the user votes, the current result becomes available. This way, your followers can find out the result and compare their responses to a percentage of others.
To create a poll, click on this feature when creating a tweet. You'll need to come up with a headline that represents the idea of the poll. You'll also need to add two or more answer choices.
Create threads!
Many users complain that Twitter has a limited number of characters. Because of this, it is impossible to show the idea in full and reveal your thought. If you also like to post longreads, then one of the useful Twitter tricks will help you. You can create a thread - several tweets joined together. That way, your reader can open one tweet and scroll down to see the rest of your tweets.
To create a thread, create the first main tweet where you want the reader to start reading. Then click the + or Reply icon to continue the thread. Make as many tweets as necessary, each time posting a new tweet in response.
Add media to make your tweets more appealing
Not only can you post text, but you can also attach different media files to your post. For example, you can add photos and videos. The main thing is that the files should be small. You can also attach a gif to your post or record an audio recording. This way you can make your account more interesting and attractive. And with media files, tweets will catch the eye.
Best Twitter hacks to promote your profile
Twitter is a great platform to promote yourself or your company. And there are many tips and tricks to help you build and strengthen your brand and attract new users to your account.
Use keywords to find your target audience
Do you want your tweets to be seen not just by people, but by an interested target audience? Then you need to use keywords in your tweets. With this awesome Twitter trick, interested users can find your account and subscribe when they search for relevant tweets. Keywords for each of the areas can be different, you can define them yourself or with third-party applications (for example KWFinder). It is recommended to use one keyword in short tweets and two and more keywords in long tweets.
Leave a link to your website
If you have your website and want to promote it using Twitter, then use this one of the most effective Twitter tricks. After you've published a useful article on a website or a weblog post, you can make a post announcement on your Twitter. Make a catchy tweet: an intriguing headline and a few sentences with the main messages. And at the end, leave a link to the full article on your website, where the full article is published. That way, users can get interested in your tweet and follow the link to read the full article.
Analyze the audience that reads you
If you're actively creating a personal brand or company image, these cool tips and tricks will help you track your effectiveness. The thing is, users, can make lists of their favorite accounts. You can see which lists users have added your account to. To do this, click on your profile icon. Here you will see the "Lists" button. Click it to see which lists users have added you to. That way, you can see if your subscribers understand your main message.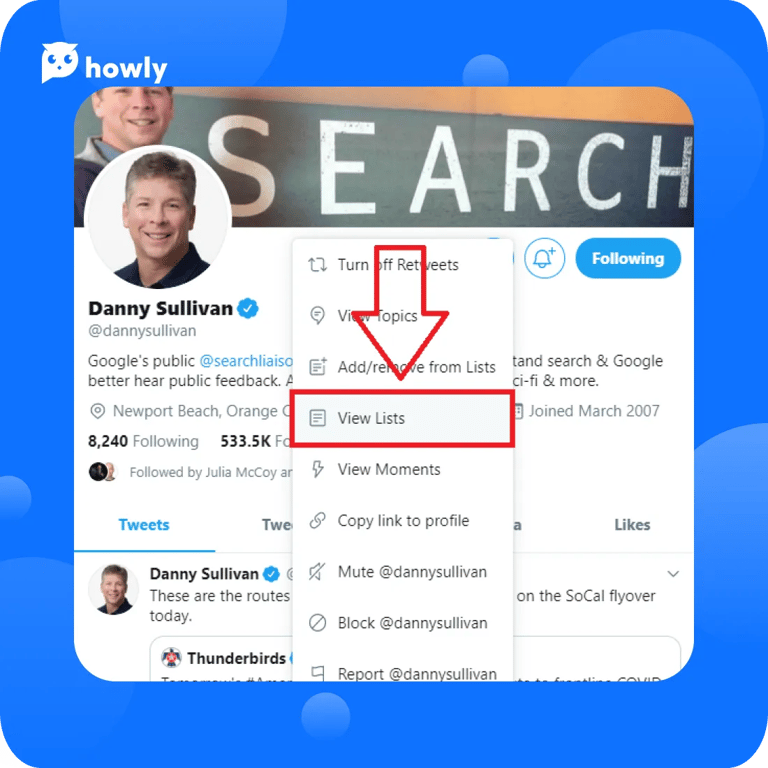 Use hashtags when posting
If you want to promote your tweet to the largest possible audience, then use one of the main Twitter tricks — hashtags. All users know that hashtags are the main trick of Twitter, which helps to find relevant tweets in a second. Therefore, to make your tweet popular, add a few popular hashtags to it. In order to understand which topics are trending right now, put a # sign when you are writing a tweet. This will automatically open up the relevant popular tags for that moment. We recommend using at least three hashtags to achieve maximum conversions.
Create a hashtag for your brand
To increase the recognition of your company and work out branding, you can create your personal brand. It will be different from the common, popular hashtags on Twitter. By clicking on the personal tag, users will only be able to see your tweets. You can create a single tag or multiple tags for different topics of tweets. This is especially effective if you have multiple work streams and want to keep them separate. Marketers advise spelling out your company name in branded tweets to increase recognition. With this one of the best Twitter search tricks, you can leave the custom tag in all tweets or just some you want to highlight.
Interact with popular accounts
Use this one of the best tips and tricks to attract interested users to your profile. To do this, you need to interact with popular users in your field. Respond to their tweets, repost with a quote, and write in agreement or disagreement with the user. That way, you stand a good chance that readers will be interested in you and will click through to your profile. The main thing is to choose the right themed bloggers. For example, a marketing agency is suitable interaction with well-known marketing, copywriters, and PR-specialists.
Choose the right time to publish
To get more views on your posts, choose the right time to post. To do this, you need to know when your audience likes to flip through your Twitter feed. But there is one Twitter trick to help you post your tweets on time. Marketers believe that the best times to post are between 08:00 and 11:00 in the morning and after 8:00 p.m. After all, in the morning, this is the period when people eat breakfast, take the subway to work, stand in traffic, and have free time. And the evening is a time of rest when all the tasks go into the background and the user wants to relax and learn a lot of interesting things.
Write on relevant topics
For your readers to be interested in your profile, write about interesting and popular topics. Regularly tweeting about relevant topics that are at the top of Twitter will help you promote your profile. But how do you know which topics are trending? Use one of the most useful Twitter tricks. Click on the magnifying glass icon on your smartphone and see what's trending right now. Usually, the focus is on socially important issues (environment, gender equality, human rights), as well as high-profile political scandals that everyone knows about. Trends can also include funny memes or jokes.
Don't forget to customize your profile
For your tweet to attract attention, you need to make it look good. Here are some Twitter tips and tricks to help you. The first is to add a profile picture. Marketers believe that accounts with a real photos are more trustworthy. The second is to fill out a Bio. Here, you can briefly talk about yourself and your area of expertise. And the third is to add one or more links to third-party resources (websites or other social networks) to increase the conversion rate on them.
No spam
Account owners, in the pursuit of getting as many subscribers as possible, do mailings. But keep in mind that spam is prohibited by the platform's community rules. That's why you shouldn't do newsletters and ask people to click a link or sign up for your account. If several users mark your messages as Spam, Twitter will block your account. Use one of these tips and tricks com to keep yourself from getting your account blocked.
Twitter dos and don'ts for bloggers and beyond
Twitter, like any social network, has "unofficial rules" about what to do and what not to do. These Twitter dos and don'ts are created by marketers and promotion experts and will help you not only to attract a new audience and promote your account but also to avoid account blocking.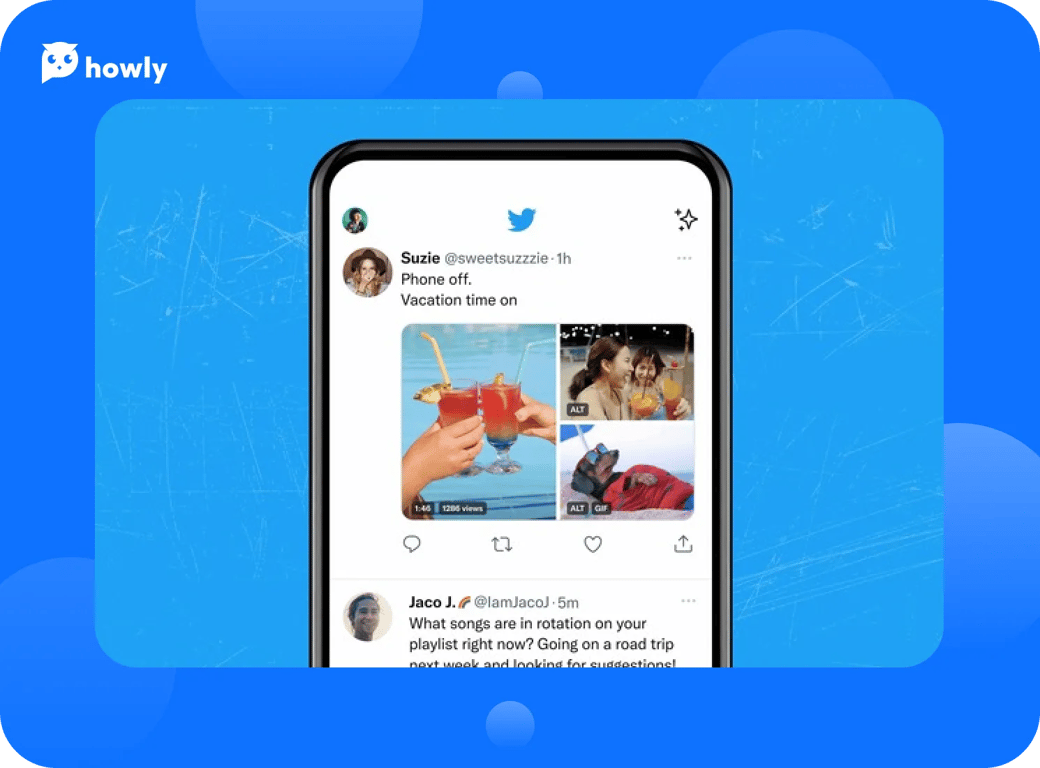 The best Twitter tricks: what you have to do
In order to make your account as pluralistic as possible, you should try to work on the content. You also need to know some useful tips and tricks that will help you increase engagement and attention on your account. Here are some useful tips:
Use catchy headlines. Twitter has a limited number of characters, and you don't have many opportunities to hook the reader. Therefore, an apt headline will definitely be a good solution to attract the audience to your content. Here are some headline Twitter tricks that hook: The Secret of, Get Rid of, Are You... etc.
Work on the graphics of your publications. If you want to make your brand relatable, it's worth working on creating a graphic template for your publications. Use your brand colors, images, and elements that make it clear from the first minute that this is your brand.
Use only real photos in your publications. Often authors, in order to get more attention, use fake bright pictures. Usually, these photos can have Photoshop fake elements or refer to other events. Once people realize that you are posting fake photos, your credibility will drop significantly.
Integrate hashtags into the text, rather than just adding them at the end. Marketers point out that this Twitter trick helps to make the content better and helps to get recognition from the audience. Here's an example of how to successfully integrate a hashtag into your main text: "Top 10 best #FoodsForLoss that are healthy" or "Do you know a new #FilmFamily to watch tonight?".
Leave lots of comments under popular people's posts. Put your expertise and knowledge into these tweets. That way, new readers can find you and immediately appreciate that you're a master of your craft.
Important tips and tricks: What you shouldn't do on Twitter
There are also actions to avoid on Twitter. They can lead to breaking community rules, blocking your account, or decreasing activity on your profile. Here's a list of Twitter tricks to avoid when using the platform:
Don't use the Follow-Unfollow method. Many novice bloggers use the method of following multiple accounts to get people to follow them back. Be prepared that Twitter might consider such activity fraudulent and won't show your profile to the audience.
Don't use too many hashtags. You've probably seen Twitter search tips that encourage you to use hashtags to get more views on a post. But it's important to use only relevant tags and not overuse #hashtags. That way, people who want to find a relevant post by hashtag will just scroll through your post. The system will analyze that your posts are not of interest to users and will show them less.
Be careful about the sentiment you convey. Twitter is known for being loud about negative events and conveying unhappy ideas. But you should be careful about the negativity you broadcast. People may begin to associate you with negative ideas and stop actively reading your posts. Take note of this Twitter trick: try to keep a balance: 30% positive, 30% negative, and 30% neutral content. That way, your reader will always be interested and get the full range of emotions.
If you want to promote your account in any area, don't copy more popular users and try to create your own style. It is originality and authenticity that attracts.
F.A.Q.
How to get tips on Twitter?
Twitter is one of the few social networks that allows you to monetize your content. Authors can receive Twitter tips from grateful readers. In order to enable the function, you need to go to your profile, click Edit. Here you find the Tips tab and activate it. Now you should work on your content and use all the Twitter tricks to have more subscribers who will want to support you.
What is Twitter known for?
Twitter is a well-known and popular platform for sharing short thoughts and finding new audiences. You can use Twitter both as a standalone platform for finding an audience and as an opportunity to direct traffic from Twitter to other sites. Subscribers can also support the author and the account owner can get tips on Twitter, thereby monetizing their work.
What shouldn't I do on Twitter?
There are a few Twitter dos and don'ts rules to help authors. Things you definitely shouldn't do include breaking community rules, spamming, using fake photos, and using the Follow-Unfollow method when you subscribe to many people in a short amount of time.
What are the best Twitter tips and tricks — final words
Congratulations! You are now a true Twitter expert! Because this article contains the best tips and tricks to help you create and promote your profile. Use the tricks from the first block of the article to make it easier for you to use the platform's basic features: advanced search, effective use of geo-positioning, and design your posts with media files. In the second block, you'll find tips from marketers who know how to monetize their blog, and get a new audience. Here you'll learn how to properly use hashtags, analyze your audience, drive traffic to third-party platforms, and improve brand awareness. The third block will help you learn what you should and shouldn't do on the platform. This will save you from possible account blocking and other problems.