Do you want to watch your favorite show with great sound on your Vizio sound system, but instead of it hearing only mumbling? We understand your struggles. That's why we've created this guide to fix Vizio sound bars.
Before we start
Save your time and let skilled professionals in Vizio soundbar repair resolve your concern in minutes!
Soundbar issues don't let you enjoy your favorite shows and music. That's why Howly experts are ready to help you! We are working 24/7 even on federal holidays. Text us to get immediate help!
The pros you'll get resolving your Vizio concern with Howly experts:
Specialized help with sound systems

Quick advice right in your device 24/7/365

Expert reply within 60 seconds

Clear step-by-step guidance

Limitless number of follow-up questions

Kind and pleasant help till your Vizio issue is fully resolved

All answers you need in one place
Usually, it's a software glitch or cable malfunction. So you can fix it at home in less than 20-30 minutes. Just stick to guidelines from Howly experts!
Restart the soundbar
It is the first thing that you need to do when your Vizio sound bar not is not turning on. Like any other modern device, a soundbar has its software, even though you don't see it. And this software may get glitchy due to corrupted temporary files, leading to various bugs like a Vizio sound bar that won't turn on.
The easiest way to troubleshoot it is to restart the bar. Plug it off from the power and leave it for 5-7 minutes. Turn it back into the power and test the soundbar.
HDMI ARC problems
It's the most common problem with wired sound systems. Many of them, including Visio, connect with HDMI (ARC) which allows transmitting audio from the TV to the device. So, we recommend you inspect this cable and interface on both devices. Here is your instruction for troubleshooting the Vizio sound bar:
Shut down the TV and the soundbar.
Unplug them from the power.
Find the HDMI port on both devices and unplug the HDMI (ARC) cord. Wait for approximately 10-15 seconds. Check the cable for integrity, it could be broken. Ensure that the TV has an ARC port. Unfortunately, not all HDMI can transmit audio from the TV.
Connect them back to the power. Plug the HDMI back into both devices.
Test your system.
These actions can help you if the Vizio sound bar has no power due to cable issues. In other cases, continue to fix your device.
Bluetooth pairing unsuccessful
There are many wireless Vizio sound systems. They operate on a Bluetooth basis. But despite all its advantages, this technology can get glitchy. And it results in situations where your Vizio sound bar won't power on. Luckily, we have a solution for you:
Place the bar as close as possible to the TV. Usually, Bluetooth connects devices located within 40-50 feet, but walls and furniture can decrease this distance.
Turn off Bluetooth on both devices and turn it back after a few minutes.
Let TV "forget" the soundbar. Check the user's manual of your TV for this instruction. Different manufacturers have different guidelines. If the above actions were worthless in troubleshooting the Vizio sound bar, remove it from the devices list on TV. Re-sync marks it as a completely new device, which may solve the corrupted connection's case.
The power button is not working
Most Visio sound systems have two ways to launch them: via remote and with a Power button on the device. And sometimes, you may catch a Power button malfunction. In most cases, it's a fixable issue. Just make sure that you stick to all Vizio soundbar troubleshooting measures:
Check the power source. Especially, if you use a non-genuine cable or extension cord. Connect the system with the Visio cable directly to the power outlet.
Inspect the button for physical damage. Maybe it's dirty or clogged with dust, syrup, or other substances. Clean the button using a dry microfiber cloth. Don't use compressed air cleaners. You can break the button permanently.
Try using the remote. Also, inspect the bar's manual. Many Visio systems have alternative controls that could act as a temporary solution.
Perform a power cycle. The situation where your Vizio soundbar is not turning on can be a software glitch. You can solve this by a force restart.
Soundbar isn't working with TVs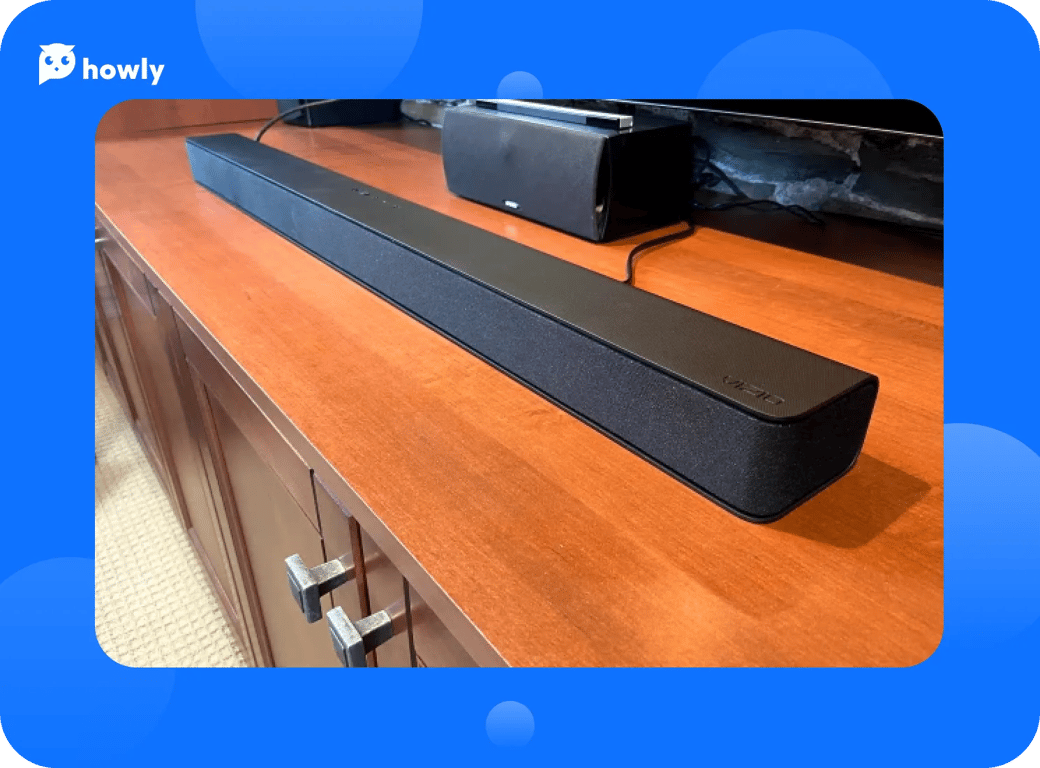 In some cases, the issue source lies not in the sound system, but in the connected TV or media player. So we highly recommend you inspect the TV's configuration to ensure it doesn't interfere with other devices. It can be a reason why your Vizio sound bar has stopped working.
Go to your TV's settings to ensure that it has Visio as a working audio option. Check the user's manual for your TV to find out how to check it.
Look up compatible audio formats
Check Audio Formats on your TV. Advanced models of various manufacturers give you the freedom to choose audio formats like Blu-Ray, Stereo, 5.1, etc. Choose the simplest option that suits your situation. Usually, it's 5.1 if you have 5 speakers + 1 subwoofer, and 5.0 for systems without a subwoofer. Pick 2.1 in situations when you have 2 speakers and 1 subwoofer, and Stereo when it's just 2 speakers.
Re-pair the soundbar with your device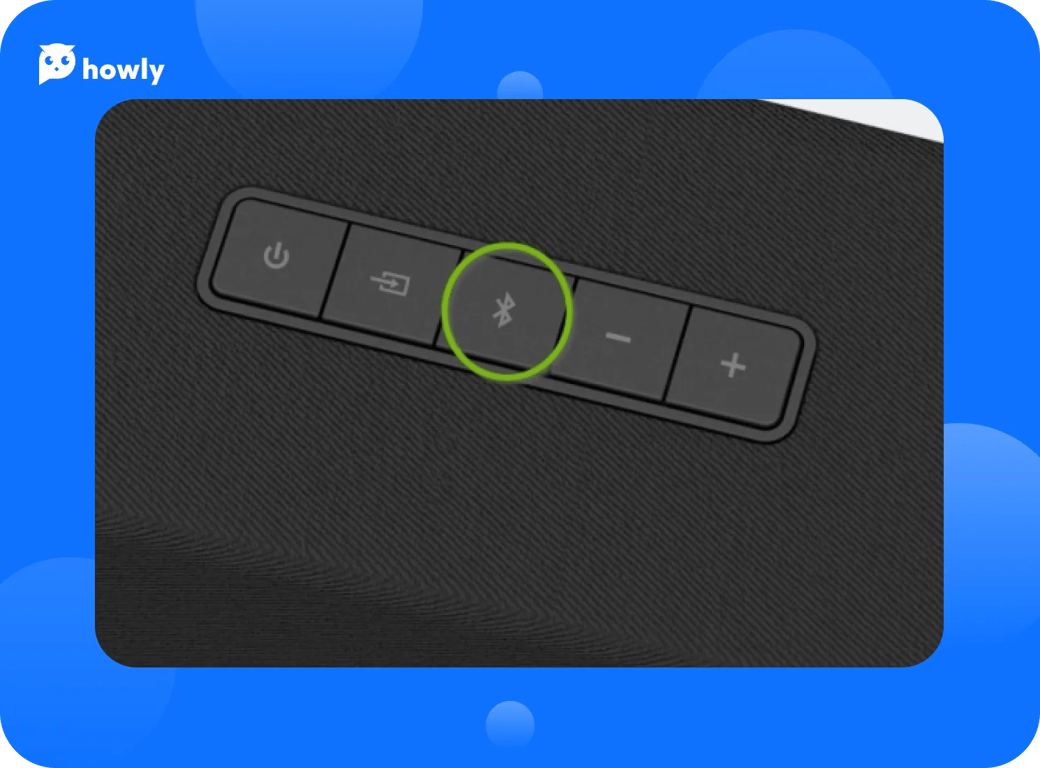 You may hear sound from the subwoofer but don't get it from the main speakers or vice versa. Usually, it's a connection glitch, but many people claim it is a Vizio sound bar that is not turning on with the tv. You can fix it within minutes by simply repairing it.
Open the Bluetooth settings on the TV.
Restart the sound system. Simply turn it off and on.
Press the connection button on the sound system.
Connect the subwoofer to the main system with instructions in the user's manual.
Surround Sound is not working
It's another common issue with sound systems. You may hear only background noise making you wonder why the Vizio soundbar has no sound while all lights are on.
Check the cables. Ensure that each speaker and the subwoofer are connected to the sound bar and paired with them correctly. You may accidentally connect them to similar but wrong ports. And it leads to a situation where your sound system refuses to work as intended.
Update software or perform a factory reset
Another common source of the situations where the Vizio soundbar won't turn on is a severe software glitch. We recommend you update the TV's firmware or perform a factory reboot of both. Each TV manufacturer has different instructions, so we recommend you open their user manual and strictly follow all guidelines.
You can update modern Vizio bars via an online application. Here is our instruction:
Download Vizio SmartCast to your phone.
Put the Vizio bar into pairing mode. Press Menu on the remote and go to the Wi-Fi to launch the sync mode.
Open the Vizio app and tap on the three stacked lines.
Choose Add Device in the menu and follow the sync instructions.
Once you connect Vizio to your phone, go to Settings → System → Update.
Tap on Update Now if there is any available update.
If this still didn't help you, consider the most severe software action to fix the Vizio sound bar. It's the hard reset, which removes every setting and connection from the device. In most Vizios, you need to simultaneously hold Bluetooth and Volume Down for 5 seconds until you see all 12 LEDs on the sound bar blink three times. After that, leave your sound system for 2-3 minutes to complete the factory reboot.
F.A.Q.
Why my Vizio sound bar won't turn on?
Check cables if you have a wired connection. Look in connection and audio settings in case of wireless systems. Restart and reconnect the soundbar. Factory reset soundbar and TV.
How to turn on the Vizio sound bar?
Examine the connection to the power outlet. If you have an extension, try to connect a sound system directly to the outlet Check the HDMI (wired systems) and Bluetooth (wireless systems).
Why does the Vizio sound bar not work with a TV but syncs with a computer?
It shows that you have connectivity issues on your TV. Your soundbar is fine. Check the ports and cables for wired-based devices and Bluetooth settings for wireless. Remove Vizio from the audio devices on your TV and reconnect them back.
Wrapping up
As you can see, troubleshooting the Vizio sound bar is achievable. In most cases, it's a software glitch, so you can fix it by restarting, reconnecting, or updating the software. In wired models, the issue usually hides in cable malfunctions. Luckily, you can troubleshoot it with a new cable that suits a TV and a soundbar.