Imagine you are surfing the net and nothing loads. The first thing to do would be to check the Wi-Fi connection. An icon indicates that everything works. Surprisingly enough you do not receive any error messages. And you are back to square one. 
Before we start
Save your time and let professionals resolve your issue in minutes!
Want to start solving your problem immediately? Experienced Howly troubleshooters can fix your issue ASAP. They're already waiting for you in the chat!
The benefits you'll get while troubleshooting your issue with Howly experts:
Qualified help with laptops HDD

Quick advice right in your device 24/7/365

Expert reply within 60 seconds

Clear step-by-step guidance

Limitless number of follow-up questions

Understanding and empathetic help till your laptop HDD issue is fully resolved

All answers you need in one place
When you have no Internet connection or your iPhone or other Apple devices it can be challenging and bothersome. 
We prepared this guide with troubleshooting tips on how to fix network problems on iPhone. 
Make sure that your router is on the right spot
Many users struggle with slow Wi-Fi, which is one of the most frequent iPhone connectivity problems. 
A slow network is a daunting issue, but fixable. Sure, your router could have been installed by professionals, but it does not guarantee anything. 
We advise choosing a proper router for your space. Remember, routers do not fall into the category "one size fits all". 
The reason why your iPhone Wi-Fi is connected but not working is that your device is not in the router's range. The rule of thumb claims that for the majority of homes a 30 feet range from the router will suffice. If you go further - up to 50 feet, then you will have to deal with a slower connection. 
Another tip to avoid iPhone network problems would be to raise the router. Usually, the strongest router signal spreads downward. Mount is higher and maximizes the coverage. 
Restart your router
Another reason why your Internet is not working on your phone is just a glitch. To fix it, reboot the router. Occasionally, it solves slow connection and common wireless issues.
Below you can find detailed and clear guidance:
Unplug an Internet modem and router.
If your modem has a backup battery, remove it. 
Wait around 2 to 3 minutes for the modem to fully switch off. Double-check the lights, they must be off too. 
First, plug in the modem. After approximately 2 minutes, connect the router. 
Wait for the Internet lights to switch on. 
Now check if you have a stable Internet connection.
Unstable Wi-Fi connection
Any happy owner of Apple devices already knows that any IOS update can come with bugs. It takes a toll on an iPhone's Wi-Fi network. Conveniently, there are easy fixes.
Switch Wi-Fi off an on
The Internet on the iPhone is still not working? We've got a couple more tricks up our sleeves for you. 
You'd rather turn the Wi-Fi off and on. 
On iPhone X and newer versions, swipe to Control Center. 
Tap on the Wi-Fi icon. 
After a few seconds, tap on an icon to turn Wi-Fi on. 
In case of more issues, you need to go to the Settings app and follow the pattern:
Launch Settings. 
On the menu tap on Wi-Fi.
Switch off the Wi-Fi. It will change from a green color to gray. 
After 10 to 20 seconds, toggle the Wi-Fi on.
This approach can restore things to normal.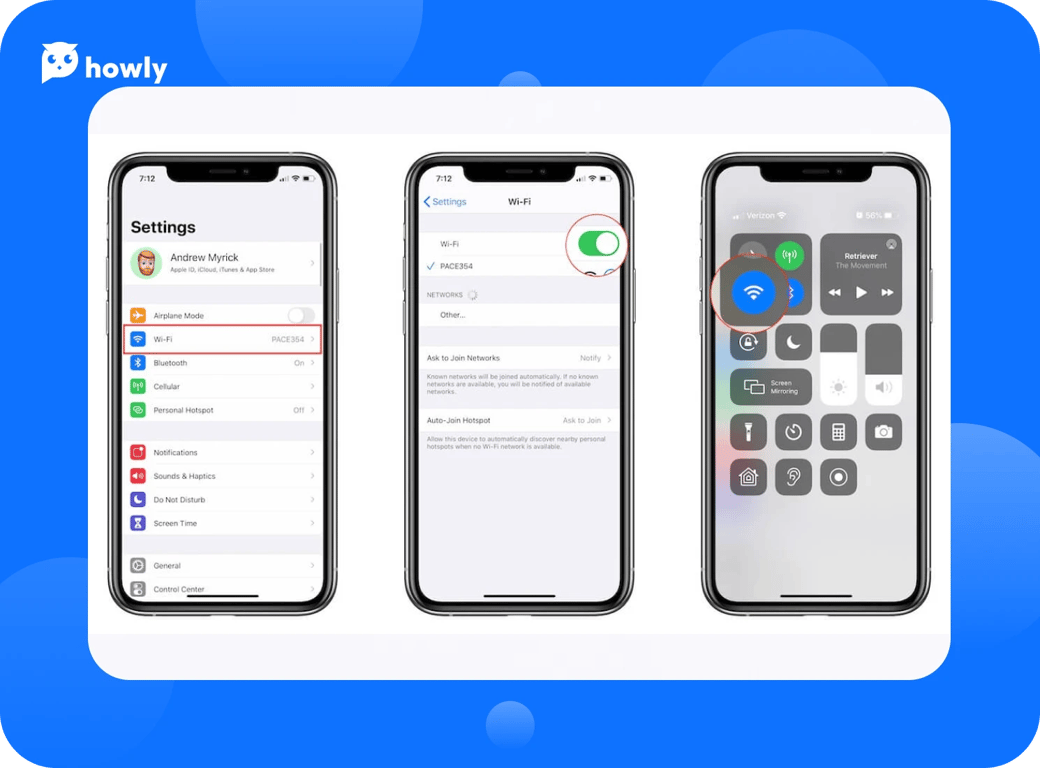 Restart your iPhone
It is common for iPhones to act up and have some minor software issues and bugs. When your iPhone won't connect to the Internet is one of them. Try restarting your phone first. Often any temporary bugs or glitches will be fixed.
If you have an iPhone X, 11, XR, 12, or an updated model, restart your device all at once by holding down both a side button and a volume button.
When using an older model, such as an iPhone 8, 7, 6, or 6, press and hold the side button.
Update carrier settings, if possible
Do you regularly update your carrier settings? If not, then no surprise your iPhone is not connected to the Internet. The next thing you try is to update the carrier settings. 
It is challenging since for the updates you would need an Internet connection. But, high chance is that you got the update before going offline. 
Go to Settings, choose General and About. There you can find a loaded update and install it. 
Reset the network settings on an iPhone to default
When you face iPhone Internet issues or troubles with a cellular connection, you try to get to the nitty-gritty of the problem. But, it can be tricky to pinpoint the real root of the problem. 
Your iPhone doesn't have a Wi-Fi connection? Go back to the networking settings. It is proved to be effective. 
Remember: the saved Wi-Fi networks will all be erased if you do this. and you'll need to connect them manually. 
To do so, go to the Setting app and follow the instructions:
In the Settings section, tap on General. 
Scroll down to Transfer or Reset iPhone.
At the end of the list choose Reset, or Reset Network Settings. 
Finish off by entering your iPhone's passcode/password. All network settings will be reset.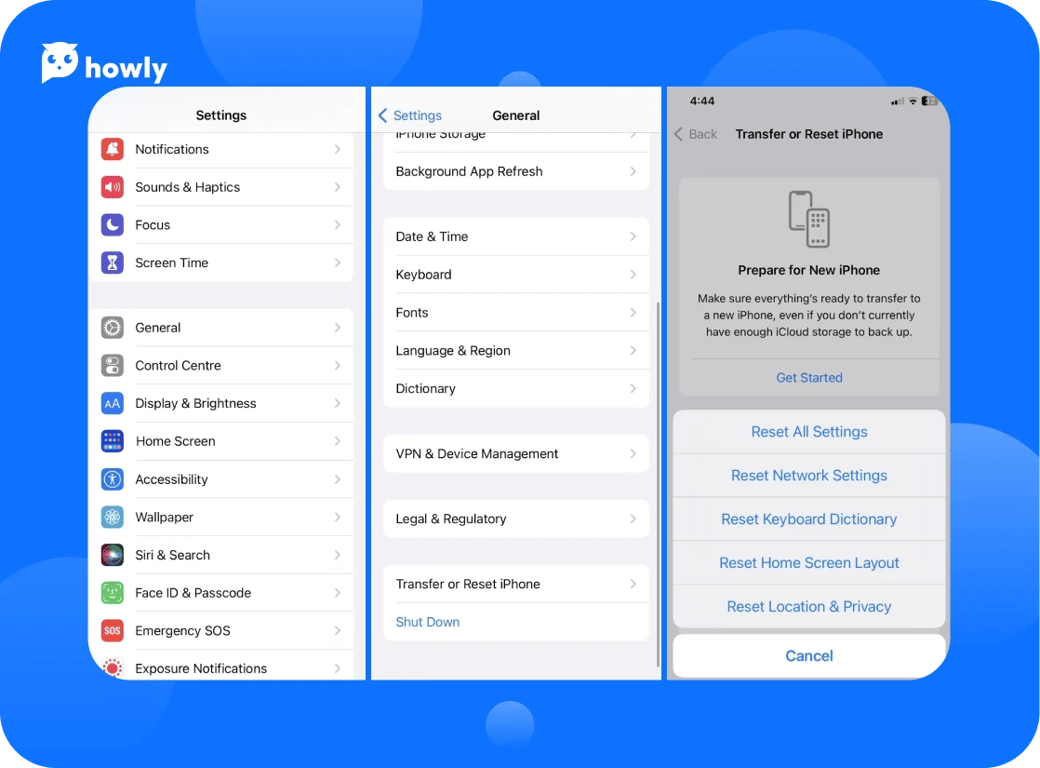 Take out the SIM card
If the Internet won't work on your iPhone, think about taking out and replacing the SIM card. Simply remove the SIM card from the tray carefully, then replace it.
We do not promise that it will work, but why not give it a go?
If you found that the SIM is out of shape or broken, we recommend contacting the carrier. The damaged state of the SIM card can be the reason for an unstable Internet connection. 
Turn Airplane Mode on/off
Here comes another easy fix when you have no Internet on your iPhone. You can go to Control Centre or go to the Settings app. There, toggle on an Airplane mode. After 30 later do the trick and toggle it off. The airplane mode will be off.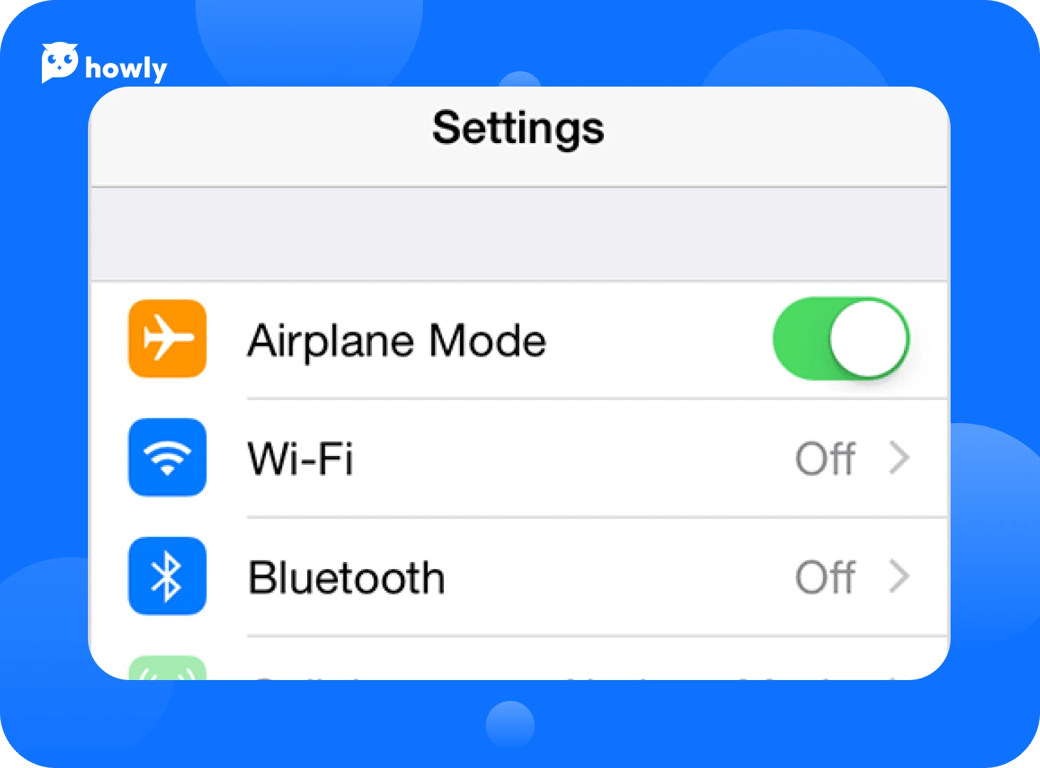 After your iPhone has reconnected to Wi-Fi, open a browser of your preference, and check the Internet connection. 
Call your carrier
Have you tried all the above to solve connectivity issues and identify the problem, but it's all in vain? Are you still puzzled as to why the Internet is not working on your phone? 
The great odds are that your carrier is experiencing outages. Always try to find ways to connect with your provider in any possible way, either by email or on social media, or through a phone call.
This way the carrier will be aware of the problems you are experiencing, and will swiftly fix the existing issue. 
FAQ
How do I fix an unstable iPhone connection?
An Internet connection is not working on your iPhone? First, try to fix it with Airplane Mode. You can do it directly on Airplane Pattern or on Control Centre.
How can I improve my wireless connection?
"My iPhone won't connect to the Internet" is a common statement we hear. Try resolving issues with the wireless connection. Choose a central position for your router to get better coverage. Never put your router on the floor. If it does not change the situation, simply upgrade your equipment.
What causes network problems on iPhones?
Interruptions with network service happen due to many reasons. The most common ones are provider or software issues, SIM card problems, or hardware damage.
Conclusion
We believe that some of these tips will be helpful. And you will know how to fix any troubles you have with the Internet connection on your iPhone. 
We advise that in case of hard network issues on the iPhone, contact Apple for support.