Sometimes, you might want to port your phone number away to a new mobile operator, link your number to a new device, or switch between accounts. And Verizon took care of making it easy for all users. Whether your plan to move to another service provider or transfer to Verizon, the port number in and out process is not difficult at all. And we're about to show you how to do it in a few simple steps.
Before we start
Save your time and let trained experts in Verizon phone number issue resolution resolve your difficulty in minutes!
When you try to fix an issue by yourself, it frequently results in many hours of wasted time without actually resolving the issue. Save your time and find an effective solution to your problem with Howly experts! Our specialists are ready to help you with any Verizon phone number issue 24/7.
The benefits you'll get fixing your Verizon phone number issue with Howly experts:
Expert help with Verizon phone number

Quick advice right in your device 24/7/365

Expert reply within 60 seconds

Clear step-by-step guidance

Limitless number of follow-up questions

Patient and understanding help till your Verizone phone number issue is fully resolved

All answers you need in one place
Read this article to find detailed guides for different phone number transfer scenarios, follow the instructions, and enjoy quick transferring.
How to port Verizon number out to another mobile operator
If you want to port out from Verizon, you first need to identify what type of account you have: a standard monthly bill or a business account. To move a phone number from a standard account, the first step is to get a Verizon transfer PIN. Read how to do it in the section below. If you have a business account, you don't need the PIN.
How to get Verizon transfer PIN
What's the role of a transfer PIN for Verizon? It is a unique code needed to authorize a carrier you want to move your line to and start the transferring process. To generate it, follow the steps in the instruction below:
Go to the My Verizon website and access your account there.
Go to My Profile → Number Transfer PIN.
Select the option Generate PIN. You'll see a PIN. Don't disclose this code to any party other than your new carrier.
Sometimes, you will see a notification to turn off the Number Lock option that ensures the protection of your account from an unauthorized line transfer. Follow on-screen prompts to get access to the security PIN.
Standard account Verizon porting out process
Once you receive a Verizon number transfer PIN, you can begin to port your number out. Here is how to do it:
Reach out to your new mobile operator. Tell them what of your lines of service you want to move.
Use the transfer PIN in your account to give permission for the move.
Tell the PIN and your account number to your new mobile operator, so they can contact Verizon and start to port out your number.
The process will take up a few hours and it is important to keep your account open until the end of the transfer.
Business account porting out process
If you have a business account, you don't need a Verizon port-out PIN. Instead, follow the steps below:
Provide the mobile operator to which you want to transfer your number with your existing account number and billing account PIN.
Wait for the operator to reach out to Verizon, port out your number, and disconnect your line from Verizon.
How to port in Verizon: 3 steps to switch from your carrier to Verizon
For those who want to replace their carrier with Verizon, the procedure is a bit different. First of all, you need to find out if your number can be transferred to Verizon. It's easy to do on the UNKNOWN TAG — ins website. Next, follow these steps:
Get a SIM card or eSIM from Verizon.
Contact Verizon and tell them what number you want to port to Verizon. In addition, share your old account number along with the security PIN from your previous carrier with them.
Wait until you get a text message with instructions. Follow them to complete the number transfer.
Guide on transferring a Verizon number between phones
Sometimes, when you buy a new device, you would like to have the same phone number. It's easy to keep your current number if you're a Verizon customer. Check the two methods for Verizon number transfer between phones below.
By placing an old SIM card into a new smartphone
The first method is easy, doesn't require you to get a Verizon port PIN, and works for those who have a SIM card, not an eSIM. So, all you need to do to transfer your number is:
Turn off your old phone and a new one.
Take out the SIM card from your old device and insert it into the new device.
Power on the new phone and proceed by adhering to the instructions displayed on the screen to successfully finish the transfer.
By contacting support
Sometimes, the method above doesn't work. It can be due to the different issues described below:
You try to move a SIM card from a basic cell phone to a smartphone. They have different card slot sizes.
An old SIM card may not give you access to the new features.
The change may affect your device's security.
If you face one of these issues, you can contact Verizon to keep your number. Here is the guide for you:
Reach out to the Verizon help center and tell them your phone number and new phone ID (MEID). You can find your phone ID by going to Settings → About Phone.
Follow the instructions from a support manager. You may be asked to confirm your identity.
Wait a few minutes. When the transfer is done, you'll get a message. Test your new phone and if any issues appear contact Verizon again.
How to switch a line of service from one Verizon account to another
Another useful service you can use is Verizon phone number transfer from one account to another. If you need to do so, here is the instruction for you:
Enter your Verizon account using your credentials.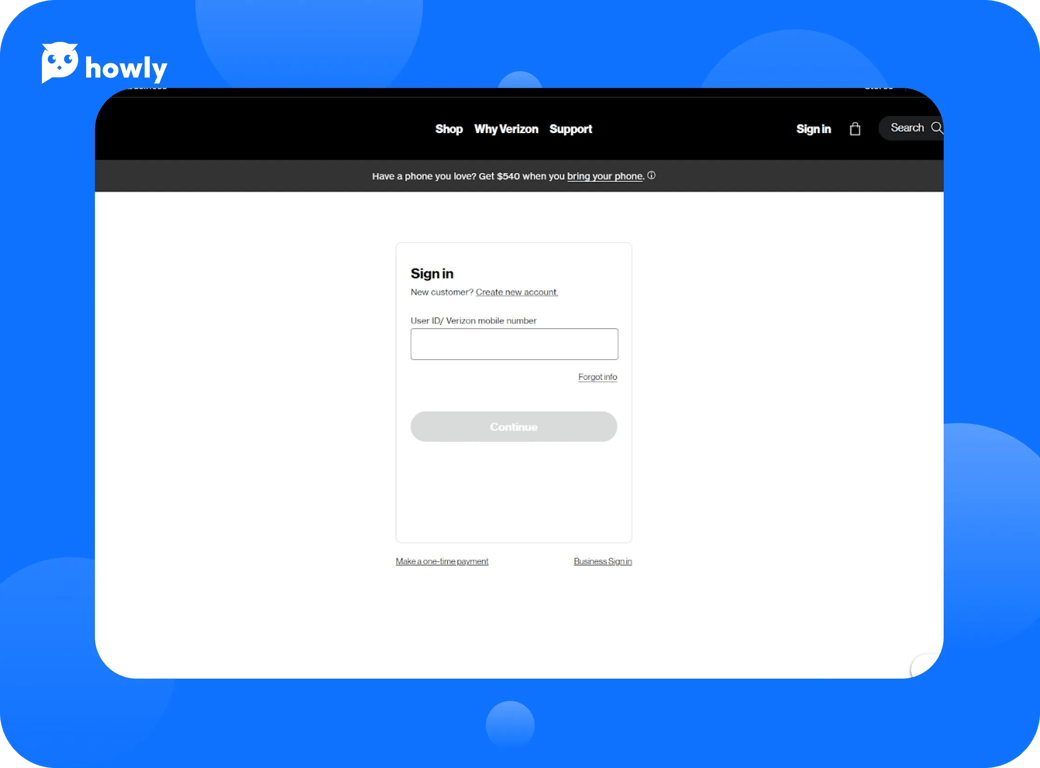 Navigate to the Support section.
Click the option Port Phone Number, enter your previous Verizon phone number, and click Submit.
Save the changes.
That's all you need to port a Verizon number from one account to another. Now, your new Verizon account is associated with your previous Verizon phone number.
Conclusion
We hope this article has helped you to successfully transfer your Verizon number. Porting a line in or out of Verizon is easy and won't take long in most cases. You can access all these services in My Verizon or by contacting Verizon support.
And if you have more questions, feel free to contact Howly experts and ask for help. Our qualified specialists would love to answer any of your questions. for example, how to check VZW port status or how to create a new account on Verizon. Let us resolve any issues for you!