The first headphones that came on the market had a full-size design with foam pads. As a rule, they were smaller than the ears, so they were rather uncomfortable to wear for a long time. Then came the familiar earmolds and in-canal models. But they did not become more comfortable either.
Before we start
Save your time and let professionals resolve your issue in minutes!
Want to start solving your problem immediately? Experienced Howly troubleshooters can fix your issue ASAP. They're already waiting for you in the chat!
The benefits you'll get while troubleshooting your issue with Howly experts:
Qualified help with laptops HDD

Quick advice right in your device 24/7/365

Expert reply within 60 seconds

Clear step-by-step guidance

Limitless number of follow-up questions

Understanding and empathetic help till your laptop HDD issue is fully resolved

All answers you need in one place
Each human ear has individual sizes, and in fact, no one on earth has the same ear size. Focusing on this fact, manufacturers began to produce in-canal headphones with silicone ear cushions. But the choice of pad sizes was so small that it was quite difficult to choose them for long wearing.
When manufacturers shifted their focus to making wireless models, the range of silicone ear cushions increased. In addition, a host of gadgets and overlays made of other materials began to appear to keep the headphones from falling out of your ears.
And if previously the gadget fell out of the ear and remained on the cable, now it can fall straight to the ground or other surface. As a result, this can lead to mechanical damage or complete failure, or you can even lose one of the headphones.
Today we will tell you how to deal with the problem in different situations and how to choose the right ear cushions for long-term use.
1. Selecting the ear cushions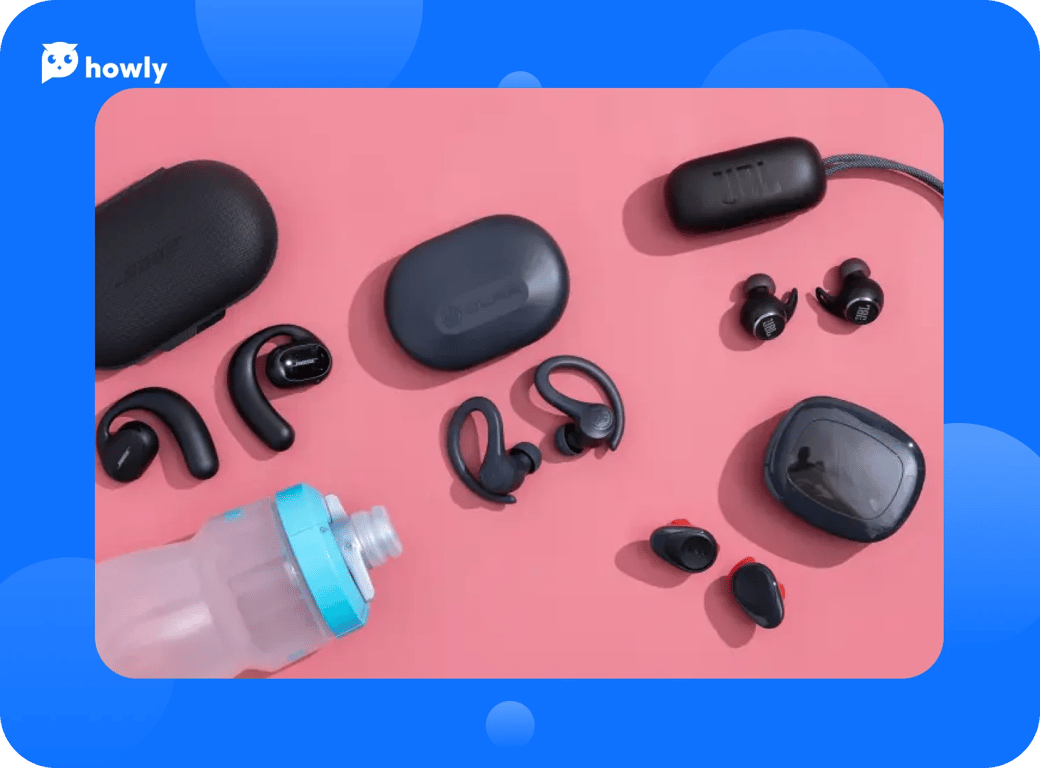 An ear cushion is a special pad for the gadget that provides a snug fit and, in some cases, provides passive noise cancellation.
Material
The most common are silicone cushions. As a rule, they have three sizes: S, M, and L. Modern models come with all three sizes, so picking the right one should not be difficult. They often differ in quality, which depends directly on the composition of the material. Dense can chafe but fit well in the ears and have a long service life. Thin silicone is often deformed and quickly falls into disrepair. However, it will barely feel in your ear if you wear it for a long time. However, all silicone can change its properties when exposed to temperature.
Foam. They are shaped like silicone but made of foam. Depending on their porosity, they are either denser or softer. One of their advantages is considered a comfortable fit and good soundproofing. At the same time, they have their disadvantages. For example, they are not put in the set of accessories, so you have to buy them separately. In addition, due to the sponge structure, they absorb more dirt and moisture and also wear out faster. They are much harder to clean and wash than silicone ones.
Foam sponges. Usually, such pads are used for earmolds or pills. They are made of foam rubber, which, due to the presence of cells, adheres well to the auricle and prevents falling out.
Design features
Silicone or foam ear cushions are most likely to be hemispherical in shape. However, some may be oblong, more round, or elongated. They consist of several flanges or rows. The most common models have one, two, or three flanges. They fit comfortably in the ear and also almost completely prevent falling out.
Less common are models with a memory effect or silicone foam filler. But such ear cushions are much more expensive than conventional ones.
The only way to find the right ear cushions that fit snugly and do not cause discomfort is to try them on. However, due to the structure of silicone, the pads made of silicone are more durable and also prevent the in-canal accessory from falling out of the ear. One of the models with good ear cushions is a novelty from Anker.
The SoundCore Space a40 wireless headphones will be a good companion for morning jogging or active sports. They are designed with silicone ear cushions. Several sizes are included and can be sized to fit or changed depending on wear. The accompanying charging case can extend the pleasure of listening to your favorite tracks for up to 50 hours. In addition, it doesn't take up much space, so you can easily fit even a small pocket.
The speaker design and built-in ldac codec allow you to enjoy dynamic bass and emphasize the midrange and treble. Thus the sound becomes richer and brighter. A distinctive feature is the adaptive noise reduction, which can be adjusted according to your own needs or use preset modes. For example, you can filter out most external noise while jogging while still hearing quite loud ones. This contributes to safety when running in busy terrain.
Pros:
The convenient form factor provides a secure fit without additional attachment;
The design of the headphones is made in a concise style without protruding parts, as well as in three colors;
The gadget is capable of working for 10 hours on a single charge.
Cons:
The silicone pads in the kit have a standard size range.
2. Mounting
Wireless headphones are often used for sports activities. But when exercising actively, there is a high risk of losing the accessories. For such cases, special mounts in the form of silicone hooks have been developed. They have a swivel design that can be adapted to any size. The choice of such holders is quite large; they differ in design and size, as well as design.
In addition, this attachment option is suitable for wearing in-canal accessories without silicone ear cushions. For example, AirPods and similar types.
The tight fit does not strain or chafe the ear. This not only increases the safety of the device but also the sound quality, due to the tight fit.
When choosing this type of attachment, you should consider the connection to the device. It is important that the design does not overlap the speakers, as well as functional buttons and other important openings.
With such a retainer headphones definitely will not fall out, but the size and type are chosen according to individual needs.
3. Full-size design
Full-size gadgets are an option for those who don't want or can't find the optimal size of ear cushions. They are fixed by a sliding headband attachment, and the cups only lightly press against the ear drum. For these models, ear size is not important, the size of the earcup is adjustable to the head.
Bowl overlays, as a rule, consist of several layers. The covering can be made of different materials. Eco-leather or leather is considered more common. Also used are velour, microfiber, and foam rubber. The sound quality and tightness of the fit depend on the inner filler. But as a rule, they do not cause discomfort when worn for a long time. At the same time, this version of headphones will not fall out of your ear.
However, they also have disadvantages. For example, they are quite problematic to use in cold weather when headgear is required. In addition, they have more weight than intracanal. It's hard enough to play sports or be active in them. And if the pads are made of leather or leatherette, in hot weather, they can contribute to increased perspiration.
However, if the choice fell of the headphones in a full-size design, we recommend paying attention to the model Anker SoundCore Space Q45.
The SoundCore Space q45 will not only provide a comfortable fit but will also eliminate almost all unnecessary sounds. The comfortable cups are connected by a sliding design that can be adjusted to the size of your head. The ear cushions do not squeeze and do not strain the ears and fit snugly enough. In addition, the metal hinge mounting allows you to position the cups in a more comfortable position.
The pads themselves are made of a special material that does not cause discomfort or allergic reactions. For a better and tighter fit, the diameter of the bowl inside has increased size. This model will not fall off the head even with intensive running. An additional advantage is the adaptive noise cancellation system and transparency mode, which can be adjusted by the control unit on the device or in a special application.
Pros:
The oversized bowls have a comfortable fit, and the size can be adjusted by the sliding shackle design.
The extended battery life reaches 65 hours without the inclusion of a transparency mode.
Includes a special case for storage and transportation, as well as a set of cables for charging and travel.
Cons:
The model is not suitable for wearing hats.
Additional tips to keep your headphones in your ear
You can buy custom accessories; they are made according to the impression of the ears, so they will be most comfortable and firmly held in the ear. However, this option is one of the most expensive.
In the winter or cold season, you can use the headgear as an additional attachment for the gadget.
When running or playing active sports, it is advisable to wear special headbands that are worn over the ears. They will not only preserve the gadget but also create additional soundproofing from external sounds.
One of the causes of earbuds falling out may be high wax content in the ear canal. Timely cleaning and disinfection will help the silicone ear cushions to adhere tightly to the ear surface.
In our article, we talked about the more common causes of intracanal devices falling out of your ears, and we offered a large number of options for solving this problem. But, if you have tried everything and the problem remains, you can buy new ones. For example, Apple AirPods Pro.
This model is designed for comfort and convenience in long playback. The design features of silicone ear cushions are designed to fit in either ear without additional strain and with a snug fit. The special shape adapts to the ear to provide the best possible pressure. In addition, the active noise cancellation system analyzes the shape of your ear and the positioning of the in-canal gadget to fully immerse you in your music. Thanks to their feet, they are easy to reach and insert. Also on their body is a control unit, which is represented by sensors. The system works on the basis of an external and internal microphone. The outer one absorbs external noise and the inner one works with the sounds in the ear. In this way, the sound becomes clearer.
Pros:
Silicone ear cushions are created with special technology that prevents falling out because it adjusts itself to the shape of your ear;
Thanks to the wide range of functions, the sound becomes crystal clear, regardless of the sounds around it;
Modes and the voice assistant can be controlled using the touchpad on the headphones.
Cons:
Some buyers note that the overlays in the kit are quite large.
Headphones falling out of your ears is not a reason to stop enjoying music. You can always find an alternative: a mount or full-size design, a change of ear cushions, or a special headband. We have tried to find solutions for the most common reasons, and the choice is up to you.