The Noom diet (named after the weight loss app) appeared more than ten years ago and immediately became one of the most popular diets worldwide. What is the secret of its popularity, and how effective is it?
Before we start
Save your time and let professionals resolve your issue in minutes!
Want to start solving your problem immediately? Experienced Howly troubleshooters can fix your issue ASAP. They're already waiting for you in the chat!
The benefits you'll get while troubleshooting your issue with Howly experts:
Qualified help with laptops HDD

Quick advice right in your device 24/7/365

Expert reply within 60 seconds

Clear step-by-step guidance

Limitless number of follow-up questions

Understanding and empathetic help till your laptop HDD issue is fully resolved

All answers you need in one place
According to Noom's research, people who used the program and changed their lifestyle thanks to its recommendations could lose 0.5 to 1 kg per week. But many people are still questioning whether this data is real and not the brainchild of pseudoscience. In our review, we gathered exclusively reliable facts about the popular supplement and the weight loss system it contains.
Isn't it cheating?
Mobile apps are increasingly penetrating our everyday reality. In less than three decades, the world has come a long way from elementary games on Nokia phones (ask your parents about "Snake" and "Tetris") to modern life support programs (think of the smart home, for example).
The Noom program is another aid to optimize your lifestyle by following the principles of healthy eating, controlling your physical activity, and achieving your weight loss goals. The program is not a newfangled diet but a set of measures for maintaining a healthy lifestyle. Of course, optimizing nutrition is one of the most important factors for achieving and effectively maintaining.
Do not forget that the ideal (or close to the ideal) weight - is not only an aesthetic here and now but also a guarantee of health in older age - in fact, the basis for the primary prevention of many chronic, untreatable diseases of the cardiovascular system and metabolism.
The medical community has long recognized the feasibility and effectiveness of using virtual weight management programs. These recommendations are based on numerous international studies. For example, statistically reliable results show that out of 36,000 Noom users, almost 80% lost weight. This program assistant does not give "commands" to exclude certain, even harmful, products (and this is always a stressful situation for a person), and prompts the degree of usefulness and caloric content of products, helps optimize your diet, taking into account the indicators of physical activity.
How does the Noom app work?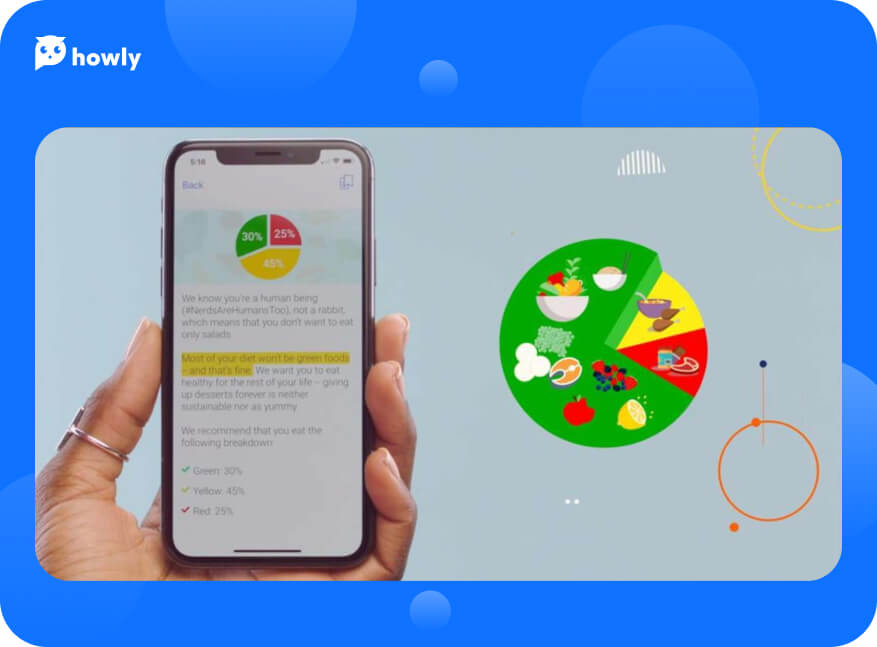 The Noom app includes educational articles on healthy lifestyle topics, tools to track your weight loss rate, biometrics (blood sugar, blood pressure), and offers help from virtual health experts. The Noom app uses a special algorithm to help calculate the number of calories you should eat daily to lose weight. Numerous studies have shown that the app's weight loss methodology does help you lose weight, and the effectiveness of your weight loss depends directly on how often you monitor your weight and check the app's recommendations.
A big plus of the Noom diet is its focus on long-term results. In fact, you gradually change your eating behavior but also get the opportunity to integrate your favorite delicacies and dishes into your diet (as you have probably already realized, giving them up is unnecessary at all).
The Noom dietary system is based on dividing foods into "green" (fruits, vegetables, dairy products, grains, condiments, coffee, tea, etc.), "yellow" (lean meat, seafood, low-fat dairy products, legumes, and seeds, some grains, etc.), "red" (meat, nuts, desserts, snacks, sauces, juices, etc.), depending on the calories and percentage of nutrients they contain. The app recommends consuming them in the following percentages: 30% "green," 45% "yellow," and 25% "red".
Are there any downsides?
Although the Noom app is considered one of the most popular mobile apps on the market, there are a few nuances to be aware of before you start using it regularly.
Noom is not free; you only get the full toolkit after paying a monthly fee ($60).
You will only be able to track your progress from your mobile, which creates some inconvenience. On the other side, it is accessible virtually anywhere and anytime.
All of the experts and coaches you can consult are available exclusively in the messenger, so if you are up to live communication, the effect of the method may be less than you expected. However, Noom data shows that users of the app interact effectively with experts during weight loss, which positively affects their diet results.
It is also worth bearing in mind that such a diet, like any other, can entail a disrupted eating pattern, which can develop into food anxiety and excessive caloric restriction.
This is why many experts urge you to avoid replacing a real consultation with a doctor with a virtual assistant. The weight loss process will go more effectively if you follow the advice of an "advanced" program and discuss your achievements and difficulties with your doctor. First and foremost, this applies to patients with diabetes.