Spotify is a popular music streaming service. But sometimes, users have problems with the subscription. So let's figure out how to eliminate them and what to do if you have extra dollars written off. If you encounter any difficulty with Spotify, you can contact Howly experts, ready to help you 24/7.
Before we start
Save your time and let professionals resolve your issue in minutes!
Want to start solving your problem immediately? Experienced Howly troubleshooters can fix your issue ASAP. They're already waiting for you in the chat!
The benefits you'll get while troubleshooting your issue with Howly experts:
Qualified help with laptops HDD

Quick advice right in your device 24/7/365

Expert reply within 60 seconds

Clear step-by-step guidance

Limitless number of follow-up questions

Understanding and empathetic help till your laptop HDD issue is fully resolved

All answers you need in one place
What does Spotify cost: types of subscriptions
The Spotify service has several types of subscriptions. Here is the answer to the question: "How much is Spotify Premium":
The individual is $9.99 per month for one account.
The Duo costs $12.99 per month for two accounts.
The family tariff is $15.99 per month for six accounts.
The Student costs $4.99 per month for one account.
You can try each Spotify subscription for free for one month. Also, you can listen to music without a subscription but with ads while listening.
Spotify charges on my credit card: what to do?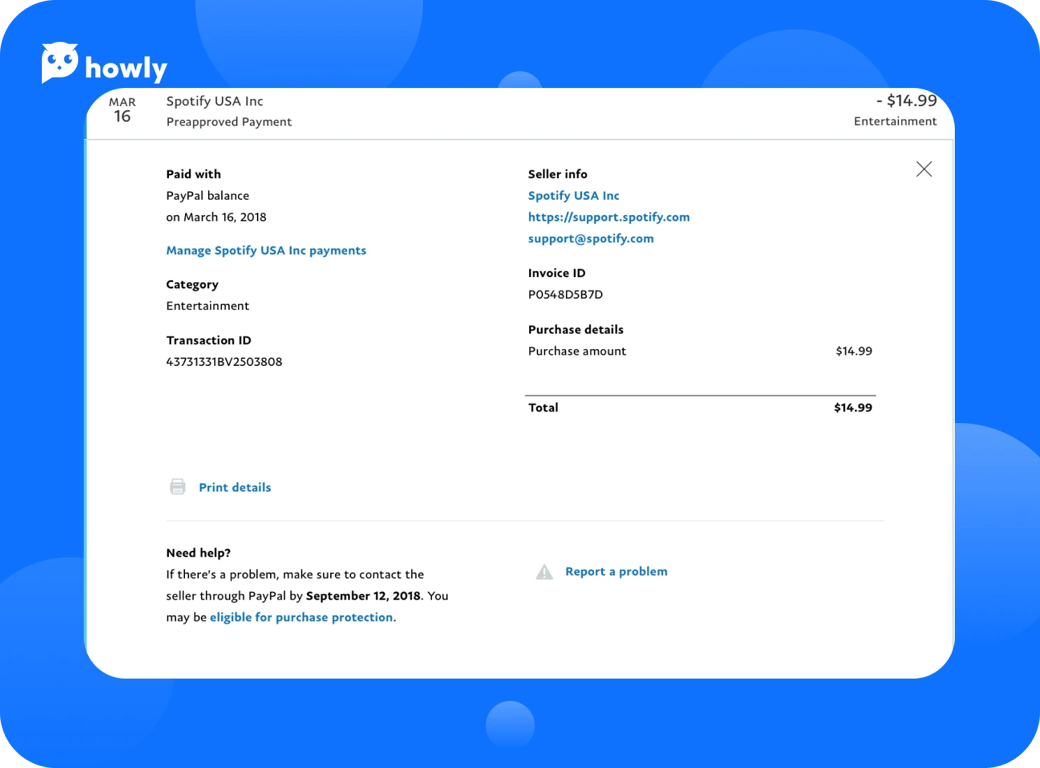 Often users complain that the Spotify service writes off extra money. So what to do to solve such a problem?
If you didn't buy a paid plan, and the money is debited, go to your account and check if you have a Premium subscription selected. If selected, cancel. Sometimes users subscribe to a paid package and forget about it in a month.
If you were charged incorrectly, don't hesitate to contact Spotify support and then your bank for a refund.
If you didn't subscribe to Spotify Premium but see a payment for Spotify USA on your bank statement, someone may have gotten hold of your card details, and you've been scammed. In this case, you need to contact the service support service to cancel your account urgently and to the bank to renew the card.
Sometimes situations arise when it is not you who subscribed to Spotify but a member of your family. And you may not know anything about it at all. Therefore, check who could have used your card if you see any unwanted payments.
It also happens that two accounts are registered to one email. In this case, Spotify may be charged multiple times. If you notice such a problem, write an email to the support service. They usually fix the problem and renew your subscription based on the paid months.
Spotify double charge
Typically, Spotify's subscription fee comes once a month. If you see charges for the second time in one month, there may be several reasons:
Perhaps you have decided to change your data plan. In this case, you may get a bill slightly earlier than the end of the previous paid period. Don't worry, you'll be charged as usual once a month.
The first payment was not approved by the bank and Spotify did not receive the money. Sometimes the Spotify USA card charge may not go through due to insufficient funds in the account or malfunctions in the bank system. In this case, the company makes a second debit.
You might not be using the account by yourself but with friends or family members. They might have signed up for a new plan for which the payment was deducted.
You may be using more than one account and have been charged first for the first one and then purchase for the second one.
If you still can't determine the reason for the deduction, contact the company support team.
Spotify charged while you don't use it
Did you see a Spotify premium charge on your bank account without using a Spotify subscription? You may have accidentally signed up for a Premium subscription from your account. If you're sharing an account with friends or family, check with them to see if they've signed up for a premium subscription. To check this, log into your Spotify account and go to Settings. Here you should select the Subscriptions tab and find out your subscription plan. If you did accidentally subscribe to a premium subscription, you can easily cancel it in the same tab.
If it's not because of an accidental subscription, and you can't determine why it was charged, contact platform support.
F.A.Q.
How to disable paid Spotify subscription?
To do this, you need to go to your account, the Subscription section, find Spotify pricing options, and remove the paid subscription.
What if I unsubscribed and still get Spotify charges?
Contact the customer support service or write to Howly specialists in this case. We will help you find the cause.
What if I see Spotify USA 877-7781161 NY on my bank statement?
Most likely, you have encountered a scam. Contact Howly specialists. They will help you figure it out.
What does Spotify charge look like
If you decide to sign up for a Premium Plan, you can first take advantage of a 3-month trial period. Then, you will be charged a monthly Spotify 9.99 charge.
When does Spotify Premium charge
Usually, Spotify charges on credit card once a month after your trial period ends. After you subscribe, you will be charged on the same day every month. You can see the withdrawal date in the Account Settings.
How do Howly experts work?
To help with a problem with Spotify or another service, our experts will promptly answer your questions via live chat. Write to them, describe your questions, and get detailed instructions on how to fix everything. They will help quickly and efficiently.
Therefore, if you are charged extra funds and music does not work on Spotify, write to Howly experts.