No smart house can exist without a smart speaker in it. In many cases, it's Alexa from Amazon. It helps to turn smart gadgets on, perform minor faulty routine tasks all over the house. It can order pizza, go shopping, and manage delivery services right from your coach.
Before we start
Save your time and let top professionals in Amazon Alexa fixing resolve your issue in minutes!
When something goes wrong with your everyday devices, it may frustrate you a lot. Repairing the issue is the best option, but how to do it? Howly presents the paramount specialists to your service. They can manage any problem you face. Contact Howly support day and night 24/7 to answer your questions about Alexa issues. You will receive a quick and expert solution instantly.
The pros you'll get troubleshooting your Amazon Alexa difficulty with Howly experts:
Professional help with green light on Alexa

Quick advice right in your device 24/7

Expert reply within 60 seconds

Clear step-by-step guidance

Limitless number of follow-up questions

Patient and friendly help till your Alexa issue is fully resolved

All answers you need in one place
Alexa has light signalizing and gives extra information about the status of a phone call or smart speaker, etc. When you receive a call, there goes a green light on Alexa; and it keeps going while you're on the call. When the call is over, the light goes out. Although modern technologies are reliable enough, nevertheless, they can break. Alexa might light green, even if the call is far over.
That's what we're doing today. We're going to show you how to turn off green light on Alexa. Even if Alexa is working, if the green light isn't working right, you need to fix it.
The team of expert professionals with experience with Amazon devices helped to write this article to show you how to stop green ring on Alexa, so it will not return again.
Let's start from the beginning.
What does green light on Alexa mean?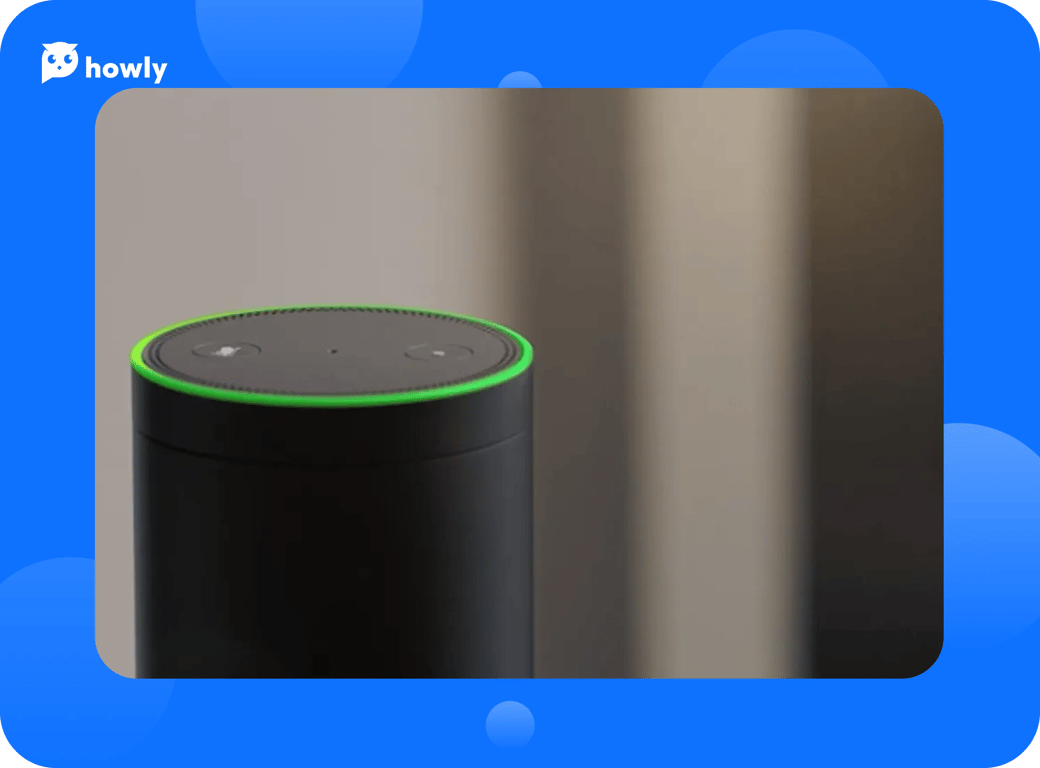 Several lighting modes appear on Alexa. The light can flash, it can spin, so many even call it "light rings". Further, we describe the type of Alexa lighting for you to interpret it correctly.
Flashing green light
If you see that your Alexa gives a flashing or strobing light, it means your Echo gadget has a call. Command something like "Answer call," "Answer," or "Ignore." In most cases, Alexa will announce that you have a call and who's calling. If your Echo has a display, it will also show the caller's name.
Correspondingly, if you ordered picking up a phone call, Alexa will contact you, and you'll be able to talk. When you ignored or stopped talking, the Echo dot green light would stop buzzing too. Both ways will stop the green light on your Echo from blinking.
Spinning green light
Another type of green ring on Alexa is a spinning signal. It means your Echo device is ready for you to call or join a Drop In. If you didn't intend to do so, say something like "Hang Up," "Stop call," or "Goodbye." As long as you are on that call, you will see the Alexa lighting up green. The green light will go away as soon as you or the other person hangs up.
If the situation is frequent, you'd better check the list of your speaking commands to Alexa, as it may be mishearing you. Again, ban Alexa devices from talking to each other.
Let's try to fix it in many ways if it's not your case.
Fix Alexa glowing green
Now, we discuss why Alexa is green and how to fix it. There are many ways to do it, so we did our best to pick the most straightforward. Let's start right away with them.
End your call
We start with the most obvious way, but it needs to describe first. If a green light in Alexa is connected with calling or receiving a call, it must be ended for sure. Three possibilities that can occur during the call:
The light flashes during the call, but it stops when the call is over.
When you end the call, the flashing light stops and goes out.
The light goes out when you don't answer, and the person stops calling.
They all must happen by themselves. But if they don't, try the following:
Confirm or reject the call, after it, the light will go out automatically when the call or ringing is over.
Wait a pair of seconds for the lights to turn off.
If Alexa green light won't turn off, proceed to the next method stated below.
Just tell to stop
Since Alexa is a smart speaker, it can obey your words "Turn on do not disturb". It will confirm something like "I won't disturb you." The issue will be solved.
However, we should note that in this mode, you won't get any alerts, notifications, etc. For this reason, it could be an inappropriate variant. The list of notifications is below:
out for delivery;
delivered;
order changes;
send out reminders;
deals and suggestions;
answer your product questions;
ask to rate the things you've bought;
keep up with news about books, brands, and people who have a lot of impact.
Nevertheless, you can always get your messages again. Just say "Alexa, turn off, do not disturb." Notifications, alarms, alerts will return, and the green light on Alexa.
Put the "do not disturb" sign on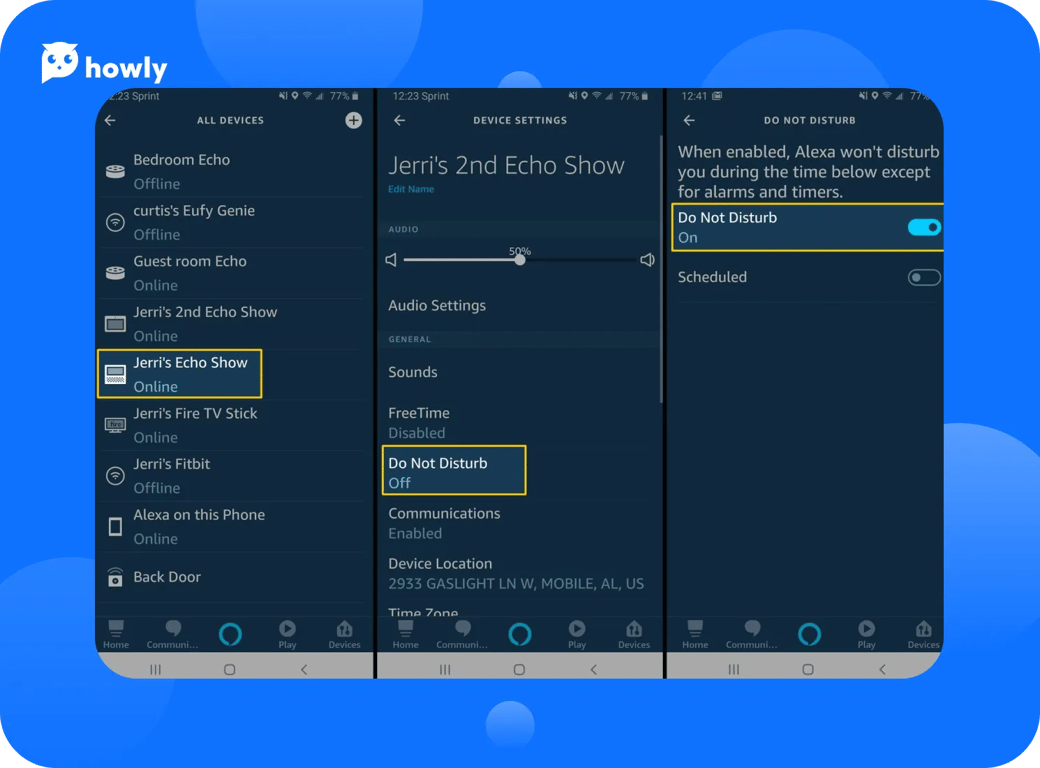 Check if the "Do not disturb" mode is on. You might not even know what's functioning. It may be useful also when you're tired, working on something, or sleeping.
When you switch to this mode, the Alexa green light flashing will go out. And when you leave this mode, things will return to how they were before.
If Alexa isn't getting your voice commands as we described in the section above, let's use your smartphone to turn it on:
Move to the app on your phone.
Move to Gadgets.
Select Echo & Alexa next.
Pick your gadget.
Hit the Do Not Disturb command and toggle it on.
To turn off this mode, follow the same stages, but choose to turn it off in the end instead. You'll start receiving alerts, and the Alexa flashing green light will go back on.
Disconnect your Android phone from Alexa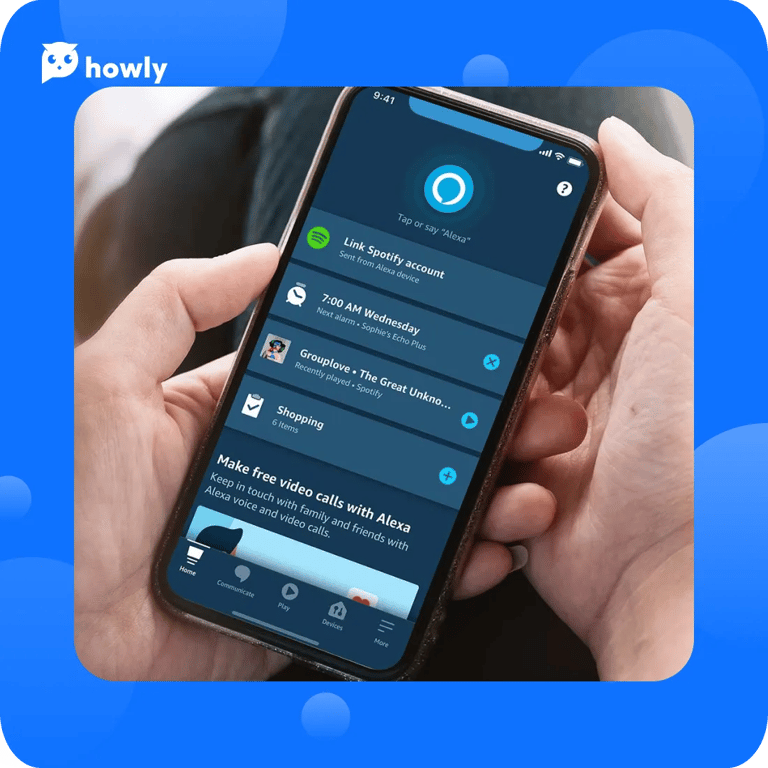 Last but not least method to try is to disconnect your phone from Alexa. It fixes the pulsing green light on Alexa but no incoming call in most cases. After the disconnection, your Alexa device won't light green, but it won't get any more calls either. Here is the algorithm you need to follow:
Go to the app.
Select Echo & Alexa from the list of gadgets.
Choose your device and then confirm Bluetooth devices.
Pick your smartphone by name, and tap Forget.
The end. Anytime you want, you can connect your phone to Alexa again.
Close up
You may see that Alexa green light meaning is not so hard to decipher. In most cases, it concerns the calling. Besides, it's pretty easy to turn Alexa's green light off. Try ignoring a call, switching on and off the "Do not disturb" mode. If the light still stays on, you should try the last method, which is the best way to restart everything.
If you have more questions about Alexa and smart houses, do not hesitate to contact Howly support. We're here to help you anytime you need any tech questions. No need to surf the internet in order to get answers. Howly's pro specialists already have all answers and will assist you.