Spectrum is one of the most common streaming apps from cable providers in the USA. As for today, viewers no longer want to be tied to a single place. And it has raised TV app acceptance to that level that we got TV apps for mobile and tablets.
Before we start
Save your time and let proficient specialists in Fire TV problem-solving resolve your concern in minutes!
Do you want to launch your favorite movie on the Spectrum app, but you can't find it in the application store? Don't worry, Howly experts solve Fire TV app inconsistency problem for you. They are here for you 24/7!
The benefits you'll get troubleshooting your Spectrum app issue with Howly experts:
Qualified help with Fire TV

Quick advice right in your device 24/7/365

Expert reply within 60 seconds

Clear step-by-step guidance

Limitless number of follow-up questions

Kind and understanding help till your Firestick difficulty is fully resolved

All answers you need in one place
In some cases, we still don't have cable streaming apps for the TV. One of those situations is Firestick and Spectrum app relations. There is no official Spectrum application for a Fire TV. But we have a few tested solutions that allow you to enjoy your favorite movies without changing your TV or media player.
What is the Spectrum app?
It's the streaming app for Spectrum services on your phone or tablet. You can watch live channels, favorite series, or some movies. You can also check account details, troubleshoot Spectrum issues and even pay bills for this service straight from the app.
So no wonder that you want to add this application to other devices. Including your TV. And it's possible to get your favorite streaming app on TV. But it's a bit tricky. So you should be prepared that it may take some time.
Each TV manufacturer has a slightly different user interface. Most smart TV and media players run on the modified Android. Thus, app developers need to create different app versions for different players. And Spectrum developers still don't create the Firestick option. But since it's run Android, you can download a basic APK file from third-party services and run it efficiently.
How to install apps on Fire TV: two tested solutions
Unfortunately, there is no Spectrum TV app on the Firestick application store. But we have a few tricks for you. Use those instructions to watch your favorite shows. Beware that those ways are not official. Do it at your own risk!
How to get Spectrum TV on Fire TV with ES File Explorer
It's one of the easiest ways to access the Spectrum on your Amazon TV. Technically said, you are downloading a third-party file explorer that allows you to open files that the default option usually hides. Here is your guide:
Go to the Fire home screen and run Settings.
Open My Fire or Device (it depends on your Fire version).
Pick Developer Options → Unknown Sources.
Run the ES File Explorer.
Press the left arrow button to launch the in-app menu.
Scroll until you find the Downloader and pick the "+" sign at the bottom.
Enter the link from the service where you want to load the APK of the Spectrum. Use only trusted sources.
Wait until your TV loads the application. Once it's ready, ES Explorer prompts you to launch the APK.
Confirm your intentions by choosing Install.
You can run the Spectrum TV on Fire TV. Simply find it in the list of installed apps. Remove the APK from the system. You don't need it anymore. The installed app stays in place.
How to download via Downloader App
It's another third-party solution to run this streaming service. Here is what you should do to launch the Spectrum app on Fire TV this way:
Set the Downloader on your Fire TV.
Open this app and paste the address where this app should load Spectrum's APK file.
Choose to Go or press Play on the Firestick remote.
Once this third-party tool downloads the streaming app you'll see the Install button. Choose it to confirm your choice.
You can keep or remove the APK because you no longer need it.
Cast Spectrum from your phone to Fire TV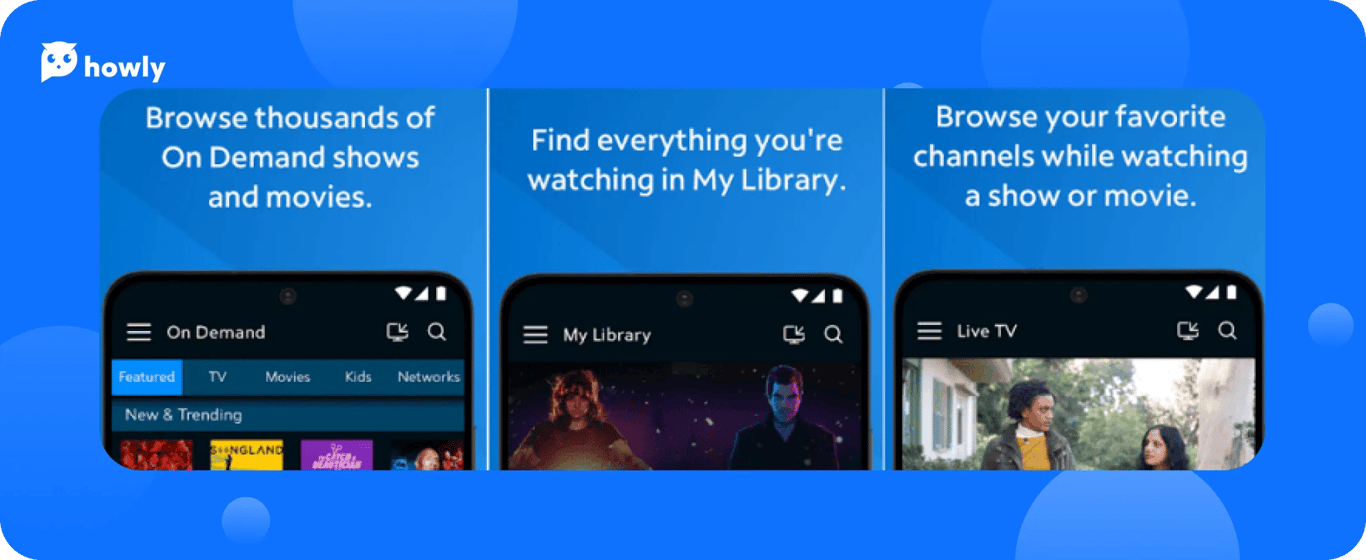 The third way to use the Spectrum app with Firestick is to cast it from your phone. First of all, install the application on your mobile device and sign in. Ensure that your phone has a screencast function. Old phones that were made before 2012-2014 barely have this tool. But more modern devices usually can screencast
After this, stick to the following guidelines for Spectrum on Firestick:
Launch Airscreen on your TV and phone.
Launch it on the TV and scan QR to open the link.
Select Entire screen. If you pick In-app content, Spectrum may show only a black screen instead of the actual video.
Stick to the instructions on the screen to allow screen mirroring on your main device. If you already did it, skip this step.
Launch the screencast on the phone.
Pick TV from the list.
Enjoy the content.
Beware that screencasts drain the phone's battery, so you should have a power bank near you.
F.A.Q.
Why is the Spectrum app not on Firestick?
On mobile apps, devices on the similar operating system have a similar interface. That's why if your phone fits into requirements, you get the app. But it's not the case with TVs: developers should make different versions for different manufacturers. And the Spectrum team has not yet managed to create the Amazon Fire version. But it may change in the future.
How to download the Spectrum app on Firestick?
Considering that Fire TV runs on modified Android, you can download and install mobile APK files. But beware that it's not fully adapted for TV, so you may face some glitches.
Can you download the Spectrum app on Firestick?
Yes, but just with some external tools. Unfortunately, there is no official Spectrum for Fire TV. So you should try alternative ways to install the app.
How to get the Spectrum app on Amazon Fire TV?
Get a third-party file manager where you could open Spectrum APK files. But beware that you'll be downloading the mobile version, so you may face minor glitches while using the app.
Wrapping up
There are a few ways to get Spectrum on Firestick. Run a third-party file manager and download Spectrum APK from a trusted source. Install the streaming service and watch your favorite shows. There is no official Spectrum application on Amazon's Fire application store, so you need to use third-party ways to run your favorite streaming.
Another option to get the Spectrum app on Firestick is to screencast it from your phone. Fire support screen mirroring as well as most modern mobiles. But this action drains the phone battery. So you may need to plug your phone into the power socket or use a power bank.