The wires and adapters are one of the weakest points of every iPhone. Many iPhone owners change chargers once a month, so quality is questionable. But honestly, how carefully do you use your charger?
Before we start
Save your time and let professionals resolve your issue in minutes!
Want to start solving your problem immediately? Experienced Howly troubleshooters can fix your issue ASAP. They're already waiting for you in the chat!
The benefits you'll get while troubleshooting your issue with Howly experts:
Qualified help with laptops HDD

Quick advice right in your device 24/7/365

Expert reply within 60 seconds

Clear step-by-step guidance

Limitless number of follow-up questions

Understanding and empathetic help till your laptop HDD issue is fully resolved

All answers you need in one place
We carry chargers in our bags, we turn our phones on and off ten times a day, we throw cords on the table, among other small things, and we pull the thin charging cord when we turn it off. No wonder they break pretty often.
What to do if you urgently need to scroll through Instagram or make a call, but your phone is dead? How to charge an iPhone with a broken charger? Let's figure it out.
iPhone doesn't want to charge?
Each iPhone charger consists of 2 parts: a wire and a small charging block. Most often, the wire breaks. As usual, it happens at the most inconvenient time.
If the clock is midnight or there is no single store nearby, and the phone is urgently needed, do not hurry to Google "How to fix iPhone charger." Check:
Is your socket working? Plug something else, such as a lamp, and look over to check it out.
Is your device working? You can buy a new charger, but your iPhone is still not working. Don't panic, and check your device. Instead, tie another Apple gadget to your charging wire and block.
Is the wire working? To check this, connect the wire and phone to another power supply. Or to your computer. Don't see the charging icon? The problem is in the wire.
Is there a working connection between the phone and the socket? Sometimes the phone does not receive a charge because of an incorrect fastening. Unplug the device and power supply wire and plug it back in.
Made previous steps and have not found the reason for the breakdown? The power supply is not working. Replacing or repairing it will help with your problem.
Carefully try every step, and you will find a few ideas on how to fix your charger. So, after seeing the trouble, let's talk about what you need to do. These simple actions could help you find out how to make your charger work. And they will help you save money.
How to repair a damaged iPhone cable
Have you ever requested: "How to fix a broken iPhone cable?". The cable may become frayed or damaged due to inappropriate use.
Use the special band to isolate the damage
Electrical tape is straightforward, helpful, and can be found in every house. Use this tape to repair the damage if you see it. Just wrap the tape around the damaged area. This operation often helps you with the question of how to make a charger work again.
Be careful! Apply tape only when the wire is unplugged because a damaged wire can cause electric shock and burns.
Use a spring from a pen to prolong your charger's life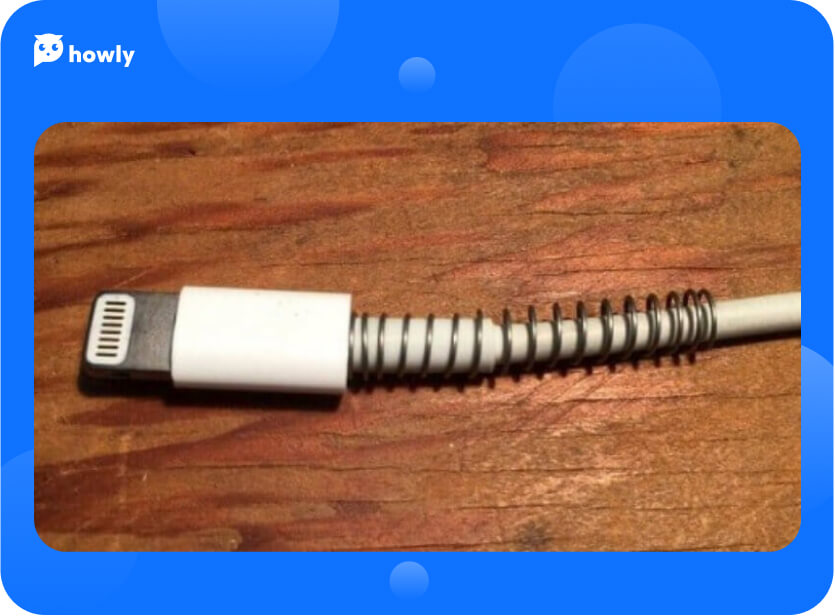 Another tool that you could use is a regular pen spring. Please put it in possible damage, fix it with electrical tape, and the cord will be in use longer.
Use heat shrink tubing
That's another simple step that may help fix an iPhone charger. If your lovely gadget still doesn't work, test heat shrink tubing. Purchase a large tube to fit over the injury, and heat the tube with a hairdryer or other heat source. After the plastic has cooled, your cord will be intact. In addition, the tube adds rigidity to the wire so that it will be difficult to damage it again.
Splice and reconnect
Note that you need soldering skills if you want to use the following method. If you are unsure about your skills, please, skip this step. Try repairing the cable with a soldering iron. This job requires precision. First, find the place of breakage and remove the coating with a knife, leaving only the leashes. Then cut off the damaged part. Inside the cable, you will find three wires. Connect the corresponding sections and solder them with solder. Be sure to isolate the wiring after manipulation not to provoke a short circuit. Finally, cover the repaired area with electrical tape or heat shrink tubing.
Warning! If you have no work experience with a soldering iron, tape and tube don't work, buy a new USB cable.
How to mend the adapter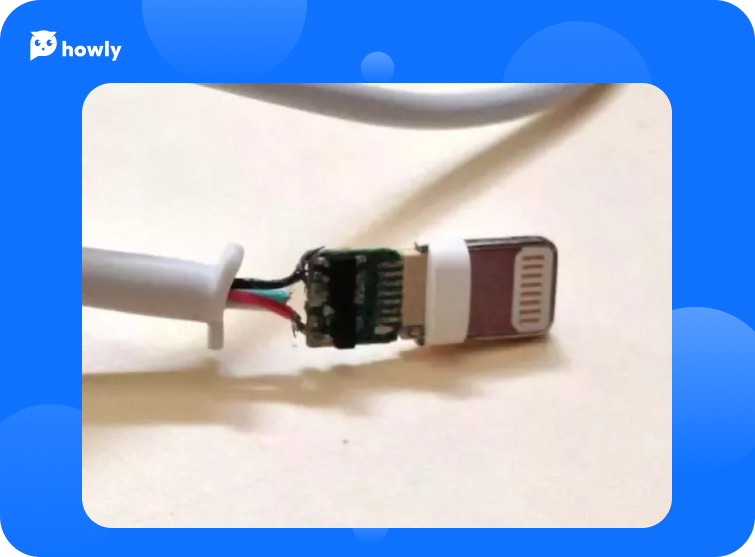 How to fix the Apple charger adapter? Repairing a charging adapter requires realizing the technique because you can effortlessly harm small parts.
Thus, it's better not to unlock the charging port. The cord from your gadget works with different adapters. You can also connect your phone to a computer, TV, and other devices and charge it.
Therefore, if the power supply is not functioning, test extra options.
Sometimes the charging adapter is intact, but the socket is bent. In this case, you can fix everything with pliers. It is elementary, just clamp the socket and return it to its original position.
Attention! If you have no experience with electrical appliances, do not open the charging box. Such actions may cause a fire.
How to mend broken iPhone charger tip
This type of failure is rare, but it is still possible. Sometimes, the tip you use every day when you charge your phone breaks. You can quickly fix it with glue for wires. For this:
Disconnect the wire from the electricity;
Check if the tip is dry;
Apply a drop of glue, press the tip firmly and wait for it to dry.
After the glue has dried, plug the device into a power outlet and check if it functionates.
If the tip isn't broken, just bent, you can straighten it out with pliers.
Be attentive! If the crack on your charger is enormous, do not strive to repair the wire or block. Doing so would injure yourself and create a fire hazard.
So currently, you know how to make an iPhone charger work again.
Faults not related to the wire and adapter
Periodically the trouble is not in the wire or adapter. Everything is okay with electricity, but the iPhone charger still doesn't work. You ask yourself: "How to fix your iPhone charger," and it is okay. Let's see what you can do.
Clean the connection point. A small hole where the cable is fastened often gets dirty. And if your phone does not show a battery charge sign, just clean it. Perhaps there is accumulated grease or some small particles. We often stuff the iPhone into pants and bags, where there is a lot of dust and small rubbish. Please get rid of them, and the device will charge again.
We advise cleaning the connection point at least once a month. For these purposes, you can use a brush or paper napkin. But beware of metal objects. It can cause a circuit and fire.
Wiggle the connections. If this method doesn't work, "wiggle the connections." Perhaps it departs at some point. Such a "movement" will help restore contact, and your gadget will begin a charge.
Turn your phone off and on. Sometimes you can resolve the situation straightforwardly - just turn your gadget off and on using the side button or Sleep/Wake button. System crashes and errors could prevent the iPhone from working correctly. As a result, it stops seeing the electricity and charging. In that case, try turning your phone off and on. It's the fastest resolution if you try to find "how to fix a broken charger for an iPhone."
Try to install new software. Sometimes new software can cause charging problems. For example, if it won't install at all or doesn't install correctly. If this happens to your gadget, reinstall it.
Contact the support team. If the phone doesn't charge after all actions, be sure to contact Apple support. You can do this by writing them a letter or contacting your nearest Apple office because the incapacity to charge the phone is a severe difficulty.
Now you know various ways to fix broken iPhone chargers. Try it and tell us about your attempts in the comments below.
F.A.Q.
What should I do if my phone doesn't charge even though the charger isn't damaged?
If you're sure that the charging unit is working, check and repair other possible causes of the problem. Inspect your phone's charging port, check the socket, and fix phone bugs. These are the main culprits of a non-charging device.
Can I charge my iPhone without a charging unit?
If you have an iPhone 8 or later, everything is possible! Feel free to buy a wireless charger and use it anytime when the battery is low. For older iPhone models, this option is unavailable.
Should I repair my iPhone charger?
The game isn't always worth the candle. The damage can be so severe that it takes a lot of time and effort to fix the charging unit. In such cases, it's actually much easier to buy a new charger than to bother with repairs.
To sum up
As you can see, there can be a lot of reasons why your iPhone stopped charging. A broken iPhone charger is still a significant problem. But we are sure you will find a solution if you try all the advice.
Remember that it is essential to establish the breakdown source and adhere to safety precautions before starting repairs.
If, after all the manipulations, your battery still does not start charging, buy a new wire or adapter at the nearest electronics store. While waiting for a new device, you can set your phone with a laptop or another wire.
Unfortunately, chargers are yet the most fragile part of iPhones. But we believe that soon we will see a super durable charging cord from Apple.
Keep this guide and open it when you ask yourself again: "How can I fix my iPhone charger." And share this manual with friends who also have iPhones.