It may look impossible to fix a cracked screen. But you can fix a broken phone if you have a guide and strong repair skills.  It can save you up to $200-300 service fee. We have some useful instructions for you!
Before we start
Save your time and let professionals resolve your issue in minutes!
Want to start solving your problem immediately? Experienced Howly troubleshooters can fix your issue ASAP. They're already waiting for you in the chat!
The benefits you'll get while troubleshooting your issue with Howly experts:
Qualified help with laptops HDD

Quick advice right in your device 24/7/365

Expert reply within 60 seconds

Clear step-by-step guidance

Limitless number of follow-up questions

Understanding and empathetic help till your laptop HDD issue is fully resolved

All answers you need in one place
We have sorted them from the cheapest and most user-friendly ones to the pretty complex ones. They are fast and already proven methods to fix a cracked screen. If you need more detailed and custom solutions, contact us. Our expert will give you personalized guidelines on how to fix a cracked screen.
Why do screens break so easily: the backstory of displays' fragility
Why is it so easy to break your phone today? It was impossible to break a phone screen 20 years ago! But now you are searching to fix a cracked phone screen at home, even when you throw a phone.
The answer is pretty simple. Twenty years ago, phones were just plastic components combined. They were pretty immune to cracks. They often got scratches but were still safe from cracks.
But it all changed in 2007-2008 after the iPhone release. Touchscreens have become a big thing. Plastic doesn't provide needed sensitivity. Many manufacturers start to use a glass screen that is highly sensitive to any physical interaction.
Early touch screen phones couldn't handle even key scratches. So forums start to fill with questions like "How to fix my phone screen if I sit on it?" or "How do you fix a cracked screen when it gets too scratched?".
So, manufacturers respond to those complaints by making new glass screens more crack-resistant, yet touch-sensitive. That is when Gorilla Glass and Ceramic Shield come to a place. But those screens are still not perfect. So, many users are still asking questions like how to fix a shattered phone screen after a person accidentally drops it on a flat surface. And Howly experts are here to help you!
Hard choice: fix a cracked phone or buy a new one
The first option is usually better if a smartphone is still functioning. Despite the service fee, it's cheaper to repair a phone than buy a spare. Consider buying a new device, if your is:
Out-of-date. If your phone is 3+ years and older, you may buy a new faster device.
If the damage is so tangible that the usage is inappropriate.
Fixing costs just as much as a purchase (it often happens with cheap Androids).
How to fix a broken phone screen: 3 appropriate options
You can use tempered glass to add extra protection, but it's still not a perfect solution. Extra glass can save a screen from key scratches or minor hits (when you harshly throw it on a bed), but it won't save the display from a big crash.
Most displays get cracks when they get hit on a side when someone hits them against a wall or steps on a device. Some of them may be affected even by a less severe potential damage situation. This is vital to know to fix a cracked phone screen.
Put a screen protector
It may sound silly, but it's a fine backup measure to prevent further damage. But do it very carefully, or you may hurt yourself. A protector won't fix a broken screen, but it can act as a temporary measure until you replace it.
Replace a screen by yourself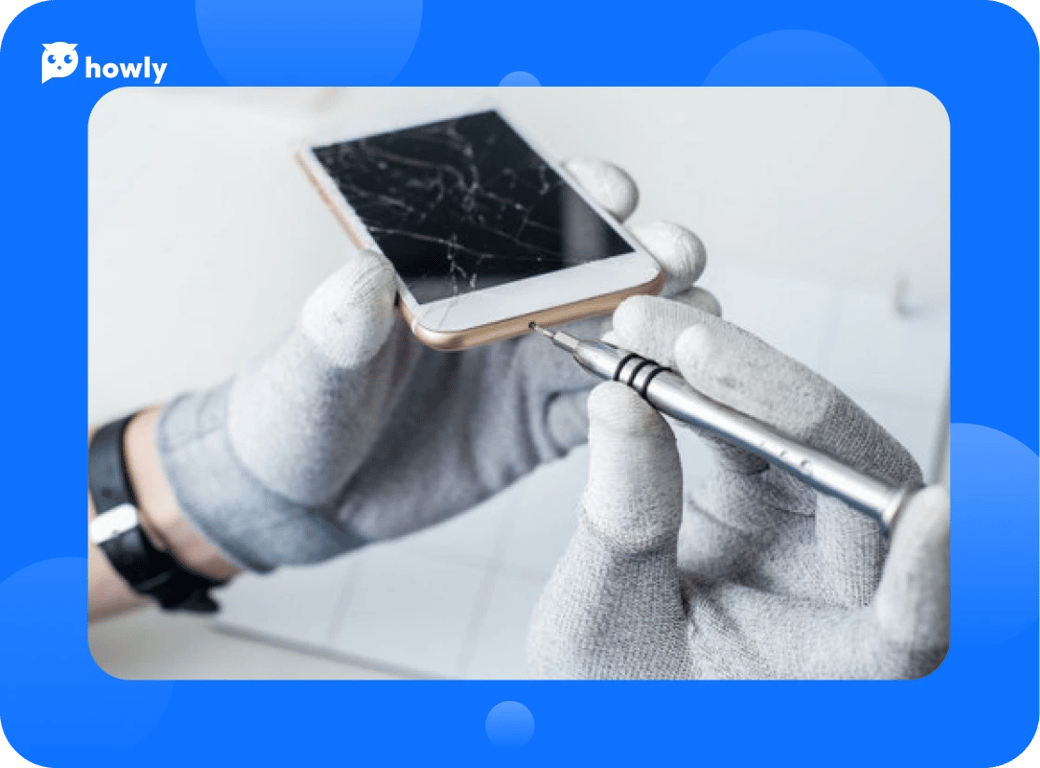 Do it only if you are confident in your repair skills. Otherwise, you can break the phone and hurt yourself with glass shreds from a broken screen. Instruction to replace a phone screen yourself varies depending on the device and damage type.
In most cases, you should disassemble the phone, lift the broken screen and change it to a new one. But screen opening is a complex process that requires at least 30-40 minutes of work, and strong repair skills. You should unglue your current screen from a phone body on one side and from the motherboard on the other.
To ease the work, buy a screen kit. It has a screen, tapes, and screwdrivers that ease the process. Ask Howly experts to get personalized instructions on how to fix a phone screen. The instruction drastically varies depending on the model.
But if you are not 101% sure of your repair skills, visit the nearest phone service. A master will fix a phone, so you can use it again. They had their toolkit, so you just needed to bring a phone to them.
Go to a service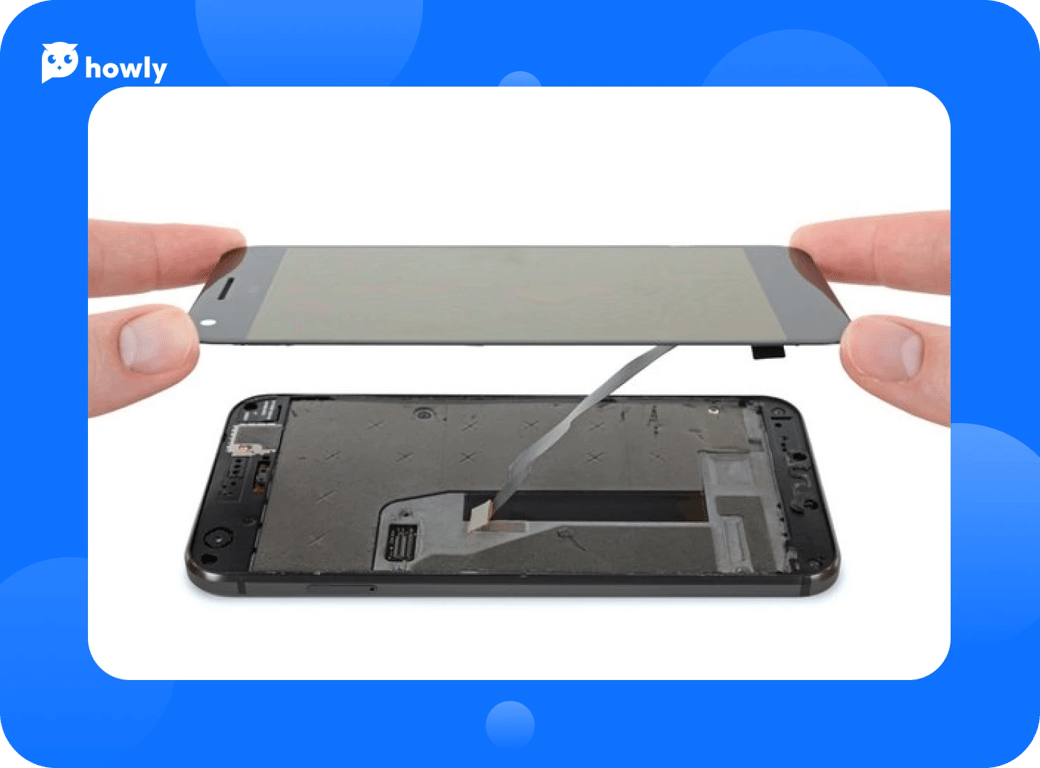 If your phone has severe damage that you can fix on your own, go to the nearest service station. Yes, it may cost you $30-100 for details and $70-150 for a service fee. But that's how you can be sure that a screen will be replaced properly.
It's better to use an authorized service. You can find a list in a user manual or on the manufacturer's website. If there are no authorized services near you, find one with a long history and good user reviews.
F.A.Q.
Is it possible to fix cracked phones with toothpaste, or is it just a myth?
This is not a myth. Many users have used toothpaste to fix a cracked screen. But this option is good only for tiny scratches. You can find the corresponding guide in our article.
What do I need to fix the screen?
You can purchase a repair kit that already contains all the tools you might need. Don't rush to start repairs if you aren't confident in your technical abilities. It's better to contact Howly experts via chat for detailed instructions.
Final thoughts
Consider repair if your phone is relatively new (less than two-three years) and the touch interface is still working. If your phone is old, it may be better to buy a new device.
Also you consider a purchase of a new device if the current phone has major problems with the touch interface. In this case, you should buy a whole touch screen. It may cost you up to 70% of the device price.
If you decide to fix your phone, choose a preferable repair location. You can buy a repair kit and try to change a screen at home. But do it only if you are confident in your skills and have a fine personalized guide near you.  Contact a Howly expert to get custom repair instructions.
In other cases, consider going to a service. It will cost you $50-150 more, but you can be sure that experts change a broken detail.