There are not so many ways to contact Google. This company has billions of monthly users on its services. They know it's impossible to answer everyone in real time. Thus they try to automate the helping process. It will be hard to get Google Help support agents, but still achievable even in 2023.
Before we start
Save your time and let professionals resolve your issue in minutes!
Want to start solving your problem immediately? Experienced Howly troubleshooters can fix your issue ASAP. They're already waiting for you in the chat!
The benefits you'll get while troubleshooting your issue with Howly experts:
Qualified help with laptops HDD

Quick advice right in your device 24/7/365

Expert reply within 60 seconds

Clear step-by-step guidance

Limitless number of follow-up questions

Understanding and empathetic help till your laptop HDD issue is fully resolved

All answers you need in one place
How to contact Google
As we said, Google tries to automate support, so even when you talk to representatives, they redirect you to the Support Center. Visit it to find suitable guidelines for your situation.
If you are a business owner, contact agents via the Support Center. Open a topic that suits your case and click on the Contact us virtual button. It's the only way to chat with Google representatives in real time. If you are just a regular user, visit the Community Help forum to ask about your problem publicly.
Unfortunately, there are no Google support phone numbers in 2023. They also doesn't have a general email support, despite many articles says that Google has a few "secret" mails. The only way for calling Google for help via email is by using a Support Center as business owner.
Visit Google Support Center
In most cases, representatives will redirect you to one of the articles from the Support Center. Thus, it would be easier to look for suitable guidelines in the first place.
Type the inquiry into a search bar or choose the product.
You'll see a long list with common similar issues. Click on that description which looks similar to your case, to open a guideline article.
If you don't find an answer to your question there, try other solutions where you can get help from a representative. Tell them you can't find a guideline in the Support Center.
And there is a loophole that allows general users can use when they need to talk with a support. Open a Support center and choose Google Pay. Scroll down until you see Contact Us button and click on it. Write about your problem, check the troubleshooters from Google team and click on the Next Step. Now you can choose the preferable contact option.
How to contact Google as a business owner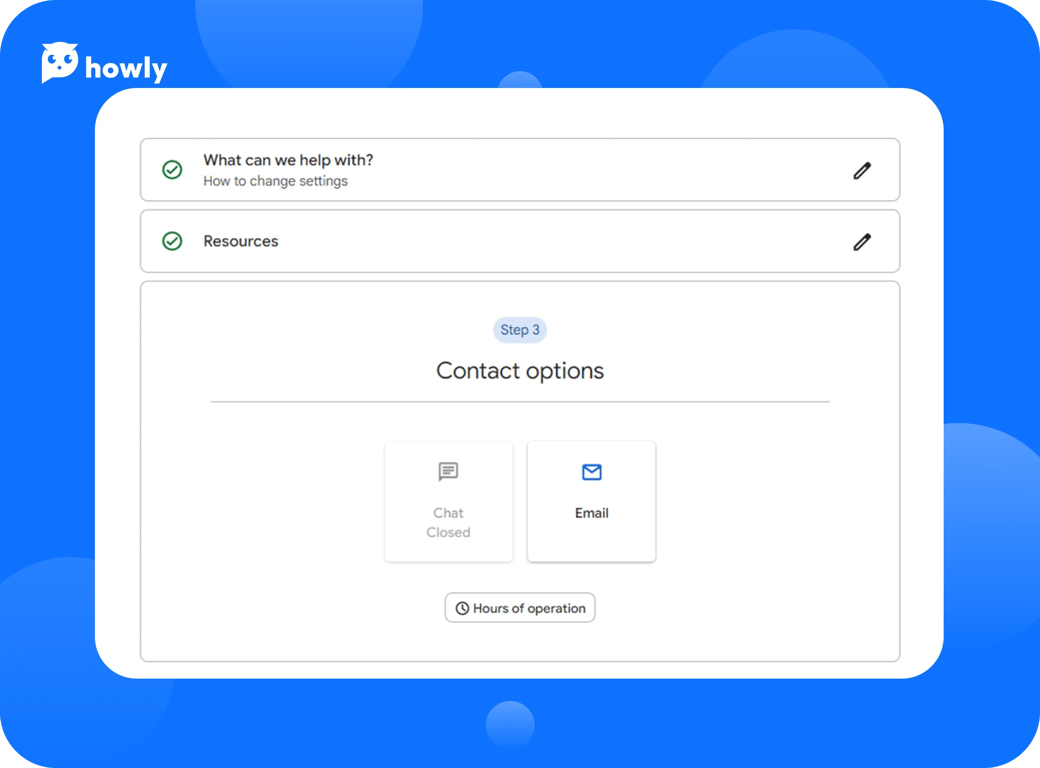 They can contact Google agents right from the Customer Help center. It's similar to "Google Pay" loophole, so overall guide stays almost identical:
Sign in to Google services from your business account.
Open the Support Center and scroll down to the business block.
Find the tool that interests you and click on it.
Scroll down its page until you find Google's Contact us menu. If you can't find it, choose another similar tool with an enabled "contact" feature.
Describe your issue in less than 100 characters.
The system analyzes your issue and provides you with guidelines to fix it. If it's not enough, you can contact support by email or via online chat options (but only during work hours).
It is the only way to contact Google agents via online chat. If you are a regular user, consider other troubleshooting measures.
Use the Community Help forum
If you can't discover a suitable guideline in Google's articles, you may try to research the Google Community forum. It's a place where users share their experiences and gives each other troubleshooting recommendations:
Open Google Support.
Pick the tool where you need to get help.
Click on the Community tab. It will open the official Help Community for this tool or application.
Choose one of the categories or click on Describe your issue.
If you didn't find any related posts, create a new one. Use the above's guidelines, choose the Featured posts section, and click the Ask now button. Type your question and post it.
F.A.Q.
How do I contact Google support?
If you are a business owner, contact Google via chat at the Support Center. In other cases, use the Support Center or ask a question on an official forum if you are ready to share it publicly.
What are Google contact details?
There are no Google contacts for general public. Unfortunately, Google don't provide hotline or email support for general users. Business owners can reach for online support via the Support Center.
How to call Google support?
Unfortunately, there are no phone numbers for Google support. They don't provide hotline consultations.
Wrapping up
You have multiple ways to get help from Google. Firstly, research Google Support Center. If you are a business owner, you can reach support agents from the Support Center by choosing a tool that you need to troubleshoot.
You can also use a Community Help forum to ask other users how they fix similar issues.There are no general Google support phones or emails. The only loophole that Google still has is the "Google Pay" gap: visit Support Center, choose Google Pay and select Contact Us. Write about your issue and choose a preferable contact option.