Meeting new people and building meaningful relationships is easy with Waplog. But what to do if it doesn't show your location correctly? Don't worry, it's easy to change. In this article, we'll guide you through the simple steps to change location on Waplog, allowing you to meet new people near you. So, let's get started to find out how you can manage your location settings in a few clicks!
Before we start
Before we start
Save your time and let qualified experts in Waplog fixing resolve your problem in minutes!
Have problems with your Waplog app? Whether you don't know how to change location, purchase a subscription, or remove your account, Howly experts can help you will all these and many other problems. Just contact us and get quality assistance within a few seconds!
The benefits you'll get fixing your Waplog problem with Howly experts:
Expert help with Waplog

Quick advice right in your device 24/7/365

Expert reply within 60 seconds

Clear step-by-step guidance

Limitless number of follow-up questions

Patient and friendly help till your Waplog problem is fully resolved

All answers you need in one place
How does Waplog detect your location?
To begin, let us quickly explain how Waplog works and what can affect your location. When you launch the app on your phone, it detects your location using GPS signals. The process is automated, so you don't need to choose your location manually.
But, if the app shows an incorrect location, you can fix it. You can change location on Waplog by managing settings on your phone. And don't forget to turn off VPN if you use it, as it can affect Waplog work.
Change Waplog location on iPhone
So, if you are an iOS user and want to fix your Waplog Match, change location settings on your phone in this way:
In the Settings app, navigate to the Privacy & Security section and select Location Services there.
Toggle the switcher near the Location Services to turn it on.
In the list of apps, give Waplog permission to use your location data.
Change Waplog location on Android
Have an Android device? Here is a simple instruction for you on how to change location on Waplog:
In the Settings app, find the Location option and tap on it.
Turn on Location if it's turned off.
Find and tap Google Location Accuracy, then toggle the switcher on near the Improve Location Accuracy option.
Note, that you also need to allow Waplog to use your location data. Otherwise, it won't work.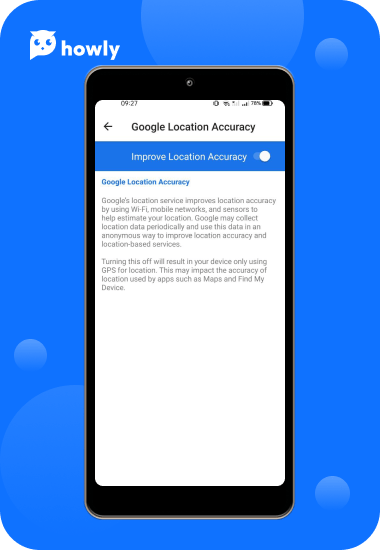 FAQ
Why does Waplog show the wrong location?
Waplog may show the wrong location due to many reasons. For example, you may have turned on VPN, or your GPS doesn't work well.
Can I change my Waplog location manually?
You can't change the Waplog location manually, as this app uses your GPS to automatically detect your location. If you want to change location, try to turn on VPN.
Should I turn on GPS to use Waplog?
GPS can enhance your Waplog experience by providing more accurate location-based matches. So, we recommend turning on your GPS, if you want to meet people near you.
Conclusion
Changing your location on Waplog opens up many opportunities for you to connect with like-minded people. By following the easy steps from this guide, you can set the right location within a minute and enjoy communication in the app. And if you have more questions about Waplog, don't hesitate to ask Howly experts. We are available 24/7 and ready to help!