Even if Apple Music features truly high sound quality to please even the most sophisticated audiophiles, the service is hard to call the best for music streaming. Some people find its library not that big and impressive, others just don't want to spend money on membership, while still others are willing to switch to Spotify. So there's an increase in users puzzling over how to cancel my Apple Music subscription. Luckily, it's simple, and you can break ties with the service anytime on any device. And Howly's here to make it smooth for you.
Before we start
Save your time and let professionals resolve your issue in minutes!
Want to start solving your problem immediately? Experienced Howly troubleshooters can fix your issue ASAP. They're already waiting for you in the chat!
The benefits you'll get while troubleshooting your issue with Howly experts:
Qualified help with laptops HDD

Quick advice right in your device 24/7/365

Expert reply within 60 seconds

Clear step-by-step guidance

Limitless number of follow-up questions

Understanding and empathetic help till your laptop HDD issue is fully resolved

All answers you need in one place
What may go wrong when refusing your Apple Music subscription
Regrettably, terminating a membership is a bit more difficult than subscribing. After all, the Unsubscribe option isn't as explicitly available as the Sign In button, so you'll have to do some work to call it quits on Apple Music. Moreover, the process doesn't always go smoothly, and users report some troubles like:
charges for canceled membership;
problems terminating the Apple music free trial on iPhone;
lost music after unsubscribing;
issues with expired membership renewal;
difficulties unsubscribing via Android-running devices.
No matter what problems happen on your way to removing your account from Apple Music, Howly will solve them all with no fuss. Don't delay troubleshooting, fix your problem now!
How to cancel Apple Music on iPhone
It's not surprising you enjoy the perks of Apple Music membership on iPhone. Indeed, the service is perfectly integrated into the Apple ecosystem, and they operate well together. But even such an advanced technology company as Apple has its weaknesses, and removing Apple Music subscription on iPhone may be tricky. But our easy steps will help you:
Start it all by opening Settings and hitting your Apple ID.
Spot the section with your subscriptions on the first menu (under your name) and open it.
Then, select Apple Music.
Hit the button for immediate membership ending.
The algorithm is no different if you're eager to cancel Apple Music trial through your Apple smartphone.
How to cancel Apple Music on Mac
In case Apple Music doesn't pair with your Mac as well as you'd like, or you just feel that the service isn't right for you, you can always change things for the better. Not much is needed – a few clicks, and you're done.
Run App Store on your MacBook.
Hit your account icon in the top corner and log in in case you haven't yet.
Pick Media and Purchases on the left-hand bar.
Hit Manage to access and set up your memberships.
Spot Apple Music -> pick Edit.
Hit Cancel to make it done right away.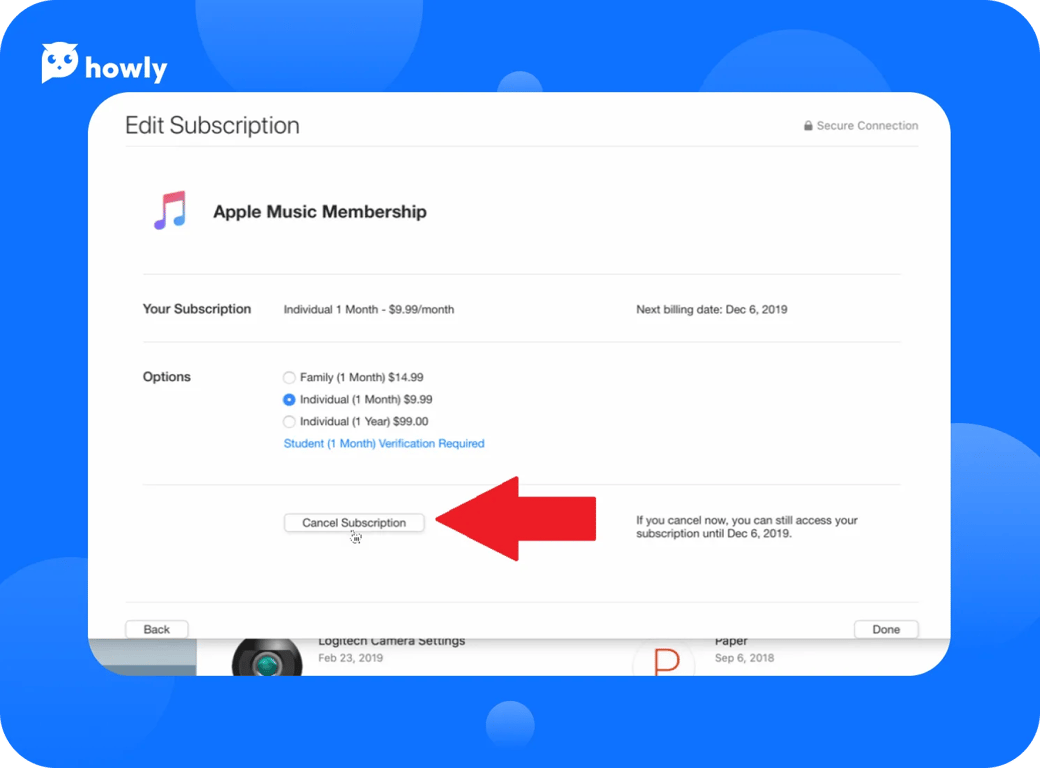 How to cancel Apple Music on Android
The fact that you're the owner of an Android device doesn't prevent you from enjoying Apple services. However, it's notably more difficult, which is why you may want to put an end to your suffering. Anyway, that's how to free yourself from the Apple Music subscription on Android:
Start the Apple Music application.
Access the profile menu in the upper corner.
Once you're on the new page, hit Manage Subscription.
You'll notice the Cancel button easily – tap it to finish.
How to cancel Apple Music on iTunes through Windows computers
Don't feel comfortable canceling an Apple Music subscription through the application or phone settings? It's not a big deal! Howly knows an alternative way that may be good for you. After all, you can always use your PC to make sure you won't be charged for the service. Let's explore how to cancel Apple Music subscription on computer.
Run iTunes using your PC.
Check out the top bar and spot Account, click on the tab.
Pick View My Account.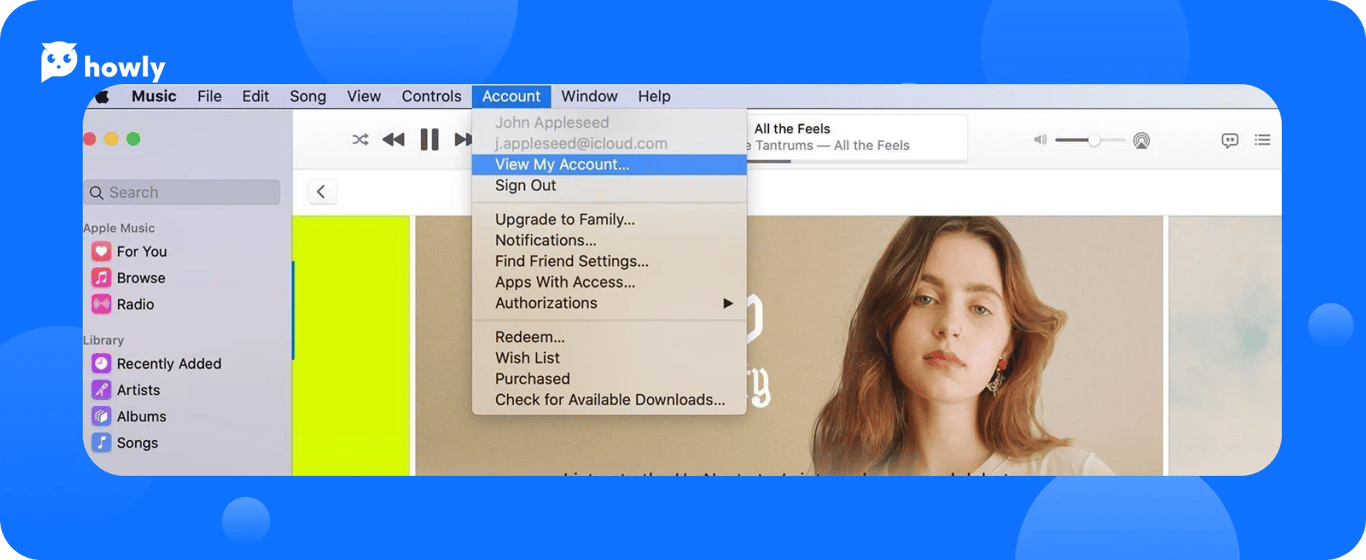 Scroll until you get to Settings, look for Subscriptions at the very bottom, and hit Manage next to it.
Spot Apple Music and then hit Edit.
All that remains is to hit Cancel.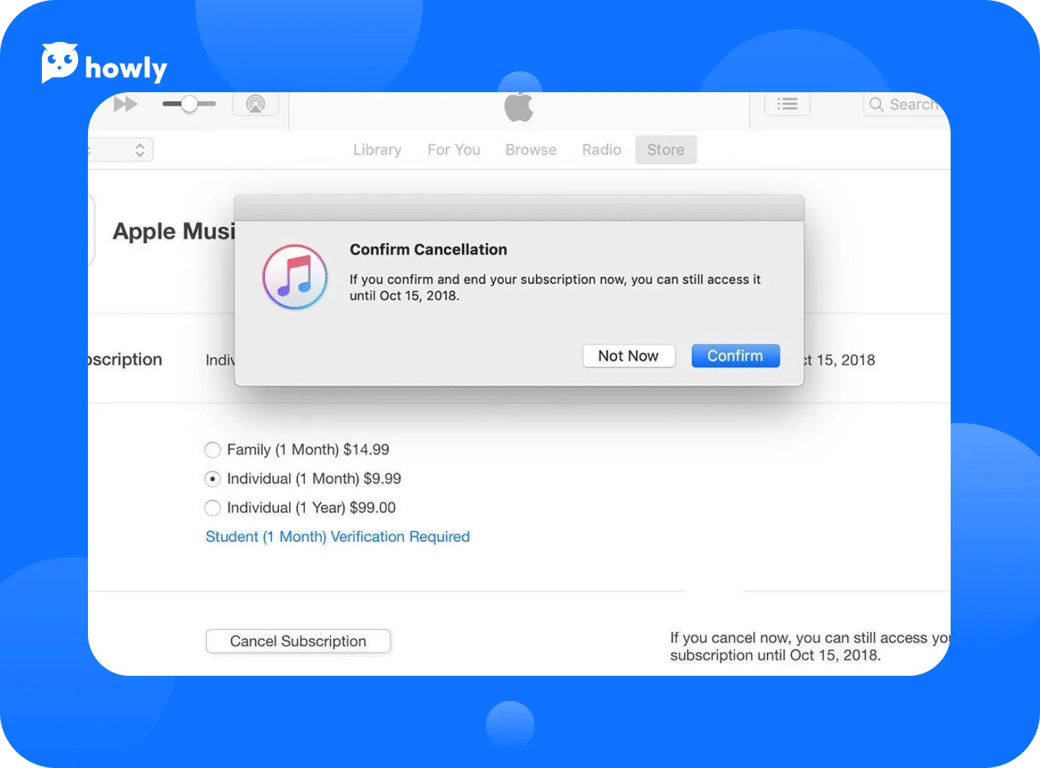 F.A.Q.
Can I do without terminating my Apple Music membership to change country?
All you have to do is change your Apple ID country or region. But before that, cancel your subscriptions and wait until the end of the subscription period. And make sure that you have a payment method for your new country or region. Although you will lose some part of your music library, you have nothing to worry about. After all, you'll be able to enjoy your content again as soon as you re-subscribe.
How to cancel Apple Music family membership through the website?
Head to the Apple Music site using your browser and log in right on the home page. Click on your account in the upper corner of the screen and pick Settings. Spot Subscriptions, pick the Manage option, choose Edit, and in the end, hit Cancel.
Will I manage to use my Apple Music membership for free after cancellation?
You can actually enjoy Apple Music free of charge if you cancel your subscription before it expires. Thus, you're allowed to listen to your playlists during the remaining prepaid period. But when it expires, you lose access to the entire library of songs.
Conclusion
Even if Apple Music seems great to many iPhone owners, some still find the service unsuitable and want to give it a try to another music platform like Spotify. If your heart isn't in it, too, you have multiple options to finish up with the service. We've shown you how to sever ties with your Apple Music subscription immediately via various devices, so it's up to you to decide which solution is more convenient for you. If there's a problem you can't resolve, turn to Howly experts, and we'll help you immediately!