Hulu has been in the industry for over a decade, along with such streaming giants as Netflix, HBO, Disney+, and Paramount+. The service boasts over 40 million customers and certainly has a lot to offer – there's a top-tier collection of media content, including more than 2 500 movies and thousands of popular TV shows. Additionally, you can stream live television shows thanks to the advantageous Hulu Live TV plan. There are also separate subscription packages to watch content with no ads.
Before we start
Save your time and let professionals resolve your issue in minutes!
Want to start solving your problem immediately? Experienced Howly troubleshooters can fix your issue ASAP. They're already waiting for you in the chat!
The benefits you'll get while troubleshooting your issue with Howly experts:
Qualified help with laptops HDD

Quick advice right in your device 24/7/365

Expert reply within 60 seconds

Clear step-by-step guidance

Limitless number of follow-up questions

Understanding and empathetic help till your laptop HDD issue is fully resolved

All answers you need in one place
Well, with that in mind, why do people bother with the question, "How to cancel my Hulu account?" Many admit they're eager to try out an alternative popular service, while others are just willing to make some cuts in the budget. Whatever the reason for your decision, Howly is here to help you get rid of Hulu. So, meet a full guide on how to cancel a Hulu account in multiple ways.
How to cancel a Hulu account on the web
An ordinary web browser may be the best way to cancel Hulu Live TV or any other available plan. Indeed, it's convenient, and you can use it on any device you currently have at hand. Howly offers a clear algorithm of action to make the procedure smooth: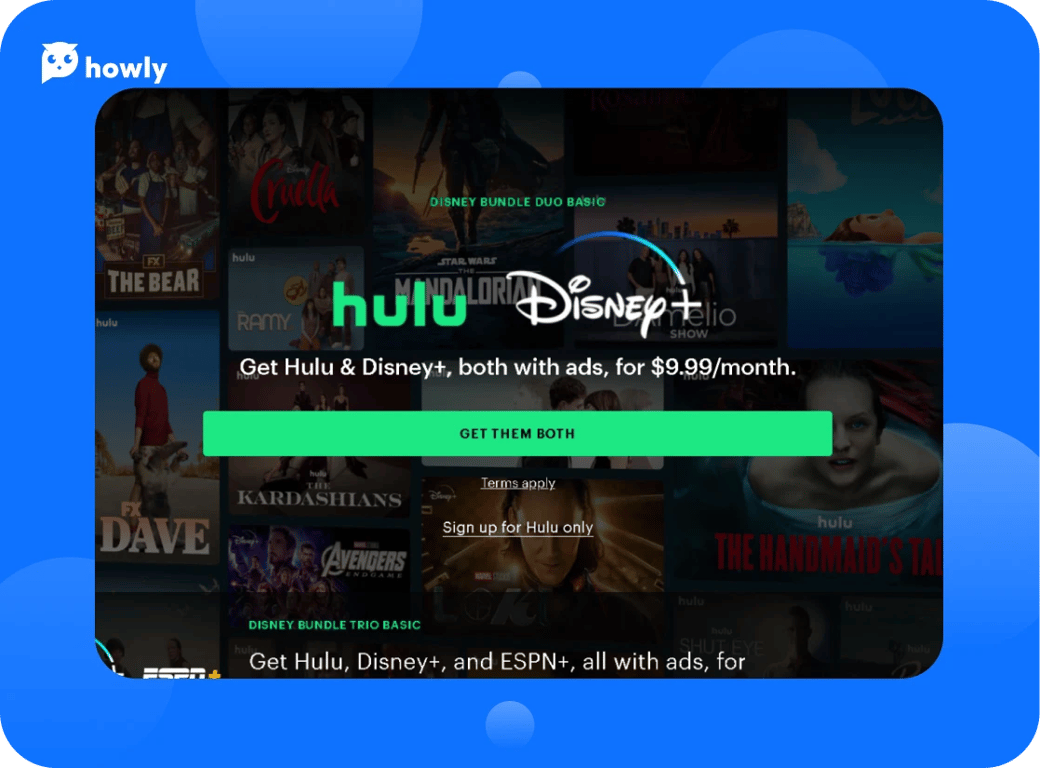 Tap your profile name in the top site corner and pick Account.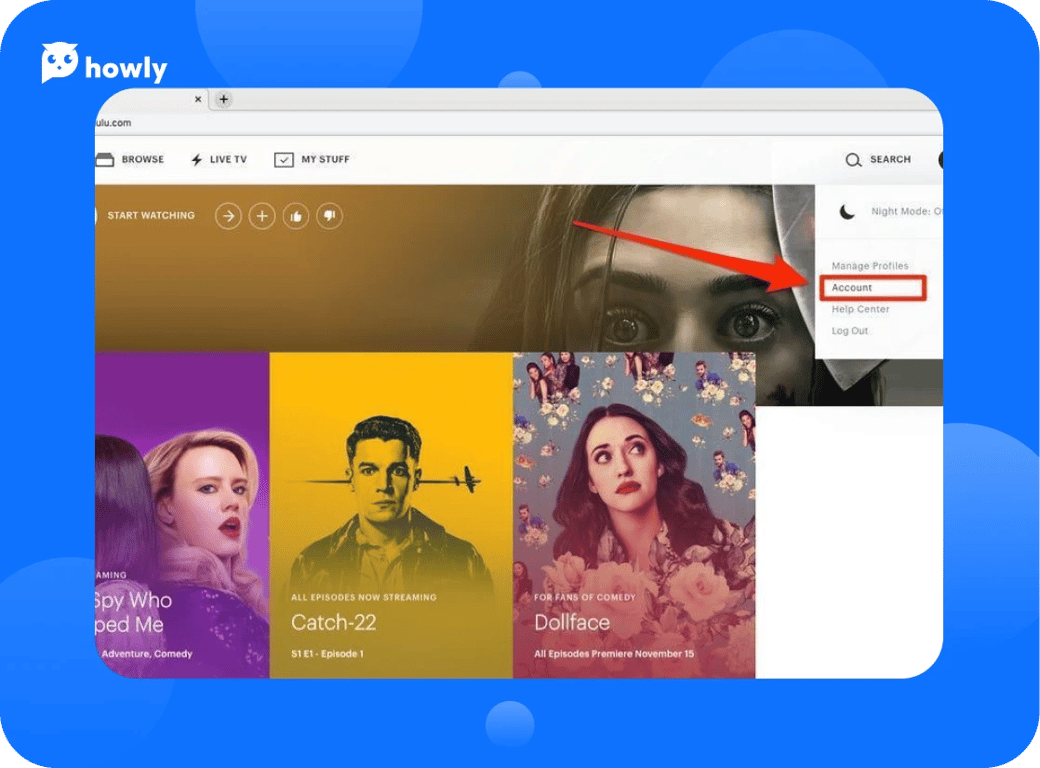 Scroll down -> find and tap the button to cancel your Hulu subscription.
Hulu will offer you to switch to another plan or pause your sub. If you're still aiming for cancellation, pick Continue to Cancel and then confirm your choice.
The service works hard to keep you subscribed, so you'll see a few more lucrative offers to hold your interest – just be persistent and keep choosing to Cancel my Hulu Subscription.
How to cancel Hulu subscription on iPhone & Android via the app
Seeking a way to cancel Hulu on your iPhone via an app? Bad news! You don't have such an option even if you've created an account via your Apple device. You can use the mobile app to unsubscribe only on Android. And the only ways to terminate your membership or cancel Hulu free trial on iPhone is to access your profile from a browser as described above or complete the process via Settings:
Open Settings and hit Apple ID.
Go to Subscriptions and pick Hulu or Hulu+ from the list.
Hit Cancel.
How to cancel Hulu membership on Android
Android owners are more fortunate to manage membership plans directly in the app. So, the sequence of actions to cancel a Hulu subscription is as follows:
Launch Hulu and move to Account from the bottom panel.
In the next window, select Account.
Scroll until you spot the Cancel button – hit it to cancel a Hulu trial or sub.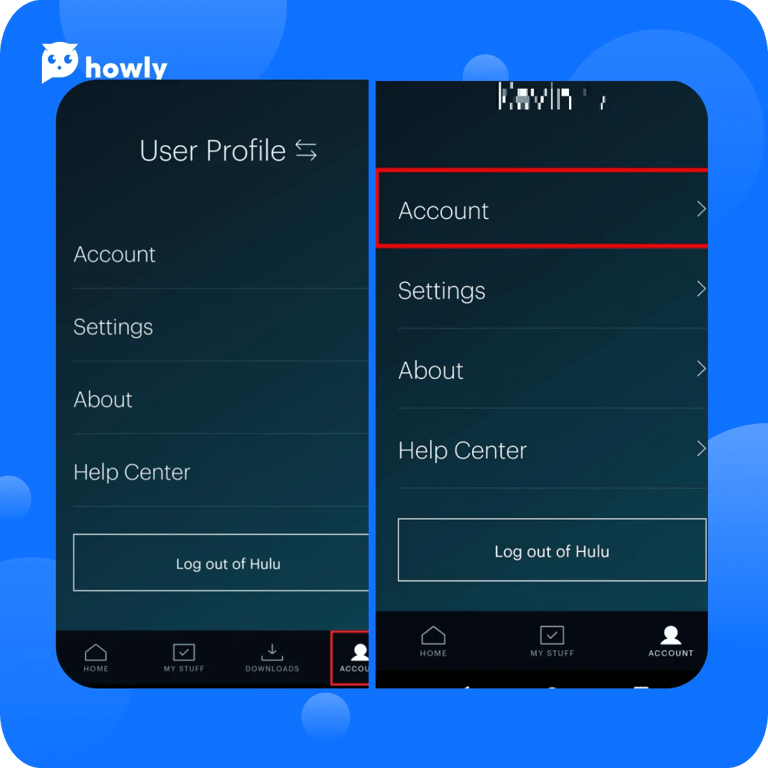 How to cancel Hulu on Amazon
If your Hulu account is linked to Amazon and billed via Amazon Pay, this is your way to cancel a Hulu plan quickly and effortlessly:
Head to the Amazon Pay page and hit Sign in.
Access the Amazon Pay tab and move to Merchant Agreements.
Find your Hulu sub and pick Cancel Agreement.
How to cancel Hulu on Xfinity
If you're a customer of Comcast and pay for Hulu through the company's bill, you can terminate your subscription or cancel a Hulu free trial on TV. Everything is easy here:
Head to Apps & Subscriptions.
Tap Hulu and hit Unsubscribe.
How to cancel Hulu add-on
In addition to its own collection of media content, Hulu also provides a number of add-ons to boost your streaming experience. But you can always get rid of them while keeping your principal Hulu membership. So, this is how to cancel Showtime on Hulu, terminate an HBO or Starz plan, or remove any other add-on you have.
Log in at the Hulu welcome page -> tap your profile name -> pick Account.
Scroll almost to the very end and hit Manage Add-Ons.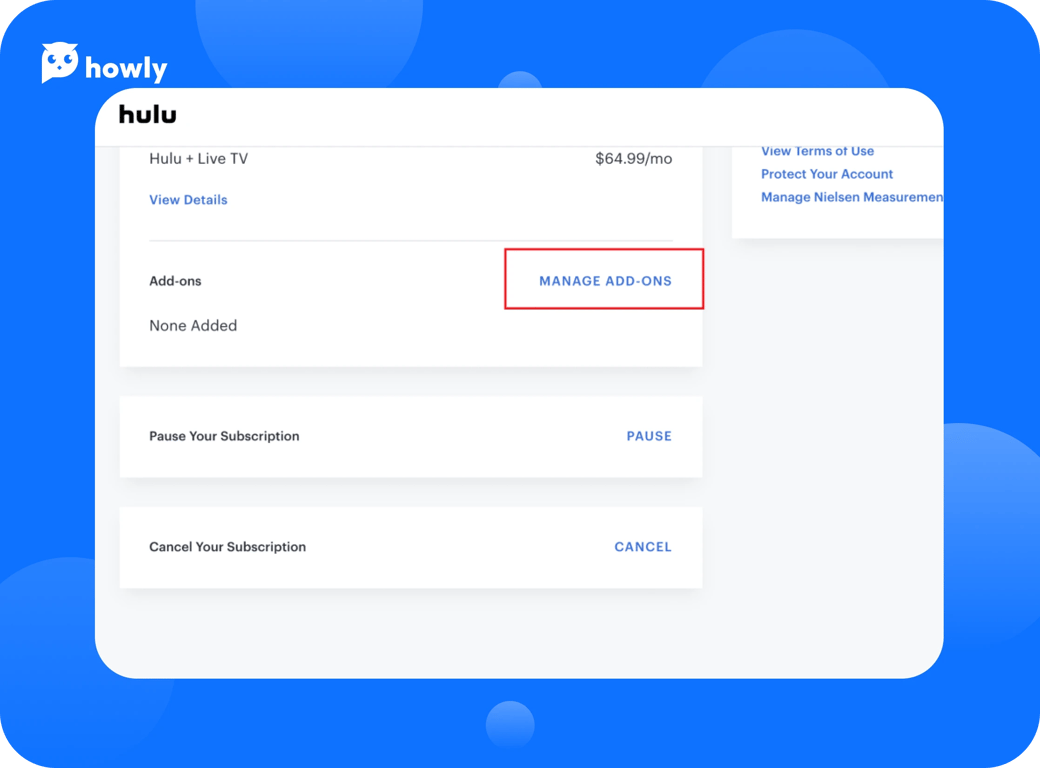 Look through the list of premium channels, pick the needed one, and tap Cancel HBO on Hulu (or any other service you're willing to remove).
There's one important thing you should know about the terms of add-on usage. If you terminate HBO or Showtime or cancel Starz on Hulu, you'll still have an opportunity to stream the service until its prepaid period is over.
F.A.Q.
How do I contact Hulu to cancel?
To get free customer support from Hulu and contact a live agent, call (888) 265-6650. They'll help you to solve any Hulu how to cancel issues.
How to cancel Hulu Live TV free trial?
Hulu Live TV comes without a free trial – the option to try out the service at no charge is available only for the basic plan. And you can cancel the free trial on Hulu in the Subscriptions section under the Account tab.
Will I pay any fee if I cancel Hulu on Roku?
Subscription cancellation occurs without any fees irrespective of the platform or device you use. Moreover, you can remove or pause your Hulu membership at any time.
Conclusion
Although methods to cancel your Hulu account differ depending on your billing option, each of them is simple and easy to complete. You can also pause your plan or switch to another, more favorable subscription package – anyway, Howly is always ready to guide you through the process. Moreover, our experts provide instant online troubleshooting. Thus, they can easily help you cancel Hulu Showtime, NBO, or similar add-ons and solve any possible issue that may happen on your way. Ask your question and get an instant response from our expert team!