Today, it's difficult to find a person with no earphones in their pocket. The modern world is so loud that it's no longer possible to withdraw into your thoughts without this little device. Moreover, headphones are in demand among people of all ages and are needed for many devices, including players, smartphones, laptops, and even PCs. We plug them in to listen to favorite songs, watch films, and make and receive calls when it's impossible to use speakers. Hence, this device is simply irreplaceable at certain moments in our lives.
Before we start
Save your time and let professionals resolve your issue in minutes!
Want to start solving your problem immediately? Experienced Howly troubleshooters can fix your issue ASAP. They're already waiting for you in the chat!
The benefits you'll get while troubleshooting your issue with Howly experts:
Qualified help with laptops HDD

Quick advice right in your device 24/7/365

Expert reply within 60 seconds

Clear step-by-step guidance

Limitless number of follow-up questions

Understanding and empathetic help till your laptop HDD issue is fully resolved

All answers you need in one place
Perhaps that's why headphone jack breakdowns are among the most annoying. But don't be so upset! You can fix the headphone jack yourself, and we'll show you how. This guide features a lot of useful and interesting information about headphones repair and maintenance, so let's go into the matter!
Most Common Headphone Jack Issues
Wondering how to fix the phone earphone jack? You aren't alone! There's no person who hasn't encountered such a problem. Although the 3.5mm plug is quite reliable and practical, problems still arise. Howly experts have even created a list of the top 10 headphone jack issues users face:
No sound is heard if the plug isn't in the "correct position";
Strange sounds when listening to music;
Bent headphone jack;
Crackles when playing audio files;
Compatibility issues;
The device stopped seeing the headphones;
Internal and external cable breaks;
Loose headphone jack;
The earpiece isn't working at all;
Partial loss of sound in one of the headphones.
Main Causes of Headphone Jack Breakdowns
Before you start repairing the headphones jack, you should know what may lead to the breakdown. After all, you will manage to fix the problem only by identifying the exact cause of the malfunction. And so, here's why the headphone jack may not function as needed:
Accumulation of debris and dust;
Pad oxidation;
Wire damage;
Bent plug;
Compatibility issues when headphones don't fit in the jack;
Errors in audio settings;
Connection of Bluetooth devices;
Missing or corrupted audio drivers;
Software errors.
Best Solutions on How to Fix a Broken Headphone Jack
A cracked headphone jack can hardly be called a complex problem. Of course, you can always contact the service center to fix the breakdown, but why waste your time and money? Indeed, you can make your headphones work even if you don't have any technical background. Moreover, such issues can be resolved in a matter of minutes. Therefore, consider our tips on how to fix a headphone jack port and plug easily. These simple instructions have already helped many people and will benefit you too!
Make sure your earphones function properly
This is the most apparent cause of the problem. You can easily check this by connecting your earphones to another gadget. Not necessarily a phone, it may be a TV, laptop, or any other device with a 3.5mm jack. If your headphones don't work even when you use them with another device, the problem has been identified. Just replace your headphones.
In case they work with another device, the problem is somewhere else. So, try out the other solutions listed below.
Check the compatibility of your device and headphones
If you don't hear any sound after connecting your headphones, maybe your device just doesn't support them. So connect other headphones to your smartphone to make sure they work. Although rare, there is still a possibility that they are incompatible with your smartphone for some reason but work with various other devices. For example, 5-pin headphones may not work in smartphones with a 3-pin mini-jack.
Check whether your phone is paired with another gadget
In case your phone is paired with any other Bluetooth device, the mini-jack may not work. Traditionally, when you connect your headphones, your phone detects them and reproduces the sound, despite your Bluetooth settings. However, errors still happen.
We offer a quick and easy solution, as all you need to do is to go to your phone's Settings, find Bluetooth in the Wireless & Network tab, and check if it's turned on. In addition, check if your smartphone is paired with some other device. If so, just turn off Bluetooth, plug in headphones, and observe whether the problem is fixed. This solution is suitable not only for a smartphone but also for other gadgets. For example, this is a good option on how to repair the audio jack of a PC or laptop. Besides, you can leave Bluetooth enabled but disconnect paired devices, as shown below. If the headphones still don't please you with a nice sound, try out the next step.
Clean the AUX jack from dirt
Do you often keep your gadget in your bag or pocket? Lint, dirt particles, and dust accumulate in the AUX port over time and may cause the "headphone jack loose" issue. This is one of the factors why the plug doesn't work properly – the dirt simply interferes with the normal connection between the AUX port and headphones. So, how to fix a loose AUX jack? Examine the port with a flashlight to detect dirt or dust and try to clean it:
Soak a piece of cotton in an alcohol solution and fasten it to a toothpick.
Insert the "instrument" into the socket.
Make a few rotational movements and pull out the toothpick. Change cotton.
Repeat until the cotton is white and clean.
Moreover, you can use a can of compressed air, a cotton swab, or an interdental brush available at every pharmacy. This is also a reliable way to fix a loose AUX port in a car, desktop computer, or laptop.
Adjust audio settings
It happens that everything is much simpler than it seems. Thus, users often puzzle over how to fix a loose headphone jack, although the problem lies on the surface – in the phone settings. The solution takes minutes, if not seconds. So, make sure you don't turn down or mute the sound. To do this, press the volume up button or go to the device settings:
Click on the Sound & Vibration tab.
Find the Media volume field.
Set the maximum volume level.
And that's it, no headphone jack replacement or repair is needed! The method also works well with PC and laptops.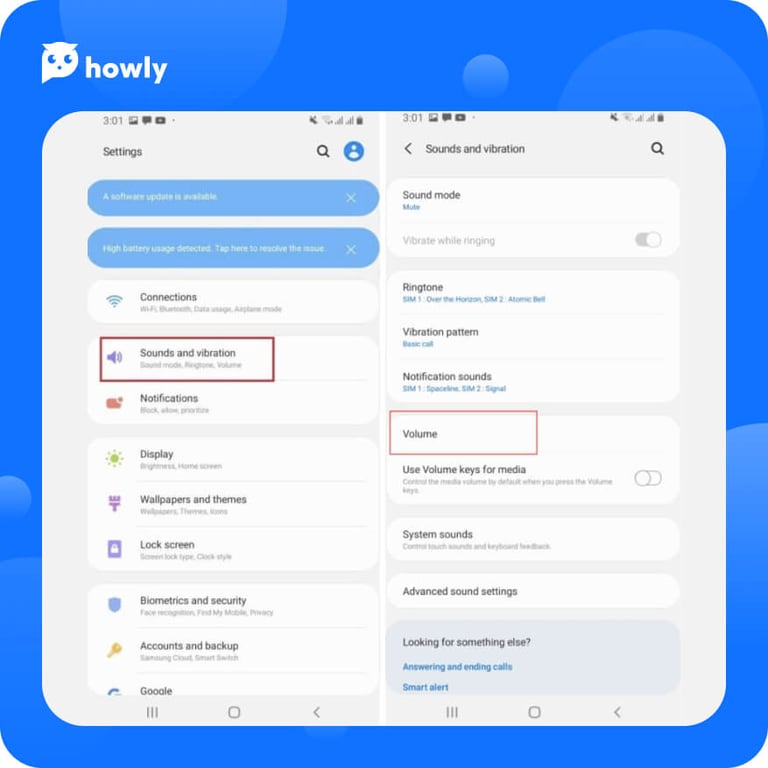 Restart your phone
Such a simple process as rebooting the phone can solve a lot of glitches, including troubles with headphones. What's more, it will take you less than a minute. Thus, this option is definitely worth a try if you are looking for a way to repair the headphones jack. And so, to reboot your device, hold the power button and then click "Restart".
Do a factory reset
Factory reset removes any existing software glitches and wipes out all data from your device. Thus, if any bug prevents you from playing audio through your headphones, a factory reset will make it disappear. After all, this is the most reliable method to solve any system problems. And it may well help you if you are wondering how to fix a loose headphone jack and have already tried all the possible repair options. Please note that this method will erase all the data from your device, so you'd better make a backup.
To reset your phone to default settings, follow these steps:
Go to Settings;
Then tap on "System";
Tap on "Reset options" there;
Find and tap on "Erase all data";
Enter your PIN code in a special field and then confirm your action.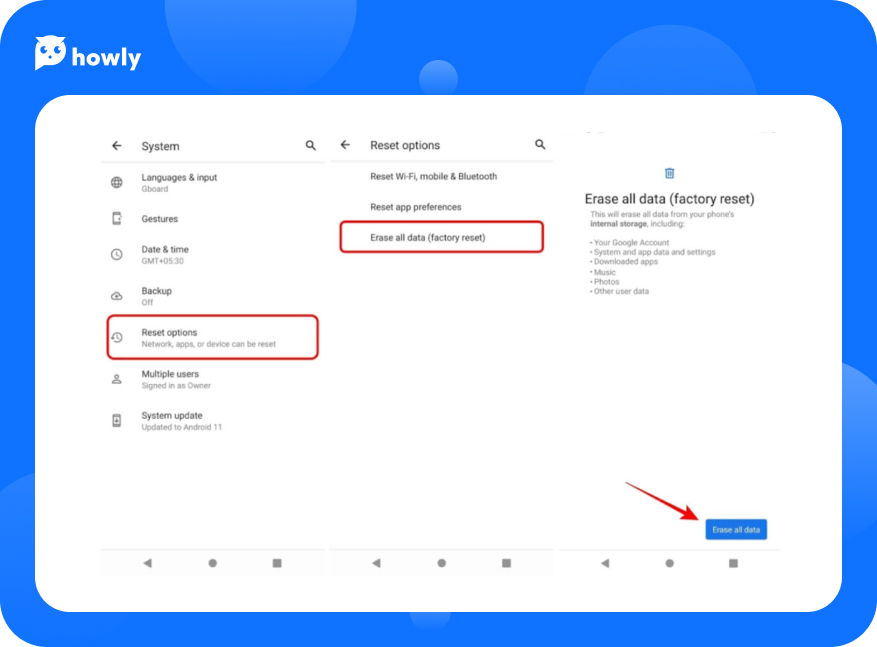 Update audio drivers
If the headphones don't work on a Windows computer or laptop, there is no sound, or strange extraneous noises appear, then the problem may lie in unloaded or incorrectly installed drivers. To solve the problem:
Enter the Device Manager from the Windows menu.
Spot "Sound, video, and game controllers".
Click on the required driver with the right mouse button and select"Update".
In case the driver is missing, go to the official website of the manufacturer and download the required program.
Perform a headphone plug repair
If none of the above options worked for you, you'd need to replace the headphone jack or fix the plug. There's nothing complicated if you have previous experience working with electronics. But if not, please, leave it to professionals because you can break your device.
If you're sure you have the necessary skills to replace the headphone jack by yourself, follow these steps:
Disassemble the device. To do this, you need to unfasten the case and remove all the stripped screws.
Inspect the AUX port. It's recommended to check how securely the electrical contacts are fixed. If you find a broken connection, you can restore it using a soldering iron.
If the port is working, the problem is in the broken plug. In any case, it's better to do a headphone jack replacement. Therefore, purchase a new plug from an electronics store and make sure it's of the same size as the old one (usually 3.5mm).
Cut off the old plug about 1 cm above the point where it connects to the cable.
Remove the insulation from each end of the wires.
Separate the wires according to the color. Usually, the white (may also be green) wire is meant for the left earpiece, the red – for the right earpiece, and a black or bare copper wire – for the ground.
Twist the wires of the same color.
Slip the new plug case onto the cable.
Solder the wires to the plug. Before doing this, rub the edges with sandpaper to make the soldering process easier.
Assemble the metal plug. To do this, insert the plug into the case and screw it tightly.
Check your headphones.
If they don't work, chances are the wires are touching. In this case, unscrew the plug and separate the wires.
Final thoughts
Despite all the reliability, the headphone jack can still break. And the reason may lie both in mechanical damage and software failure. Whatever happens, now you know how to fix a headphone jack without even leaving your home. Feel free to use the solutions presented in this article. It's better to start small and check out the simplest fixes. Doesn't it help? Move on to more complex solutions. We've provided you with step-by-step instructions – so we know you'll succeed. Don't let a broken headphone jack ruin your day, fix it now!
Need more advice? Just send us a chat message!