Security cameras quickly became popular and will retain their leadership positions for more than a year. But how did they earn such trust? Their security sector is at the highest level, and they can be used anywhere.
Before we start
Save your time and let qualified experts in Blink Sync problem-solving resolve your issue in minutes!
Security is one of the crucial aspects of our live. So it can be life-threatening when your Blink camera constantly gets offline. Ask Howly experts for easy troubleshooting gudies! We are here for you 24/7!
The pros you'll get troubleshooting your Blink camera concern with Howly experts:
Qualified рelp with Blink Sync

Quick advice right in your device 24/7/365

Expert reply within 60 seconds

Clear step-by-step guidance

Limitless number of follow-up questions

Understanding and empathetic help till your Blink Sync difficulty is fully resolved

All answers you need in one place
Blink Sync Module - What Is It? Why Your Blink Sync Module Offline, and How Can I Fix the Issue?
Is your Blink Sync module Offline? It can be due to a bad signal or some other issues. You can fix it with our guide.
They can be configured to record activity happening in a specific area at a specific time. But the only common problem is the Blink Sync module offline. Attackers can often exploit it. Therefore, it is important to understand the problem and start Blink Sync module troubleshooting right now.
Blink Sync Module: What Is It?
The Syncmodule transmits data to other devices in the system. So you need to keep it online to make the whole security system work.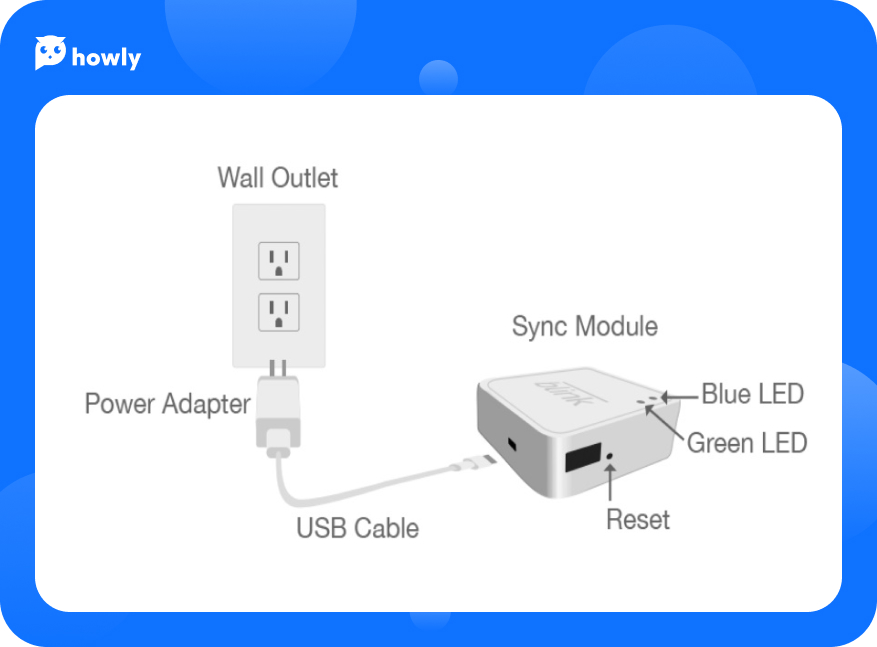 Important! A mandatory requirement for normal operation is a frequency of 2.4 GHz when connected to Wi-Fi with an optimal download of 2 MB per second. If you use outdated hardware, your Blink Camera is offline due to poor bandwidth.
Each Sync model must have an active port to store data on a USB drive. Usually, connected media is no larger than 256 GB. It should be enough to store large and high-quality clips.
And best of all, you don't have to buy a Blink subscription. If your Blink is offline, all clips are automatically safe in the local storage. Once the internet connection is back, the system moves data to the cloud storage. Your Blinkcamera will keep going offline every time you plug in some storage.
But how are videos saved with a Blink subscription, when the Blink module is offline?
With the purchase of each new camera (Blink Camera Santa, etc.), you can take advantage of a trial subscription. The genuine Syncmodule is compatible with all cameras as long as you have an active Blink membership.
Why is my Blink Sync Module offline?
If your camera has turned off, it is important to determine the cause because it can help solve the problem. There are various reasons, but one of the most common is a power failure. It is quite logical because the cameras directly work from this. And if the power is completely turned off, the Blink Camera Sync module will automatically become offline. A less common but possible problem is a defective camera. These usually cannot work without Wi-Fi. So when the connection is corrupted, it goes offline.
How can I fix a Blink Sync Module offline?
Blink Sync module lights meaning can show you the problem source. So always pay attention to this first. When the camera turns on it launches a blue light.
When an error occurs, the synchronization module notifies you by emitting a red light. If a defect is detected, it can be removed as soon as possible to maintain the camera's efficiency.
So how do mark for offline Sync and restart its work? Reconnect the camera. Hold the reset button until the red light comes on. It means that the setting is reset to the setting mode. This process usually takes up to 45 seconds.
And when the Blink Sync module is blinking green light, the problem is solved. In any case, you should consider other ways to fix the Blink camera offline problem.
Sync Module status
If you see a banner with such a phrase, don't panic. It is a common problem and has simple troubleshooting. You need to tap on this and read the information on the screen like in the photo below.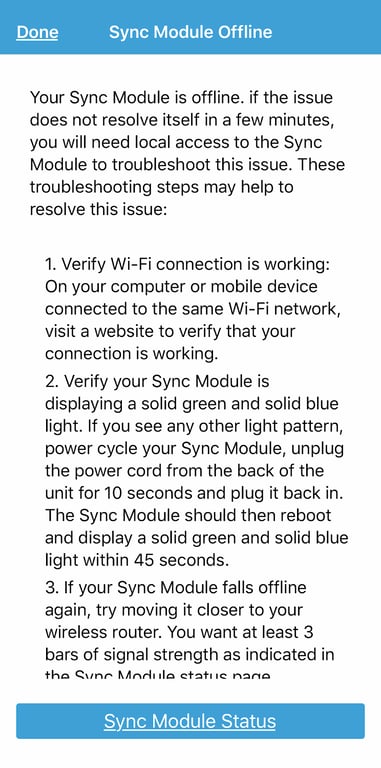 Reconnect the camera and click the button at the end of the page. Then you will see some options that can fix the problem. Also, you can contact the representatives to get more information on how to reset the Blink Syncmodule.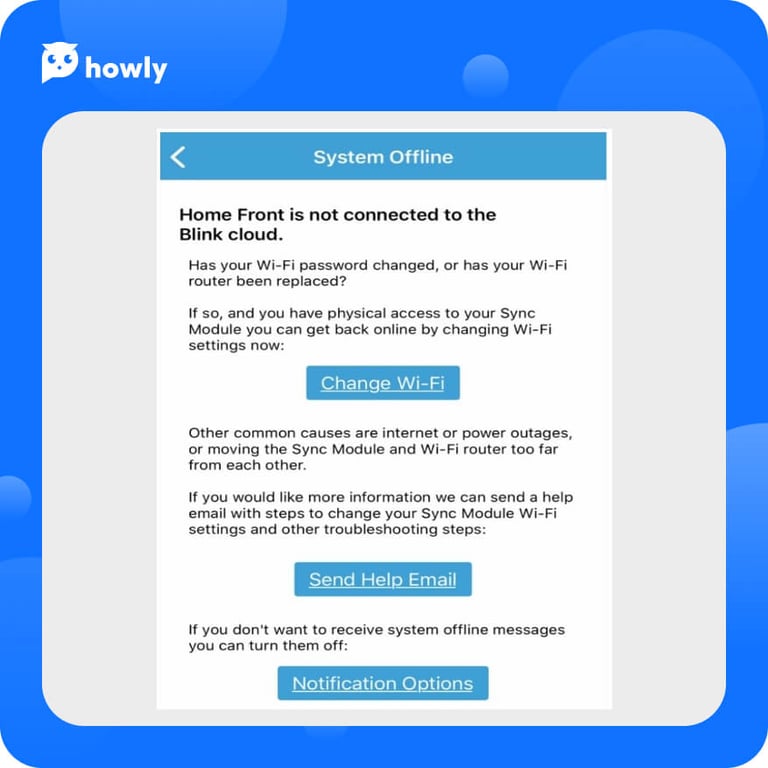 Checking Offline Sync status, please wait
Perhaps you have lost the signal, and you need to double-check its transmission. It can happen due to any obstacles that block it, such as walls. WiFi reaches 150 feet, but walls limit the signal range. If your camera is located 70-80 feet from the router, but the Syncmodule keeps going offline, it is due to thick walls or obstacles.
To do this, you need to go into the program itself and initiate a perfomance check. If this does not work, modify the signal's frequency from the program and minimize the amount of interference present.
Offline syncing due to router issue
Another common reason is a router malfunction. Try rebooting your router. In 80% of cases, this works if you have a frequently unstable connection. Turn off the VPN and firewall. After these simple manipulations, the camera will automatically switch to the Blink device.
How do I reconnect my Blink Sync Module to the internet?
You've tried to fix the offline Blinkcamera, but it still doesn't have internet access. Is it possible to reconnect it to the internet? Yes, just stuck to these guidelines:
Launch the Blink application on your phone.
Choose the system that you want to reconnect.
Pick Settings → Change Wi-Fi. Log into the current network.
Wait for 1-2 minutes until Sync connects to your Wi-fi.
Test the connection to ensure that you troubleshoot the not working Blink Syncmodule. Open the app and check the status. It should be marked as online or connected.
How can I fix the problem in other ways?
There are three extra ways to fix your camera if your Blink Syncmodule is not working.
Replace batteries
If none of the above have helped you, change batteries. It is crucial to purchase exactly 1.5 V because others may not hold the necessary energy. It can be the reason why the Blinkmodule keeps going offline.
Turn off the camera, and after inserting the batteries, turn it on again. We advise you always to keep spare batteries at home because it can be difficult to predict when they will be needed.
Ring base station keeps going offline due to settings
Perhaps the problem is not in the router and not in the signal. The problem may continue to occur due to settings. Therefore, it will be logical to make a factory reset to the Wi-fi. the device to the basic factory settings. Thus, everything will return to the default settings, as if you just bought a camera and brought it home. But resorting to this option is only worth it if the others have not worked.
Reach the customer service
If you find it difficult to solve your problem, contact Blink representatives. They provide several possible hits. To get started, check out their FAQ section. Perhaps there is already an answer to your question, and you can troubleshoot. Or contact them at 781-332-5465 to find out how to turn on online Sync.
F.A.Q.
Why do my Blink cameras keep disconnecting from Wi-Fi?
There are few causes why Blink Sync Module keeps going offline. It could be poor Wi-Fi, network inconveniences or outdated firmware or power-related issues.
Why do I see blue on my Blink Sync module?
It shows the setup regime. It shows the initial startup process, Wi-Fi change or reconnection process. But if the Blink Syncmodule keeps going offline after you connect it to the router, it could be hardware issues.
Why is My Blink Sync Module blinking in green light?
This color indicates that your module has some connectivity issues and is currently offline. The most common causes are poor Wi-Fi, power issues or outdated software.
Conclusion
We hope that the tips described in the guide were useful to you and that now you are enjoying your working camera. If you still have questions and can't add a Blink camera, we will be happy to help you. A reliable and working camera guarantees your peace of mind, so you should not leave such issues for later. Each problem has its solution, and it's tedious to know where to look and what to fix. A person cannot know everyone, so sometimes it is better to trust professionals.