Tablets are top-rated devices that are used by thousands of people. The Fire Tablet is a device developed by Amazon. Although Amazon has a lot of fans, its tablets sometimes have problems. Next, we will tell you what to do if your screen freezes, twitches, and fails. Especially these issues are annoying when you play games or try to study.
Before we start
Save your time and let professionals resolve your issue in minutes!
Want to start solving your problem immediately? Experienced Howly troubleshooters can fix your issue ASAP. They're already waiting for you in the chat!
The benefits you'll get while troubleshooting your issue with Howly experts:
Qualified help with laptops HDD

Quick advice right in your device 24/7/365

Expert reply within 60 seconds

Clear step-by-step guidance

Limitless number of follow-up questions

Understanding and empathetic help till your laptop HDD issue is fully resolved

All answers you need in one place
So, if you face a problem on your tablet and Amazon Fire Tablet apps crashing, try the following steps.
Reboot your device
It is the easiest way to fix the problem of Amazon Fire Tablet apps crashing. Press and hold the device's start button to restart your Fire Tablet. Next, you will see whether to turn off the tablet. Agree to this action. After shutting down completely, turn your Fire Tablet back on.
Force quit applications
If you don't want to reboot your device, you can force close open apps. To do this:
Go to Settings.
Find Apps & Notifications there and select manage apps.
Find running applications and force close them.
If it doesn't help and Amazon Fire Tablet keeps crashing, try the next method.
Delete the data from the cache
It is straightforward. To clear the cache, you need to go to Settings again. Next, you need to find Apps & Notifications. After that, you need to go to Apps & Notifications. There, you can find the application crashing or causing an error. Navigate to it and select Storage>Clear Cache.
Remove the problematic application
From time to time, if an Amazon Fire tablet keeps crashing, the only thing that can help is uninstalling the application causing the error. Find Manage All Applications in the settings and go to this tab. Select the problematic application and click the three dots in the corner next to the application icon. Select Delete.
Update your operating system
You may see errors in the tablet because you need an updated operating system or drivers installed.
Usually, the system and drivers are updated after connection to the Wi-Fi. But if Amazon Fire Tablet keeps crashing and this does not happen, you must follow the next steps. Go back to settings. There you need to find the Device Options item. When you go into it, you will see the System Updates menu. Click on it and install the necessary updates.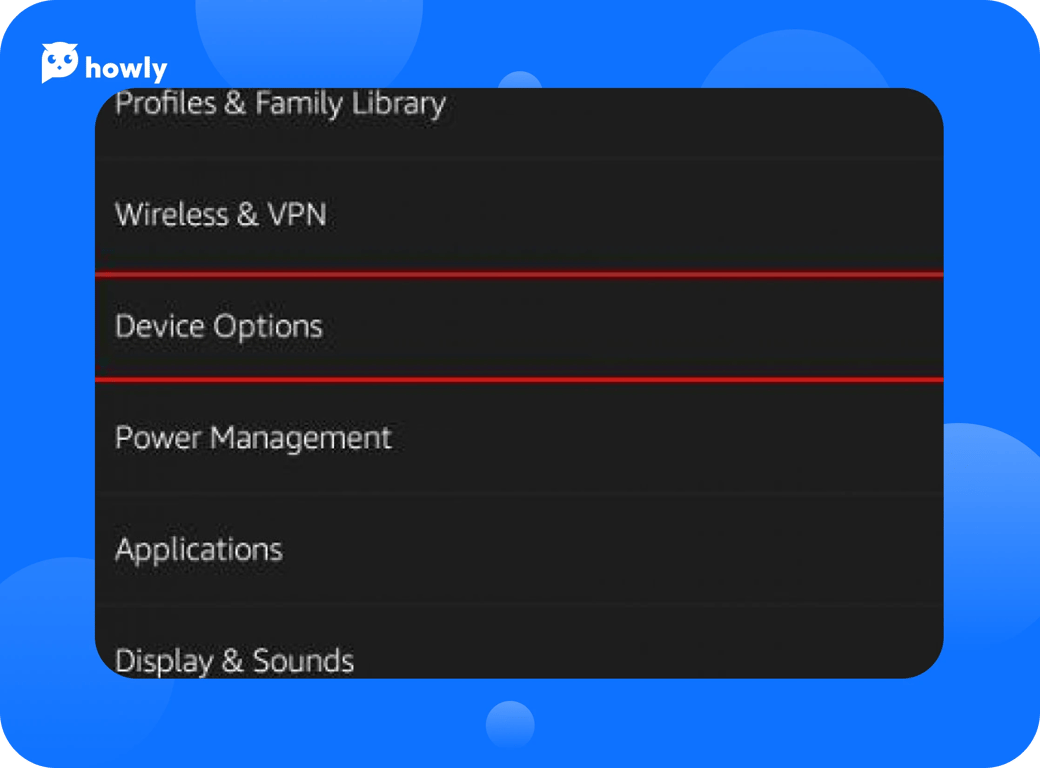 Send the device to the service
If you have tried the methods described above and Amazon Fire Tablet keeps crashing, contact the Howly specialists, who work 24/7. They will tell you where to look for the problem. You can also contact the service center. They will help if water has entered the device or been damaged. In addition, they may replace some parts or software.
Before returning the device for repair, you can check the presence of water in the connectors. To do this, place a dry cloth inside the connector and see if moisture collects on it. It may be enough to dry the tablet to restore regular operation.
Additional tips
If you do not understand what is causing the error but are not ready to go to a specialist, you can try the following methods.
Charge your device using the adapter. Sometimes a charging helps.
Check your internet connection. Applications may not work or cause an error due to a lack of connection.
Turn off app notifications. They can overload the system.
Delete unnecessary files in the storage.
Clean your device from malware and viruses. Run the antivirus and check for malware on the device.
F.A.Q.
Why do Fire Tablet errors occur?
If you see Amazon Fire Tablet apps crashing, it occurs due to errors in individual applications, an overloaded cache, or problems in the device itself.
Why does the Fire Tablet keep giving an error?
You may not have gotten rid of the problem causing the error. You can keep checking the various methods on the list or write to the Howly expert. He can tell you remotely what the problem is.
Why do some apps on the Fire Tablet give an error?
It can happen if the place for their work has run out, the cache is full, or a system error has occurred.
Conclusion
The Fire Tablet is a handy device from Amazon that you can use to work, study, shop, or read books. It is convenient to take it on the road. But when Amazon Fire Tablet apps crash, it's always disappointing. If this happens, try restarting your device, uninstalling the problematic application, or writing to Howly to quickly find and fix the problem.