These days the camera in a smartphone is getting better.
Before we start
Save your time and let professionals resolve your issue in minutes!
Want to start solving your problem immediately? Experienced Howly troubleshooters can fix your issue ASAP. They're already waiting for you in the chat!
The benefits you'll get while troubleshooting your issue with Howly experts:
Qualified help with laptops HDD

Quick advice right in your device 24/7/365

Expert reply within 60 seconds

Clear step-by-step guidance

Limitless number of follow-up questions

Understanding and empathetic help till your laptop HDD issue is fully resolved

All answers you need in one place
Although the default camera app in the smartphone is very good, many people still prefer third-party camera apps only. These apps also often include other tools which can help you make the photo more beautiful.
But if you don't have a favorite photo editing app and are currently looking for one, we are here to tell you about the top 10 best camera apps for Android which will add beauty to your photos.
Top 10 best camera apps for Android - best free camera apps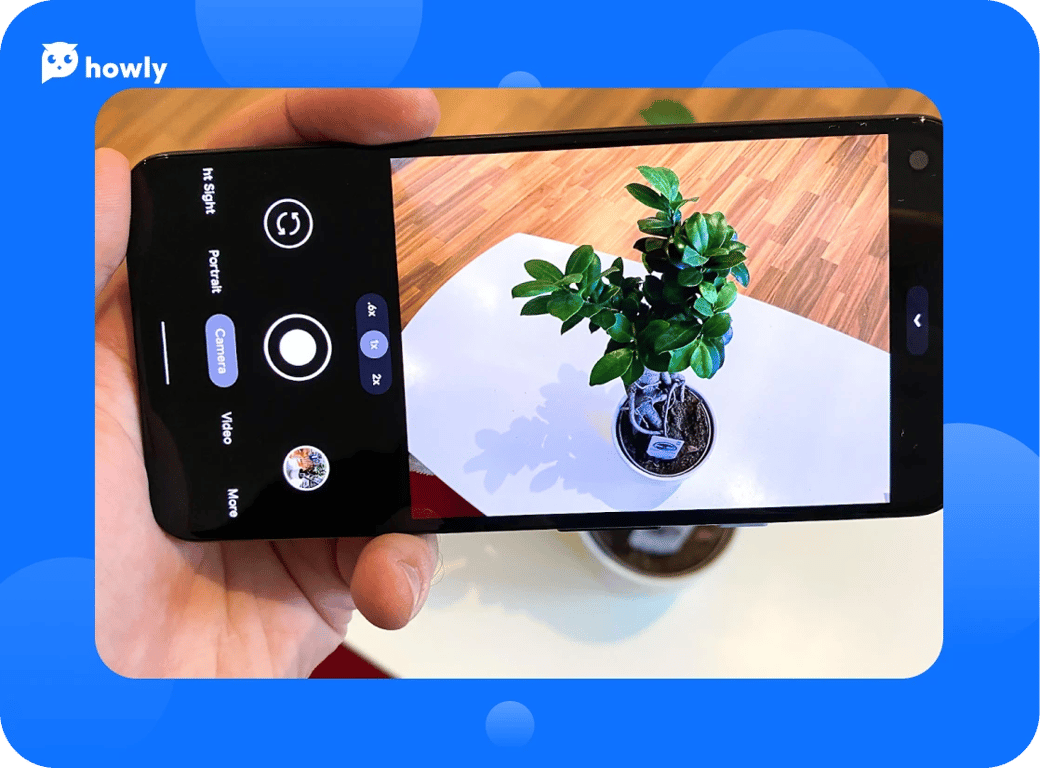 1. Camera 360
This is the best camera app. In it, you get lots of stickers and cartoon layers to make your photo funny. You can also edit your photo separately in this app. Additionally, beauty and makeup filters are also provided here, which can make the pictures even better.
2. Panorama 360
Panorama 360 is the best camera app for Android. This third-party app also lives up to its name, it has a panorama shooting mode which is just great. If you want to take long pictures with multiple people in one frame then you can also try it.
3. Cymera
Nowadays, photos are uploaded in different sizes on different social media. So, if you want to edit photos according to the needs of social media, then this app will be very useful for you. It has the facility of a built-in editor.
4. VSCO
For years, VSCO has been a much-loved photo editing tool, focusing on different filters. Emulation of common film stocks, which transforms a digital smartphone snapshot into a more detailed, less-than-perfect capture that approaches the qualities of analog, appeals to many.
Users can take a photo using their phone's built-in camera or upload them from a gallery. VSCO offers hundreds of different filters plus basic photo adjustments like exposure, contrast, saturation, tone, white balance, split tone, and more.
5. Snapseed
It's hardly surprising that Google's Snapseed, previously released and owned by Nik, has received 4.5 stars from nearly 1.5 million users. The program is free to download and does not contain any ads that may annoy users.
The best editing tools provided by Snapseed now handle RAW files for easy tweaks. The software has evolved slowly but steadily over time. Snapseed has a straightforward selection of film-like filters similar to VSCO, but for those who prefer finer editing control, the app includes manual brushes for dodge and burn, exposure, temperature, and saturation, as well as a healing tool.
For quick tone tweaks in the RGB, Red, Green, Blue, or Luminance channels, the program also includes a Cruise tool. This software provides multiple perspective transformations and different crops to change the texture.
Snapseed has a number of tools that can help beginners learn about various editing techniques, while experts will appreciate the selection of manual adjustments. It's a safe option for editing smartphone photos on the go because it's a free app with very few, if any at all, bugs.
6. Super 16
Super 16 allows recording videos with real-time processing, just like the older 16mm and 8mm film cameras did, for those who prefer a retro aesthetic to their smartphone video recordings. Although the app is free to use, premium upgrades are available to access additional filters and features.
To achieve a cinematic effect, choose from the app's selection of just under 70 different filters. Temperature, tint, saturation, and color correction curve can all be manually adjusted by the user.
The program lets users add blemishes, scratches, flickers, grains, and more to simulate the look of the film, including holes and film burn strips. The free edition offers video in 16:9 and 4:3 aspect ratios, plus a Super 16mm shooting mode. You need to upgrade to the Pro version for others, such as 16mm, Super 8mm (Canon), and Super 16mm (Arri SR2 HS).
The app allows users to change the way colors are distributed using a color histogram or waveform monitor. Although, beginners can use the app without diving into complicated features.
7. Fimo
Fimo is a fantastic free camera app that simulates a variety of 35mm films. Its entire user interface is designed to mimic handling a film camera, albeit in a digital housing, if you prefer an analog experience for still photos.
The app has a few editing options, including exposure control, flash, zoom, and timer, which make it less than ideal for those who want to be in complete control of the photo-taking process.
However, it succeeds in the beauty of the software restrictions and gives shooters the feel of an analog shooting experience. Even the film stock conversion process is expertly crafted to appear authentic.
The free version of this software offers only a few film stock possibilities, but users can upgrade by purchasing specific selections. The fact that each movie stock has extensive information about its history and various examples shows that the app's designers want to share their favorites with others and make it easy for users to decide which one to buy. Even better, each movie can be watched for free as a trial.
8. Open Camera
It's one of the most popular camera apps for serious photographers. It contains most of the important features we've already covered. This also applies to manual camera settings. Features include a timer, support for some external microphones, HDR, exposure bracketing, and more. Both photographers and videographers should consider this. There are no in-app purchases or ads in the app, which is completely free. Additionally, it is completely open source. But if you'd like to support the developer, there's an optional donation app.
9. Photoshop Camera
Technically, Photoshop Camera is a photo editor with a built-in camera program. It enables you to take pictures of objects and then create them using the app. Both desktop Photoshop and Adobe Lightroom are more sophisticated and professional-focused. You can experiment with a ton of filters in this app, as well as auto-tone controls for portrait mode and more. This program would suit best for social media. Filters can also be quite specific. In general, this is a good choice if you want to beautify your Instagram.
10. Google Camera
Google's official camera app is called Google Camera. This is what most Google gadgets have. It includes a few simple yet useful features, such as video stabilization, photospheres, slow motion (on supported devices), lens blur mode, and more. The only downside is compatibility. Many devices do not support this app. It seems to be limited to Pixel devices these days. Nevertheless, you can find and sideload ports for some other devices. Only through this can you access some features that are unique to Google, and once you do, the camera performs admirably.
What's the best camera app for iPhone
Here is the list of the 10 best camera apps for iPhone:
1. Adobe Lightroom
2. FiLMiC Pro
3. Slow Shutter Cam
4. ProShot
5. Photopea
6. NeuralCam
7. Camera FV-5
8. Cortex Camera
9. Spectre Camera
10. Beastcam – Pro Camera
Spy camera app for Android
8 Best Free Spy Apps for Android
1. uMobix Android Tracker.
2. Hidden Camera.
3. Alfred Baby & Pet Monitor CCTV.
4. Quick Video Recorder.
5. Presence Video Security Camera.
6. iRecorder.
7. Silent Camera.
8. Easy video recorder.
Conclusion
In this article, we discussed the top 10 best camera apps for Android. I hope you enjoyed it and received all the information about the cameras. If you like the Howly blog, then please share it on your social media account.