The camera on Apple products is a powerful instrument that can assist you with creating different pieces of media. To use it to its full potential, there are quite a few tips to remember, as a short brief view. Firstly, use the ProRAW mode to capture more detail and flexibility in editing. Secondly, don't be afraid to go for Night mode when the setting is low-light. Thirdly, try experimenting with focal length parameters to achieve different perspectives. Fourthly, use improve the quality of your videos with the new Cinematic mode. Finally, try out the Photographic Styles feature to customize the look of your photos. By pursuing these and some other iPhone 13 Pro Max photography tips, you can work on your picture-taking mastery. Now let's discuss everything in detail.
Before we start
Save your time and let professionals resolve your issue in minutes!
Want to start solving your problem immediately? Experienced Howly troubleshooters can fix your issue ASAP. They're already waiting for you in the chat!
The benefits you'll get while troubleshooting your issue with Howly experts:
Qualified help with laptops HDD

Quick advice right in your device 24/7/365

Expert reply within 60 seconds

Clear step-by-step guidance

Limitless number of follow-up questions

Understanding and empathetic help till your laptop HDD issue is fully resolved

All answers you need in one place
Night mode
This one is probably the most popular among all iPhone 13 tricks and tips. It allows you to capture intricate shots in low-light settings. It automatically adjusts to increase the brightness of the final image. Additionally, you might try long exposure parameters for catching light routes and other visionary effects. You can also effectively operate Night mode to create selfies with the light ring placed around the lens. Finally, you can use the Night Shift feature in Night mode to reduce the blue light which can help your eyes adjust more comfortably in the dark.
Turn HDR to Auto: This will help you to receive the best possible outcome when using Night mode.
Find a stable surface: Get yourself a tripod or find another certain way to keep your device steady and at the correct angle for your shot.
Frame your shot: Get the composition you want by zooming in or out and adjusting the position of your iPhone.
Set exposure to the maximum: Increase the exposure time and ISO to capture more light and get a brighter shot.
Use Live Photo and Stack Mode: Live Photo and Stack Mode will merge numerous exposures to decrease the noise and enrich the detail in your photos.
Experiment: You can creatively use Night mode to experiment with different lighting effects.
Now let's proceed to other iPhone 13 Pro tips and tricks.
ProRAW
It's next on the list of iPhone 13 camera tricks. ProRAW is a new feature from Apple that allows people to work with proficient-quality raw images on iOS gadgets. It combines the information captured from the camera and the computational photography data to give users great control over their images. ProRAW uses advanced technologies to capture, edit, and combine multiple images in order to create the best quality photography possible. This can be used to enhance your photos with greater detail, color accuracy, dynamic range, and image noise reduction. The ProRAW format also allows users to adjust the white balance, brightness, and other settings to their liking in post-production. To use ProRAW effectively, make sure your iPhone is operating the newest system version and enable ProRAW in your settings application. Then, set your camera to ProRAW in the camera settings. When shooting, use a tripod for stability, and shoot in HDR mode to capture more details. Finally, use post-processing editing applications, for instance, Adobe Lightroom to further tweak the image to your liking.
Experiment with different lenses
Continuing the list of tips and tricks for an iPhone 13 Pro, you might go for this option. Experimenting with different lenses refers to trying out different cameras and lenses to find the best combinations for the specific results you want to achieve with your photography. By experimenting with different lenses, you are able to determine which lens and settings are best suited for the results you want. Experimenting with different lenses also lets you explore various perspectives and settings. Photography can be done with various cameras and lenses, and by figuring out how to use these different things at once, you are able to create distinctive and gorgeous shots. Experimenting with different lenses helps you maximize the capabilities of your camera and lenses, and allows you to capture new angles and points of view that were previously unavailable.
Telephoto lens
While we are on the topic of tips and tricks for iPhone 13, you should definitely pay attention to this one. A telephoto lens is a lens designed for use in photography that has a more prolonged focal length than a typical one. This allows capturing a subject with greater magnification, resulting in a more limited and concentrated field of view. This enables the photographer to better blur the background and get a better sense of dimension and perspective. This can be a very beneficial tip for iPhone 13 when taking portrait shots or trying to capture a faraway topography. While you are using a telephoto lens, it is important to ensure you have a tripod or other steady surface to ensure the sharpness and clarity of the image. Proper focus is also essential as a telephoto lens can easily capture blurry due to its magnification power. Additionally, it is important to be aware of the lens' limitations; for instance, due to their shape, most telephoto lenses do not deliver natural-looking pictures, instead giving a 'stretched' effect to subjects near the edges of the frame.
Ultra-wide lens
This is another useful thing on the list of tips and tricks for iPhone 13 Pro Max. Having a very short focal length, this lens helps with the capture of a large wide view. People often use it in nature photography and other situations where a large amount of the scene needs to be captured. To utilize this lens effectively, it's important to be aware of the lens' distortion, which can make otherwise straight lines seem curved. Additionally, perspective distortion can also be an issue, making objects closer to the lens appear much larger than those further away. Finally, it's important to use a tripod to exclude shaking and ensure the highest possible photo quality.
Cinematic mode
This is another point on the list of tips and tricks for iPhone 13. It is a camera setting that is designed to give images a film-like appearance with deeper color tones and increased contrast. This mode is particularly practical for shooting videos, as it can support the creation of a more cinematic look. To use cinematic mode effectively, work with adjusting the camera settings. Adjust the white balance for richer tones and the ISO for more contrast. Additionally, make sure to shoot in the aspect ratio and frame rate suitable for the look you desire. Finally, use a shoulder or gimbal stabilizer to keep the camera undisturbed, for smoother videos.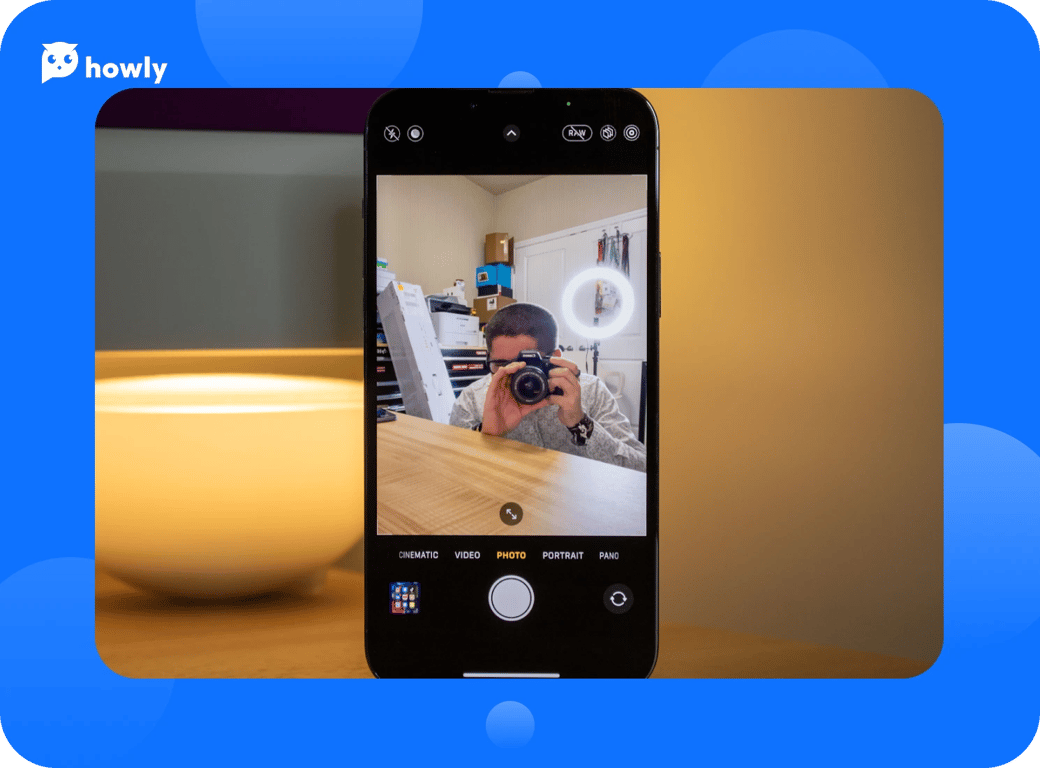 Focus points of a cinematic video
Among many different iPhone 13 tips and tricks, focus points are one of the most important elements to consider for creating a cinematic video. Focus points help to attract the viewer's concentration to specific aspects of the scene, and without them, scenes often lack the impact of a properly composed shot.
Focus points can be used to help with the storytelling, direct the eyes of the viewer, and create a sense of movement in a shot. For example, when directing a scene, a filmmaker should consider focusing on certain points of action or establishing shots that convey important information. If the focus is too wide and the viewer's attention is dispersed among many elements in the scene, the impact and message of the scene may be lost.
Additionally, another good moment in the 13 Pro Max tips and tricks list, focus points can also be used to create depth and a sense of distance between objects in the frame. By altering them, viewers can experience various distances as they watch the scene. For example, if an object is in the background focused more softly, it will appear further away from the viewer and other objects in the frame.
Focus points can also be used to emphasize important characters in the scene or the space they inhabit to set the tone for the scene. For example, focusing on a specific character's face or the room they are in will help to draw viewers into the story.
Overall, focus points can be used to lead the attention of viewers to the most critical parts of the story and set the tone for the scene. When used correctly, focus points can help to create epic and emotionally engaging shots. Now let's move on to the next one of iPhone 13 Pro photo tips.
Auto edit
Auto edit is next on the list of iPhone 13 tricks and tips. It's a fully computerized process that utilizes AI-based software to quickly and accurately edit video footage without the need for manual, labor-intensive editing. This technology is especially useful for busy video editors. To use it effectively first check if all of the necessary raw video footage is collected and prepped for the auto-edit process. Ensure that the footage is properly formatted, labeled, and organized for easy access. Next, upload the footage to the auto-edit software, and create a project. Then, let the auto editor scan and sort the footage into scenes and clips, then adjust the clips and scenes to your timelines. Finally, as a final iPhone 13 Pro camera trick of this part, adjust coloring, audio, and blur effects until you achieve the desired look.
Action mode
This feature gives you a chance to quickly copy and paste segments of video, or whole clips, from one part of the timeline to another. This iPhone 13 pro camera tip can be useful for quickly making small adjustments to production or for dramatically changing elements of a scene quickly. To use action mode effectively, first decide on the segments or clips you want to move, then select them on the timeline. Then, select the action mode icon on the timeline, which will allow you to quickly and easily move the clips and segments to wherever you desire. Be sure to review the changes before committing to them, as some of these changes can be difficult to undo.
Macro control
Next on the list of iPhone 13 camera tips is macro control. It refers to the ability to control how the different elements on a timeline interact with each other. It authorizes users to adjust multiple parameters of a timeline simultaneously rather fast. For example, macro controls can be used to edit multiple animations and clips at once. Additionally, macro controls can be applied to a wide variety of creative effects, such as color correction, to affect multiple elements at the same time. Macro controls can be used to quickly and effectively bring a project together, while also adding creative and unique elements to a timeline.
Time-lapse trick on iPhone 13
Time-lapse photography is an outstanding way to make astonishing videos from your iPhone. To use it, open Camera and pick Time-lapse. Next, frame your shot, adjust the settings as desired, and hit the shutter button. Finally, your time-lapse will be saved to your gallery folder to share or edit at any time.
Use flashlight
This is one of the easiest iPhone 13 photo tips. Here's a short guide:
To use the flash on your iPhone, first, access the camera and ensure you select the correct flash setting for your environment.
Make sure you check the scene and use the right flash setting. For instance, if you want a brighter photo, select the On setting.
If you want the subject prettier but don't want to overexpose the background, the fill-flash mode will help. It gives a more balanced light across the whole scene.
If you are in a dark situation, the Auto mode will help. It will automatically adjust the flash as necessary.
Lastly, if you don't want the flash to fire, you can just select the Off setting. This tip for iPhone 13 Pro Max will permit you to capture photos without a bright flash.
Take timed photos
Another one of the iPhone 13 Pro Max camera tips is taking timed pictures. Here's a guide in case you were wondering how to take advantage of it:
Open Camera, and choose the Timer option at the top of the screen.
You can then choose between a 3-second or a 10-second timer.
After selecting one of the timer options, point to your camera and press the shutter button.
Your phone will count down the time before taking the photo.
When you are done, you can save the result to your gallery or delete it.
Now let's move on to the next iPhone 13 Pro Max trick.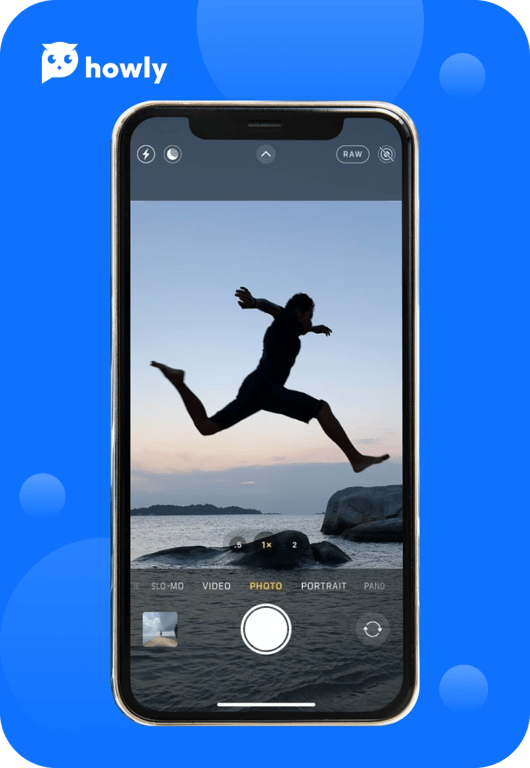 Portrait Mode
It's the next iPhone 13 photography tip. Here is how to implement it:
Open Camera and pick Portrait mode.
Line up your shot so that your subject is highlighted with a white box.
Tap on the screen to adjust the lighting and add a bokeh or blur effect.
Once you are happy with the look, take a picture.
Then, you can make additional adjustments such as adjusting the lighting and adding a filter.
When you are done, you can save the result or delete it.
F.A.Q.
What is the best way to use HDR on the iPhone 13 Pro?
The best iPhone 13 pro tip is enabling High-Dynamic Range (HDR) mode in the photo settings. Doing this may help to capture more detailed images in high-contrast situations and will help to capture greater detail in a wider range of lighting conditions.
What editing software should I use?
It's one of the first iPhone 13 tips for beginners: regarding basic editing needs, native programming is great as is. It has all of the necessary tools, including, but not limited to trimming, creating transitions, and adding special effects. For more advanced editing needs, there are many third-party apps available in the App Store.
How do I add background music to my video?
It can be done in the iPhone 13 Pro's native software, which is another tip for iPhone 13 Pro. Simply open the video you wanna alter and then hit the wrench icon. From there, choose your desired background music from the library of audio files.
Conclusion
The iPhone 13 Pro delivers an incredibly sophisticated camera system that is capable of capturing and producing incredibly detailed and vivid images. Utilizing some of the tips discussed in this article, people can ensure to get the most out of their device's impressive camera setup. By familiarizing yourself with the basic camera settings, mastering the camera's advanced features, and knowing the best ways to enhance the video clips you capture, you can truly master the art of photography. If you know more iPhone 13 pro max tips and tricks or have any questions about the ones in the article, feel free to text the Howly team.