Amazon Fire tablet offers wide functionality and with every new release, there are more and more cool features. But do you know that your tablet can do much more than it does now? The fact is that some features are hidden by default settings and most users don't know about them.
Before we start
Save your time and let professionals resolve your issue in minutes!
Want to start solving your problem immediately? Experienced Howly troubleshooters can fix your issue ASAP. They're already waiting for you in the chat!
The benefits you'll get while troubleshooting your issue with Howly experts:
Qualified help with laptops HDD

Quick advice right in your device 24/7/365

Expert reply within 60 seconds

Clear step-by-step guidance

Limitless number of follow-up questions

Understanding and empathetic help till your laptop HDD issue is fully resolved

All answers you need in one place
Do you want to take advantage of the all hidden features? Take a look at the Kindle tutorials in this article to find out how you can unlock the full functionality of your Amazon Fire tablet.
Tips for initial setup of Kindle Fire HD
Just got a new Amazon Fire tablet? There are some things you can do to instantly improve your user experience with the device. The cool Kindle fire tricks below will be useful for those who want to personalize the settings and make their tablets more convenient and easy to use.
Give your tablet a name
The first thing you can do is to name your device. This Kindle Fire tablet hack can help if you have several devices and frequently send files from one to another. By giving a name to your new tablet, you can easily find it among all your other devices. So, here is the instruction:
Go to the Settings app (the gear icon) → Device Options → Change Your Device Name.
Enter any name you want to give to your device.
Tap the Save button to confirm the changes.
Reduce eye strain with a Blue Shade mode
Another thing to do when you set up Kindle Fire HD 8 or any other modern model of Amazon Fire is to use the brightness control tool, a so-called Blue Shade mode. This feature limits the blue light from the device's screen to protect your eyes from overstrain and makes the tablet more comfortable to use at night or in poor light. Here is a step-by-step tutorial:
From any screen, swipe down to access the Quick menu.
Press and hold the Blue Shade icon (usually located in the first row) on the Quick menu. You'll be navigated to the Blue Shade setting screen.
Use two sliders to adjust brightness and blue hue respectively. Also, you can schedule the time when the Blue Shade mode will turn on automatically.
Get Google Play on your Amazon device
If you want to download Google apps on your new mobile device, this Kindle Fire tablet hack can help you. The problem many Amazon Fire users face is that there are no Google apps in the Amazon Appstore. That's why you should get Google's app store first. It is easy to do and won't take long. Just follow these steps:
First, open Settings → Security & Privacy.
In the Privacy section, enable downloads from third-party apps and websites by toggling to ON the Apps from Unknown Sources option.
Open any browser and find the following Google files: Play Store, Account Manager, Play Services, and Services Framework. Download them.
From your home screen go to Docs → Local Storage → the Download folder. Find the files you've downloaded and install them.
When the installation is completed, log in with your Google account.
That's it, now you can download any apps you want.
With these Kindle tips and tricks, you can add convenience to the use of the Fire tablet you just got. Just try it and feel the difference.
Kindle Fire tips and tricks for 2016 and later versions
Since the first version of Kindle Fire was released, Amazon has been adding new and new features with every new release. Some of the latest versions (released after 2016) include many cool features that weren't available on older versions. So, take a look down below to find 3 Kinde Fire tips and tricks for 2017 and later releases.
Get extra space on your Kindle Fire
The next one of our Kindle tips is on how to expand the memory space on your device. All tablets released since 2015 come with a slot for a microSD card. It allows users to get from 256 GB up to 1 TB of extra storage. The external storage limit varies from model to model, so check the manual that comes with your tablet before buying a micro SD card.
Once you get the card, you can move any apps you want from the SSD (internal storage) to the inserted microSD card. Here is a quick guide on how to do it:
Tap the Settings icon on the screen.
Navigate to Storage where you'll see the options to move files and apps.
Choose what data you want to download on the SD card by toggling switches.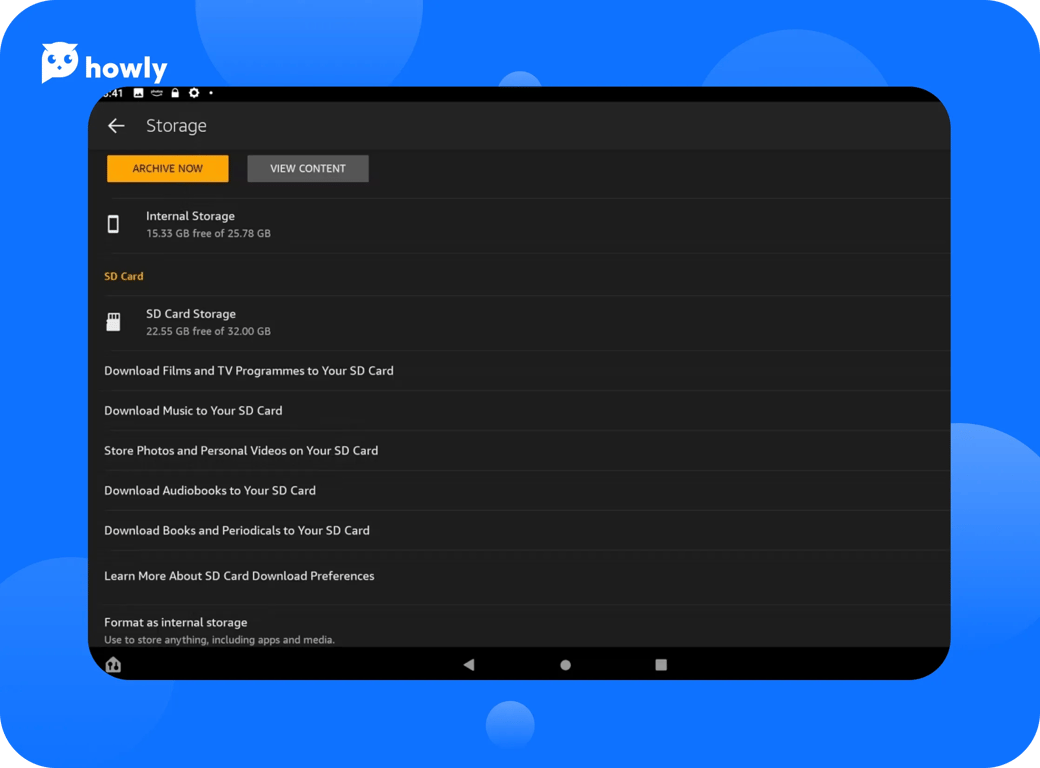 This is one of the Amazon Kindle tips that everyone should know, as the tablet's memory capacity is not more than 32 GB for the newest models.
Set up Alexa on your Amazon Fire
One of the great features available on versions newer than Amazon Fire HD 8 is Alexa. With this virtual assistant, a user can use voice commands to perform a range of tasks. It's fun and convenient to use. By default, the Alexa is turned off. But, you can easily activate this feature and enjoy the benefits it brings (we'll share a few cool Kindle tricks on how to use it later). Here is the instruction:
Swipe down to access the Quick menu.
In the second row, you'll see the Alexa Handsfree icon. Tap the icon to toggle it on.
Say "Alexa" to activate the virtual assistant (the blue bottom bar will indicate that Alexa is listening) and say what you want Alexa to do.
Personalize your experience with Alexa
Now, let us share with you some Amazon Kindle tips on what you can change in Alexa:
Restrict the virtual assistant's access to some files and apps on your device. To do so, open Settings → Alexa, and select the restriction options.
Change the wake word. If you want to use something else as a wake word instead of "Alexa", launch the Alexa application, on the left sidebar menu choose Settings → Device Settings → Wake Word. Then, choose a word you want to use.
And the last of the Kindle tricks on how to use Alexa is for those who would like more privacy — how to disable calls, Drop-in, notifications, and other communication features. To do so, open the Alexa app → Settings → Device Settings → Communication and turn off the options you want to disable.
Speed up your tablet
One of the most useful Kindle Fire HD 8 tips and tricks is how to make your device faster. It can be done by turning off the animations on your tablet. Here is what you need to do:
From the home screen open the Settings app→ Device Options → About Fire Tablet.
Tap Serial Number at least five times. A notification should pop up at the bottom of the screen. It means you activate a developer mode.
Return to the Device Option screen. Select Developers Options.
Toggle a switcher at the top of the screen to allow development settings.
Scroll down to the Drawing section. You'll see several animation options.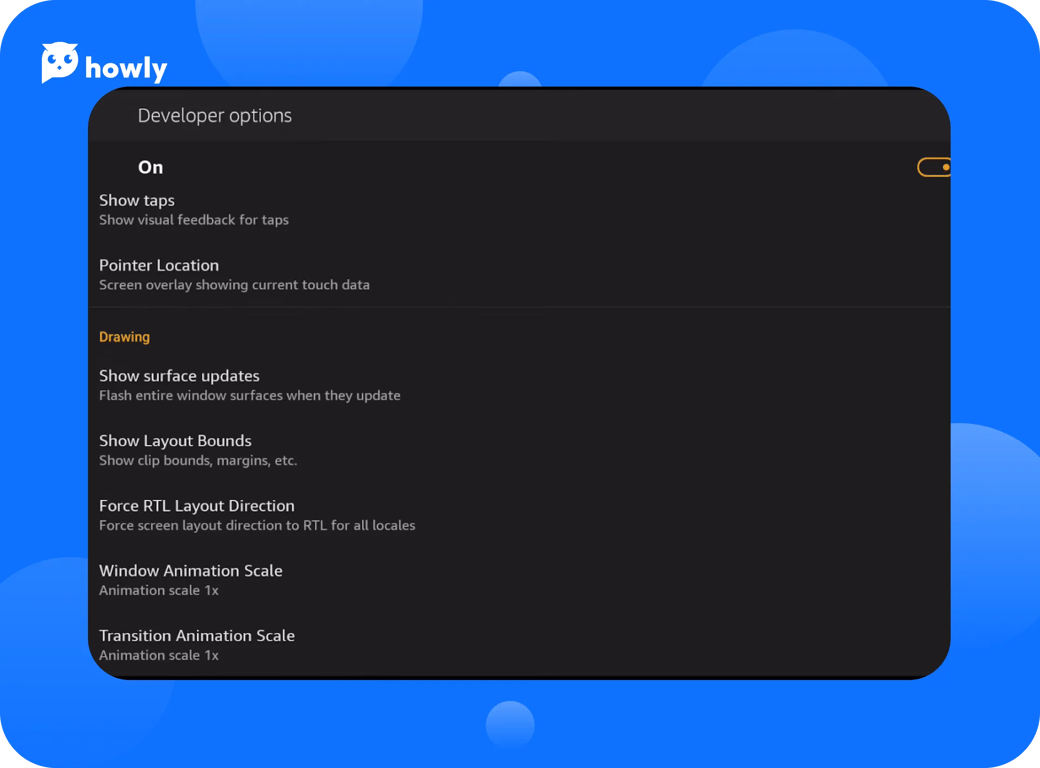 Change the animation scale to 0 or choose the Animation Off option (depending on what model you use).
In this way, all apps will open faster, as the system doesn't need to load up the animations anymore.
Extra Kindle Fire HD hacks and mods tips for better user experience
Although the Amazon Kindle Fire tips and tricks for 2016 and newer versions are useful, they won't work for older models of the tablet. But there are still a few things you can do to enhance user experience with an older model of Amazon Fire. Take a look at the tips below.
Have better control over the use of a tablet by children
To make your Amazon Kindle Fire child-friendly, you can set up a child profile. It allows you to manage the content your kids watch and the time limits. Here is how to do it:
On the home screen find and tap Settings, then navigate to Profiles & Family Library.
Select the Add a Child Profile option.
Follow the prompts to fill out the information about your child, and then enable any restrictions you want.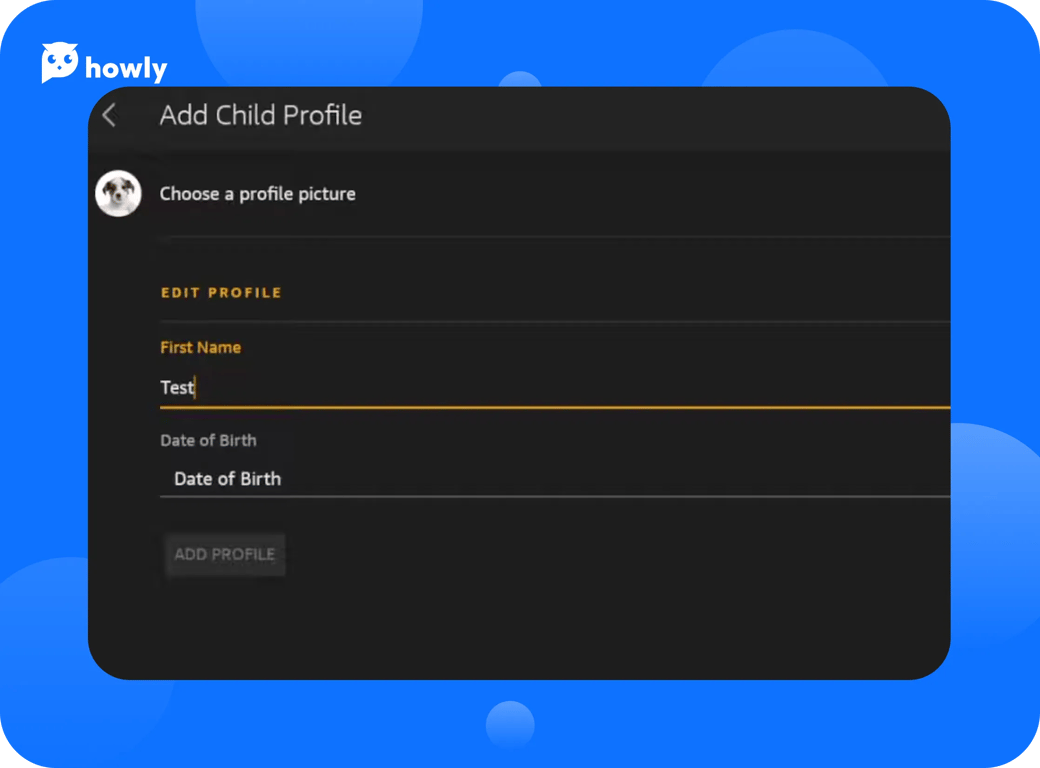 It's one of the most useful Kindle tips for parents, who want to ensure their kids access only appropriate content and don't spend an excessive amount of time using tablets.
Use your Kindle Fire tablet with a portable keyboard
Do you know that your Amazon Fire tablet can boost your productivity on remote work? When you need to do an urgent task but don't have a PC near you, use your Amazon Fire with a Bluetooth keyboard! The tablet has built-in Bluetooth, so it is easy to pair any portable keyboard with your device. In this way, you can work in any management or business app like Microsoft 365 or Google Sheets using your tablet.
With the Kindle Fire memory expansion hack we shared above, you can keep all the apps and files you need for work on your tablet and work from anywhere.
Use keyboard shortcuts
Do you want to type faster? There are some shortcuts for a virtual keyboard on Amazon Kindle Fire tablets that will speed up the process of typing. All you need is to swipe from a certain key to another. Here are a few examples:
To type a word, gently slide from the first letter to the last letter of the word.
Swipe from ?123 to the A key to select a text in the search box.
Swipe from ?123 to the C key to copy the word or phrase, or swipe to "v" to paste the copied text.
Swipe from ?123 to the T key to open the numeric keypad.
Try these Kindle Fire HD hacks and mods on your tablet and feel how easier it becomes to work with text using shortcuts.
F.A.Q.
Can I increase the space on my Fire tablet?
If you have a tablet of the 5th generation or newer, you can use a microSD card and our Kindle Fire memory expansion hack to get extra storage of up to 1TB. Just insert the card into your tablet, go to Storage Settings, and move your file to the external storage.
What are some cool Kindle tricks for a Fire tablet?
Some of the Kindle cool tricks you can use are child profile setup, virtual keyboard shortcuts, developer mode for speeding up the tablet, and a Blue Shade mode for protecting eyes from overstrain.
Do you have some tips for the initial setup of Kindle Fire HD?
When you just get your tablet, you can use the following Kindle Fire HD hacks and mods to instantly improve your user experience: give your tablet a name, get Google's app store to download Google Maps and other apps by Google, and set up Blue Shade that decreases the eye strain at nighttime.
Conclusion
Amazon Fire tablet is a powerful device, especially if you know how to enable hidden features. Use the tips and tricks we shared above to make your tablet more convenient for daily use.
And if you don't find the needed Kindle tutorials in this article or want to learn more about your Amazon Fire tablet, feel free to contact Howly experts. Our technicians would love to help you to find a way to improve your experience with the tablet.