Fitbit is a favored label of wellness trackers that enables you to observe your activity levels, sleep patterns, and other health metrics. However, at times, you may encounter the issue of a black screen on your device, which can be frustrating and cause you to lose track of your progress. In this article, we'll explore the common causes of Fitbit screen blackouts and provide effective troubleshooting steps to help your gadget to get back on track as soon as possible. With our guide, you'll be able to maintain your fitness routine without any interruptions.
Before we start
Save your time and let professionals resolve your issue in minutes!
Want to start solving your problem immediately? Experienced Howly troubleshooters can fix your issue ASAP. They're already waiting for you in the chat!
The benefits you'll get while troubleshooting your issue with Howly experts:
Qualified help with laptops HDD

Quick advice right in your device 24/7/365

Expert reply within 60 seconds

Clear step-by-step guidance

Limitless number of follow-up questions

Understanding and empathetic help till your laptop HDD issue is fully resolved

All answers you need in one place
Fitbit dark screen and other popular Fitbit problems
There are several Fitbit problems that users may encounter while using their devices. One of the most common troubles is a screen blackout, which can happen because of a wide range of reasons, such as a low battery charge, deep software problems, or situational mechanical damage. Other issues that users may face include syncing problems, inaccurate tracking of activity, problems with the charging dock, and issues with notifications. Fitbit also has a history of releasing firmware updates that can cause unexpected issues, such as reduced battery life or syncing problems. However, most of these issues can be settled with simple problem-solving actions or by getting directly in contact with Fitbit support representatives to get additional assistance.
Reasons for Fitbit black screen
A Fitbit black screen can be a frustrating problem that can occur unexpectedly, leaving you unable to track your fitness progress or view your metrics. In this section, we'll explore the common reasons behind this trouble, including battery problems, deeper software program glitching, and situational mechanical, and physical damage. Obtaining more information on the situation might help you take the necessary steps to troubleshoot and resolve the issue. So, let's dive in and explore the reasons why your Fitbit screen may have gone black.
The Fitbit Sense black screen problem can arise for many different reasons. The first of the most common causes is a drained or dead battery. If your Fitbit device has been used for an extended period without charging, the battery may run out, causing the device to shut down. Another cause can be a software issue, where the device's firmware may have become glitched or is not conducting accurately. Other than that, physical damage, like accidentally hitting the device, can also cause the screen to go black. In some cases, the problem may be due to moisture or water damage, which can cause the device to malfunction. Understanding these reasons can help you do everything necessary to settle the issue, solve your Fitbit screen not working problem, and get your Fitbit device back to normal functioning.
How to fix a dark Fitbit screen
A Fitbit black screen can be a frustrating crisis, but thankfully, there are a few urgent yet simple steps you might want to take to settle this issue once and for all. In this section, we'll provide you with effective solutions to fix the Fitbit black screen problem, including reloading your machine, checking the charging status, and updating your device's firmware. We'll also cover additional tips and tricks to help you prevent the black screen problem from happening again in the future. So, let's dive in and explore.
Charge your Fitbit
The first step to fixing the Fitbit black screen problem is to ensure that your device has enough battery to function. To charge your device completely, plug the charging cable into either a USB port or a wall charger and wait for the device to charge fully. It is recommended to charge your Fitbit every few days, depending on your device's battery life.
To check the charging status of your device, press the button on your Fitbit, and a battery image will show up on the screen. If the battery icon is low, your device may not function correctly until it is fully charged.
If your device does not charge even after being plugged in for some time, you may attempt to use another charging cord or port to see if that resolves the issue. If the problem with charging your Fitbit continues, it is recommended to contact Fitbit support for additional help and guidance.
Restart your device
Occasionally, reloading your device can resolve the Fitbit Luxe not turning on. To do this, you can fix the issue by pressing and holding the button on your device until the logo shows up on the screen. The duration of this process may vary from a few seconds to as long as a minute, depending on the model of your Fitbit device. On the Fitbit Charge 4, to view the Fitbit logo, you must press and hold the button for a duration of 8 seconds. Once you can see it, let the button go and wait for the device to restart. After restarting, check to see if this blank screen issue has been fixed. If it persists, proceed with the other troubleshooting steps.
Go back to factory settings
Reloading your machine back to its original settings can often help settle the Fitbit black screen problem. However, it's essential to note that resetting your device will erase all data and settings stored on it, so it's crucial to back up your data before going for these radical measures.
To achieve this, the first thing you have to do is press and hold the switch on your device until the company logo occurs on the screen. Let go of the button, and you'll see your gadget turning off. Press and hold the button again until you see ALT and ERASE on the screen.
Use the button to scroll to ERASE, then press and hold the button to confirm. Wait for the device to erase all data and settings, which can take several minutes. Once the device has been reset, it will display the initial setup screen.
At this point, you can set up your device as if it were new, and begin using it again. Note that after resetting, you will need to sync everything on your machine with the Fitbit application to restore any previously saved data.
Update your firmware
Sometimes, the Fitbit black screen problem can occur due to outdated firmware. If your device's firmware is outdated, it may not be able to function correctly, resulting in various issues such as screen blackout, syncing problems, and more. To update your Fitbit firmware, follow these steps:
Ensure that your appliance is completely charged and connected to the internet.
Open the company application on your smartphone and pick your device from the list of available devices.
If there is a hardware update package available, the option to update will appear on your personal device. Tap on Update Now to obtain the most recent firmware once and for all.
Wait for the update process to finish. The machine might restart several times during the update process.
Once the whole process is done, your personal appliance should be functioning correctly.
It's important to note that sometimes, firmware updates can cause unexpected issues such as reduced battery life or syncing problems. If you experience any Fitbit blank screen problems after updating your firmware, get in contact with Fitbit representatives to receive further guidance and assistance.
Contact support
If the previous troubleshooting steps do not settle the Fitbit black screen issue, trying to get in touch with a Fitbit representative can be the next step. Fitbit offers multiple different support channels, partially through email, live video chat, and phone conversations, to help you troubleshoot your device. Before contacting support, it is best to ensure that your gadget is still considered to be under warranty, as the company may offer a replacement or repair free of charge if the device is still covered.
To contact Fitbit support, visit their website and select the Contact Support option. You can choose the appropriate support channel from there, such as email or live chat. Ensure you provide all necessary details, such as your device model, hardware option, and the steps you have already taken to troubleshoot the issue. The support team might propose additional fixing measures or link you and the issue to their technical team if necessary. By getting in touch with company support, you can get personalized assistance and a resolution to your Fitbit black screen problem.
By following these steps, you can resolve the Fitbit display not working problem and continue tracking your fitness progress.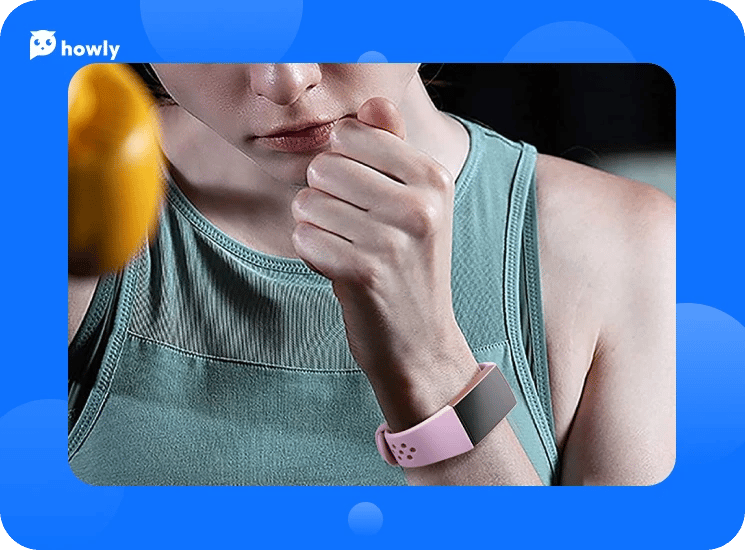 F.A.Q.
What is the duration required to fully charge a Fitbit?
The duration for charging a Fitbit differs according to the model and charging cable utilized. Nonetheless, the majority of devices require approximately 2-3 hours to attain a complete charge.
How do I check if my Fitbit is under warranty?
To verify if your Fitbit device is covered by warranty, you can access the Fitbit website and input your device's serial number. If your device is within the warranty period, Fitbit might provide a cost-free repair or replacement.
Can I prevent my Fitbit screen from having this issue?
You can prevent this issue by regularly charging your device, avoiding physical damage or exposure to moisture, and keeping your firmware up to date.
Why is my Fitbit not syncing?
A Fitbit may not sync because of all the different reasons such as the low battery charge, deeper software program issues, or syncing errors. Troubleshoot the issue by ensuring your device is fully charged, restarting it, or contacting Fitbit support.
Conclusion
Now you know what to do when your Fitbit screen goes black. Dealing with a Fitbit black screen can be frustrating and hinder your progress in fulfilling your wellness goals. Nevertheless, with the troubleshooting steps provided in this guide, you can settle the matter once and for all and go back to tracking your progress. Remember to charge your device regularly, update the firmware, and avoid mechanical physical damage or exposure to extensive moisture. If you encounter any further issues, don't hesitate to get in touch with company support for assistance. For additional support and assistance, reach out to Howly's team of experts who are always ready to help you with your Fitbit-related issues.