Online shopping saves time and money. In most cases, everything goes seamlessly: after the customer pays for goods, the seller sends them. Unethical vendors on eBay may send different or even broken things. A similar thing happens with customers: they may ask for a refund when the item is completely fine and arrived on time. So it's time to issue a refund on eBay.
Before we start
Save your time and let professionals resolve your issue in minutes!
Want to start solving your problem immediately? Experienced Howly troubleshooters can fix your issue ASAP. They're already waiting for you in the chat!
The benefits you'll get while troubleshooting your issue with Howly experts:
Qualified help with laptops HDD

Quick advice right in your device 24/7/365

Expert reply within 60 seconds

Clear step-by-step guidance

Limitless number of follow-up questions

Understanding and empathetic help till your laptop HDD issue is fully resolved

All answers you need in one place
If you do everything right, you will get your money back in a few days. Check our guide on how to get eBay to step in as a buyer and as a seller.
What is the eBay refund policy?
The marketplace encourages sellers and buyers to solve issues in a dialogue. That's why you must first tell the merchant about the issue with the order. Then, the seller has up to 3 days to resolve it.
Most vendors want to resolve such issues to save their good reputation. If the vendor accepts resending or refunding the order, give them a few extra days to figure things out. But when the salesman dismisses your complaints, you have the right to set a refund request on eBay.
So, if you are interested in questions like "how long does an eBay refund take", we can tell you that it usually takes 3-7 business days. After that period you get your money back. But if the seller refuses to refund, it may last for a month.
What happens when eBay steps in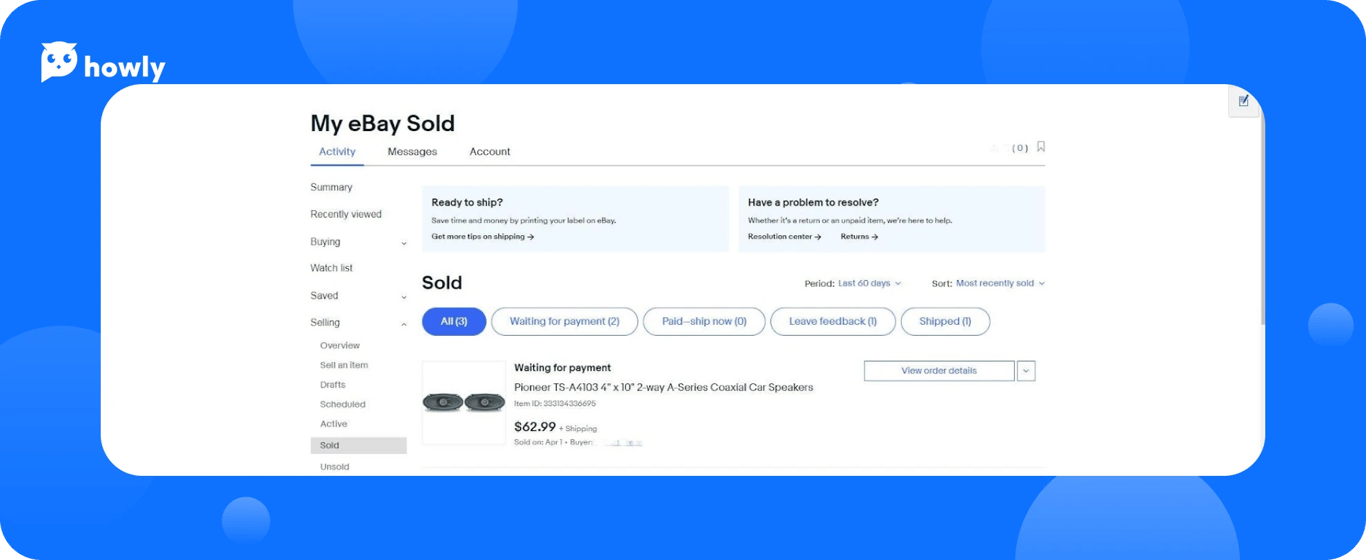 In most cases, the eBay refund process is automatic. A user tags the order as unsatisfying and problematic, and eBay gives them the chance to ask for a refund. Once they click the Refund button, this complaint redirects to a seller. And merchant can try to solve this issue, so the user can remove the refund request. eBay completes a refund if the seller doesn't react for 14 days.
But what to do if the seller disagrees with a customer and doesn't want to give a refund? Merchants considering help from eBay resolution center when they:
Have an issue resolving which has been lasting for more than three days.
Disagree with the buyer's reasons for asking for a return.
If one of these options suits the seller, they can ask Ebay to step in. Here is the instruction for merchants to get Ebay expert help:
Find the order in My eBay Sold and select View return details.
Click on the Report problem.
If the seller has a request that the order is still not received by the customer, they should follow these guidelines:
Select the order in My eBay Sold.
Follow the View request details link.
Select Ask eBay to step in and help. After this, follow what the eBay team representative will say to you.
The eBay team representatives claim they will review the request and come back with a resolution within 1-2 days. In reality, prepare to wait for 3-4 days. Once the eBay team decides who is right, they let both parties know.
If the marketplace stops the deal in favor of the customer, they will send a customer a repayment (without shipping fees). It will have an impact on the seller's performance.
If eBay shuts down the case in the merchant's favor, it just will be closed immediately.
If one of the parties does not accept the decision, it can appeal. But it's necessary to provide the marketplace with new details about the order within 30 days. Otherwise, the case will be closed forever.
eBay refund process: what it looks like and how to proceed
Not always interruptions rely on the seller's behavior. For example, your order can get stuck between post offices, or the delivery guy can steal it. So inspect the details of your order before contacting eBay for a refund.
1. Estimate the delivery date
Select My eBay in the top right corner to open a drop-down menu. Pick the Purchase history line and open the item. When this order has a tracking number and an estimated delivery date, you will see it.
If you still have a few days left till the estimated day, you should wait before requesting an eBay refund. A 2-3 day delay is common for big marketplaces. But if you have a week's hold, contact the vendor.
2. Track the package
Howly team encourages you to have a tracking number when you buy something online. If you know it, you can quickly track the order's route. If you notice that the parcel goes to the wrong address or has been returned to the seller, you can contact the seller directly and ask to fix this issue.
A tracking number will help you find the real-time shipping status of your purchase. If the package gets lost inside the sorting center, you see it. Thus, you can use this knowledge when you contact the eBay resolution center.
Sometimes vendors can redirect the parcel. You don't need to spend additional money if it's domestic shipping (redirecting inside one country or state).
3. Examine the item after receiving
If the item has arrived spoiled or differs from the description, ask for a refund on eBay. After the company reviews and approves it, you will get your money back. But you have to reach out to the merchant first. Otherwise, an eBay resolving team can take the seller's side.
4. Don't miss your chance to ask for a refund
Note that eBay refund process guarantees have a 30-day window. So you should ask for repayment during this time.
5. Contact the merchant
Most vendors are interested in closing a return on eBay without service agents. Sellers often send a replacement or give a refund. Every dispute process lowers the seller's rank in the system. Thus, they are interested in direct talk with the consumers to prevent their rank from falling.
So it's highly recommended to chat with the vendor before contacting eBay about a refund. Sometimes sellers could send you extra goods for free just to prevent a possible refund. Follow the next instruction:
Uncover the goods in the buying records. Choose My eBay and Purchase History Locate the item, click on three dots near it, and find the More Actions line. Select it and choose Contact Seller.
If you don't receive the item, click on I didn't receive my item virtual button. It will show the estimated delivery date and the link, clicking on which you can request a refund.
Choose Request a refund or more info. This action will redirect you to a page where you can request an eBay refund or ask for a similar item. Choose the preferred alternative and click on the Send Request button.
Write a message to the vendor. Describe your situation in detail and why you are seeking repayment. The merchant needs some time to solve the issue.
Wait for three business days. Then, if the vendor still ignores you, contact eBay customer service to ask for a refund from them.
Methods to ask eBay to step in
In most cases, sellers do everything possible to solve the issue without the eBay team: resend the item or give a refund. But some vendors do nothing or even reject the buyer's propositions. In these situations, you should issue a refund on eBay.
Method 1: Send an automatic request
Excellent solution for those who don't like to talk to people. Here is what you need to do when you want to receive eBay buyer help via my eBay purchase history:
Log into your account on eBay.
Click on the My eBay tab and go to the Purchase History menu.
Find your order here and select More Options. It will bring you to the drop-down menu. Make sure you contact the merchant before you ask eBay to intervene — it's mandatory.
Choose Ask eBay to step in and wait 2-3 business days for a response from an eBay team. They will give you a repayment or more details about the order and how you can receive it.
Method 2: Contact managers directly
Contact eBay support if the previous actions haven't led to the results. Three options are available to you: the hotline (valid for US users), the resolution center, and social media.
Call the hotline
If you asked on forums questions like "How do I ask eBay to step in?", it's the fastest way. But it works only with US consumers. Call the support by dialing 866-540-3229. After that, follow the pointers to connect to the correct department.
eBay representatives are available from 5 AM to 10 PM every day. Tell customer service order details, including its number.
Go to the Resolution Center
Open a ticket in the Resolution Center to close a return on eBay. Follow the link and tell representatives all information about your order.
Contact eBay via social media
This solution fits those who want to get a fast answer on their favorite socials. eBay has Instagram, Facebook, and Twitter accounts. Write them about your order and the issues with it. The social media team will respond to you in the next few hours.
F.A.Q.
How do I contact eBay?
You can contact customer service using the eBay account menu, Resolution Center, hotline, or socials.
How long does it take for eBay to step in and resolve a dispute?
Usually, it takes up to 3-5 business days. But if the seller doesn't want to give a money-back, the process may take up to a month.
What evidence do I need to provide to eBay when asking them to step in?
You should have a confirmation that you've tried to contact the seller, but they've rejected all your proposals.
Why can't I ask eBay to step in?
eBay won't step in if you don't contact the seller. They need confirmation that you've tried to solve this issue on your own.
Can eBay help with disputes involving returns or damaged items?
Yes. If you receive a damaged or faulty item, you are covered by eBay's full money-back guarantees. The same rule applies to items that don't match the description.
Final thoughts
eBay provides help for sellers and customers. Once you decide to get a refund, ask the merchant. They usually send a spare item for free do accept a refund. If you are interested in how long eBay refunds take, in this case, it's usually up to 3-7 business days. But if they refuse to money back, the whole process may take up to a month.
If providers don't respond, get eBay involved. You have these options: via eBay, Resolution Center, phone, or socials.
Do you still have questions? Ask Howly expert! We will give you tailored guidelines for your case.