In today's fast-paced digital era, printing remains a crucial aspect, with Canon printers leading the pack in terms of top-notch print quality and reliability. However, even the best printers require periodic service. Whether you're an experienced Canon printer user or a beginner, this comprehensive guide will equip you with the knowledge and skills to effortlessly change ink. Prepare to become an ink replacement maestro and unlock a seamless printing experience.
Before we start
Save your time and let qualified experts in changing the ink in Canon printer troubleshooting resolve your difficulty in minutes!
Changing ink in a Canon printer can be challenging if you know little about it. But if you need to print something urgently, such an issue can become problematic. So save time and ask for help. Our Howly experts are available 24/7 and ready to assist you anytime.
The pros you'll get troubleshooting your changing ink in Canon printer issue with Howly experts:
Qualified help with changing the ink in Canon printer

Quick advice right in your device 24/7/365

Expert reply within 60 seconds

Clear step-by-step guidance

Limitless number of follow-up questions

Kind and pleasant help till your changing ink in Canon printer difficulty is fully resolved

All answers you need in one place
Fortunately, such printers as Canon rarely give an error when changing the cartridge.
But if at some stage of changing ink in a Canon printer you have questions or you are afraid of breaking something in your Canon printer, write to the Howly team, and experts will remotely help you figure it out.
Step 1: Ensure your ink correct
This step may seem obvious to you, but it is not because many use the wrong cartridges for their printers. The user manual or the manufacturer's website will help you choose the right one.
But before delving into the ink-changing process, it's crucial to assemble all the necessary tools and materials. Check out this handy checklist to embark in your ink-changing:
Take suitable ink for your specific model of the printer.
Clean any dust from the printer and cartridges.
Slip on a pair of gloves to keep your hands and clothes clean from potential ink stains.
There, by model, you can quickly determine the appropriate cartridge. So if you are interested: "how to put ink in a Canon printer", check out this resource. Once you have the right ink cartridges, you're ready to begin. Don't buy cheap fake ink cartridges, because they could damage your device and you'll need to find a new printer.
Step 2: Throw away old ink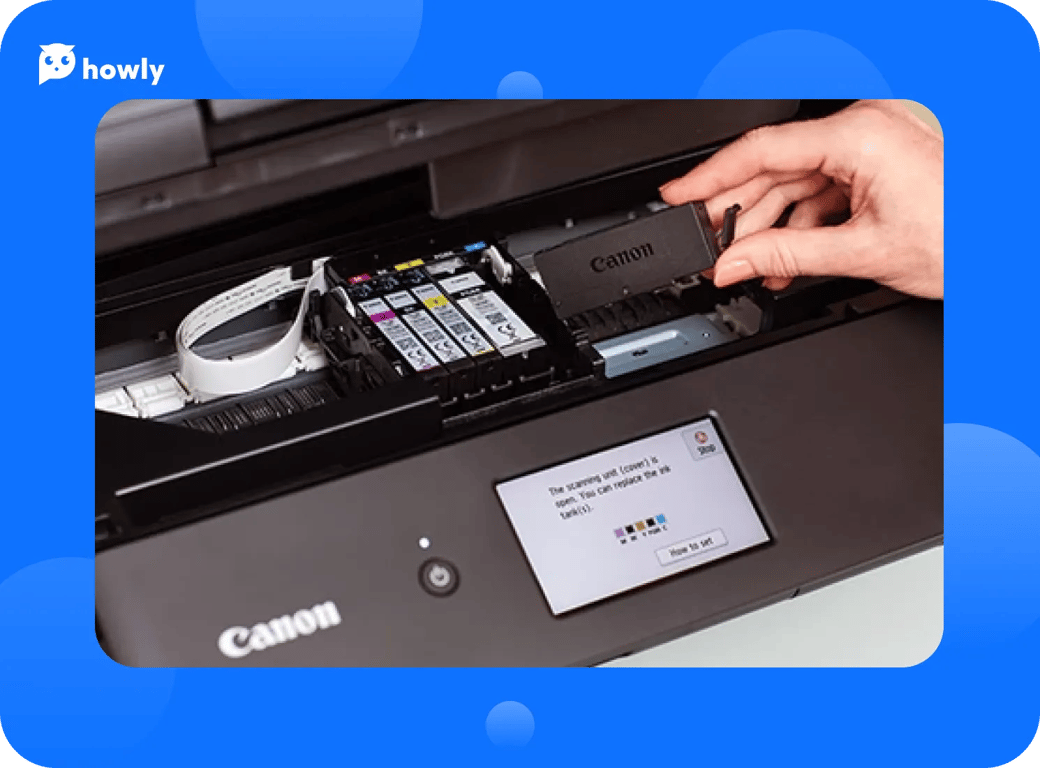 Remember that changing the ink while the printer is on is important. Look for the cartridges that need replacing, typically labeled or marked on Canon printers. Take note of the cartridge numbers and colors for easy replacement. Gently press and release the old cartridges from their holders. Slowly pull them towards you to remove them from the printer. Finally, remove the ink cartridges from the Canon printer and set them aside for proper disposal. If you have a question about utilizing cartridges, you can find some special places in your city.
Step 3: Put ink in Canon printer
Firstly, the printer must be connected to a power source and switched on. The ink cartridge compartment can then be located, typically situated behind a printer cover or door. If there is any uncertainty regarding the compartment's location, referencing the user manual is advised.
Next, the compartment should be opened and the cartridge holder will glide into position, indicating the commencement of the cartridge replacement process. When preparing to instal ink cartridges in a Canon printer, it is crucial to apply firm pressure to each cartridge until it is securely fitted into position. A distinct clicking sound will indicate that the cartridge has been installed correctly. Finally, the ink cartridge compartment can be closed and the printer powered on. With the cartridges correctly installed, the printer will be ready to print.
Step 4: Test your printer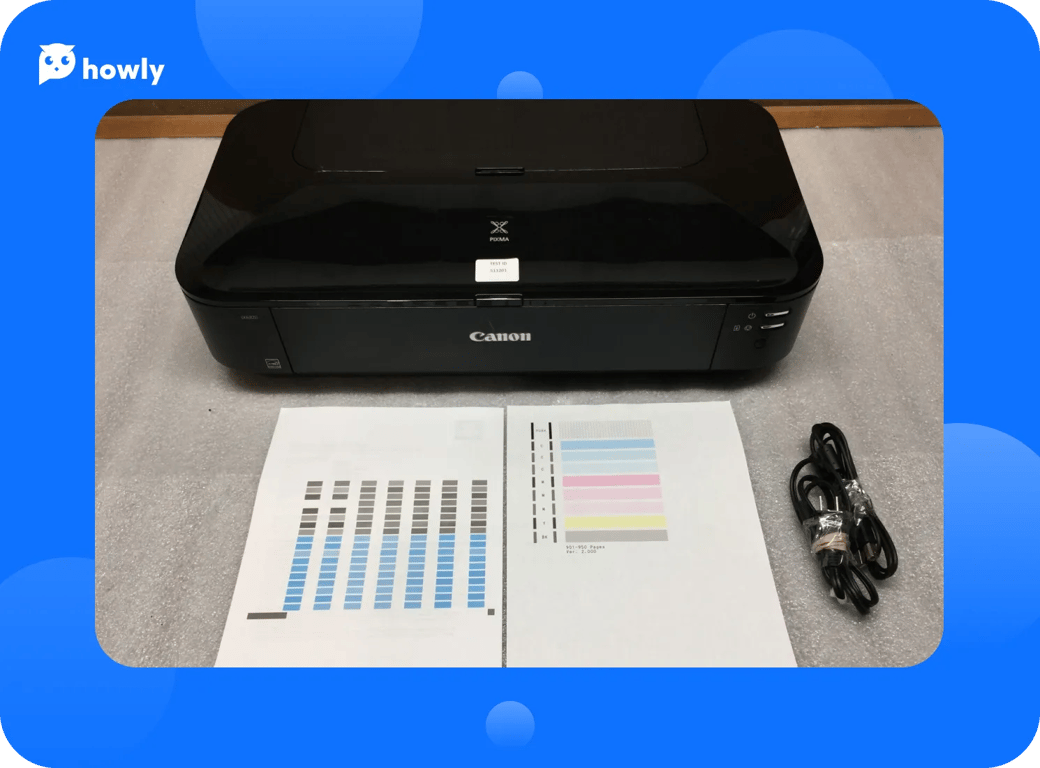 Place several sheets of plain paper gracefully into the printer's input tray.
Locate the test printing option on your printer's control panel or software. Confidently initiate the test print process, triggering a visual symphony of colors and patterns on the page. Look at the page and check if there are blemishes such as streaks, smudges, or misaligned colors. If you encounter any obstacles during these actions, consult your printer's user manual for troubleshooting.
And that's it! You have successfully changed the ink and now you can print anything. Choose your favorite photos and make them alive or effortlessly print your papers.
Step 5: Ask for help
If problems or errors arise following the installation of the cartridge, leading to printer malfunctions, it is imperative to seek assistance promptly.
One option is to utilize can Google "how do i remove the ink cartridge from my canon printer" and find relevant information.
Alternatively, you can visit a dedicated customer service center for professional support, or reach out to the knowledgeable experts at Howly. These experts are available around the clock, operating remotely to cater to your needs. Simply provide them with a detailed description of your issue, tell them about messages and indicators you see on the screen, and they will be more than willing to assist you.
F.A.Q.
Where is the ink cartridge located on a Canon printer?
It depends on the model and will be exactly indicated in the instructions for your device. But usually, it is located at the top of the printer or in front.
Do I need to turn off the printer before changing the ink?
No. Some models, on the contrary, must be turned on so that you can see where to do Canon printer ink replacement. Because some models have few cartridges.
How to check the cartridge?
A check is offered automatically after replacing the cartridge. So just follow the device instructions on the monitor while you install the Canon ink cartridge.
Why did I run out of ink if I rarely print?
Perhaps they did not end but dried up. Change the ink cartridge with a different one and print more often to avoid such situations.
Conclusion
When you need to print something, you want a printer you can count on to deliver quality results quickly. But nothing is more frustrating than running out of ink in the middle of a project. Fortunately, you can effortlessly replace the ink cartridge Canon.
If you encounter any issues during the replacement process, don't hesitate to ask for help. You can visit a service center for assistance or contact the Howly specialists for 24/7 support. With these tips, you can keep your Canon printer running smoothly and avoid unnecessary workflow delays.