The modern age never ceases to delight us with new technological solutions that make our life more convenient and mobile. And Apple remote desktop utilities are among them. Such software allows you to access any iOS product from a distance and get full control over your device wherever you are. This is especially good for those who have multiple iOS devices and want to keep them connected. So today, we'll tell you about the top 5 remote control tools for accessing your Apple devices from an iPad. Let's move on!
Before we start
Save your time and let professionals resolve your issue in minutes!
Want to start solving your problem immediately? Experienced Howly troubleshooters can fix your issue ASAP. They're already waiting for you in the chat!
The benefits you'll get while troubleshooting your issue with Howly experts:
Qualified help with laptops HDD

Quick advice right in your device 24/7/365

Expert reply within 60 seconds

Clear step-by-step guidance

Limitless number of follow-up questions

Understanding and empathetic help till your laptop HDD issue is fully resolved

All answers you need in one place
5 best apps for Apple remote management
Wondering what the best remote desktop for Mac and iPad is? Nowadays, the choice of similar software is fairly large – free and paid applications offer different functionality for remote interaction between iOS devices. But you don't have to rack your brains over which Apple remote desktop client will be good for you, as we've already compared all the options and picked the top 5 best applications that work well on iPad!
Chrome Remote Desktop
Among the wide variety of different tools available today, Google offers its own solution to make things easier. And so, the company presented the world with Chrome remote desktop – an efficient tool for managing a great number of iOS devices at once. This free Apple remote desktop software is simple to set up and use on your iPad. All you need to do is just follow these steps:
Head to the App Store, find CRD and download the tool.
Sign in with your Google ID (set up a Google account if you don't have one).
Find your Mac computer in the list of suggested devices (it'll end with .local) and click on it.
Provide your password and tap Connect.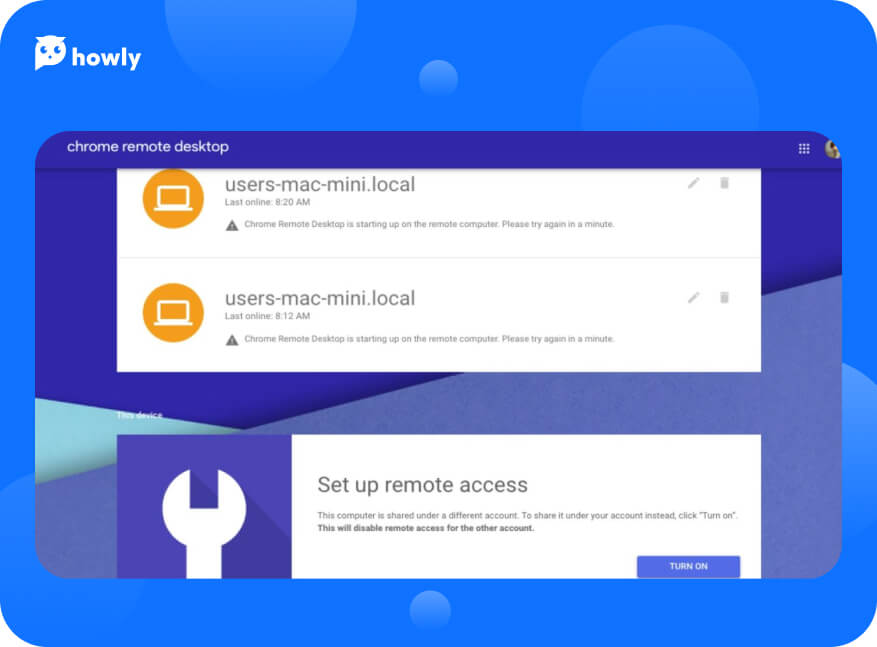 AnyDesk
AnyDesk is one of the most decent Apple remote desktop iPad applications available today. The tool has a simple interface and an impressive number of useful features for efficient connection between Apple devices. What's more, the program is ad-free and doesn't require any payments or subscriptions. Here's what you need to do to start using AnyDesk on your iPad:
Download the app and run it on your iPad.
Find your AnyDesk address (9-digit number).
Now take your Mac, download the app from the official AnyDesk website and install it.
Run the program and enter your AnyDesk address in the empty field.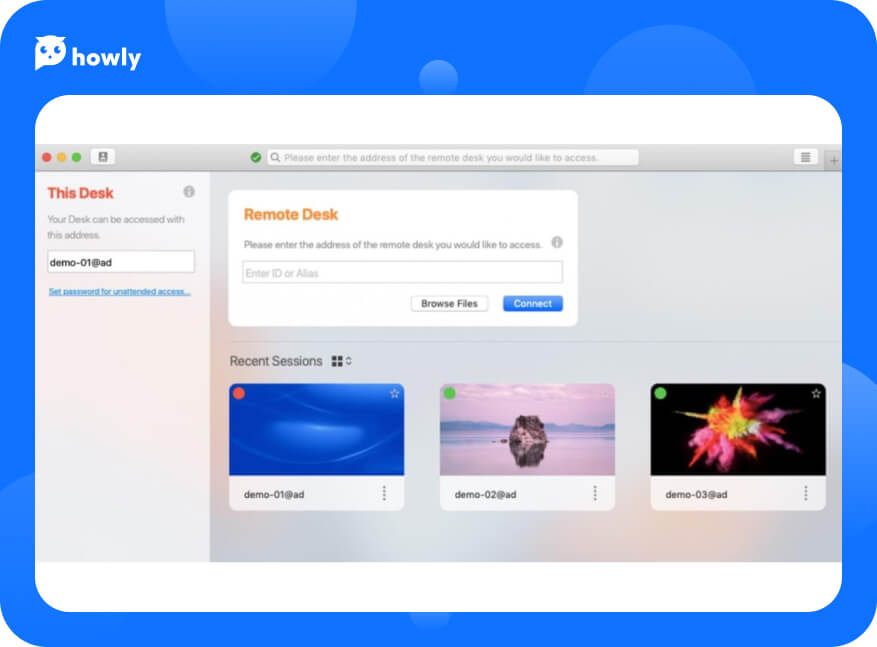 Hit Connect.
Confirm the action by clicking the "recording" icon on your iPad.
Select Start Broadcast to run a desktop sharing session.
Jump Desktop
This is a popular multi-platform for establishing a reliable connection between devices with the same or distinct OS (good for iOS, Windows, and Android). The tool is powerful and allows you to administrate numerous computers at a great distance. In addition, its setup is one of the easiest. The only downside is that you can't use this Mac remote control app at no charge. Its price on iOS App Store is $14.99. Do you mind paying for a high-speed connection? Then consider how to use this handy utility.
Download Jump Desktop and install the program file on your iPad.
Tap Add a User and log in to your account.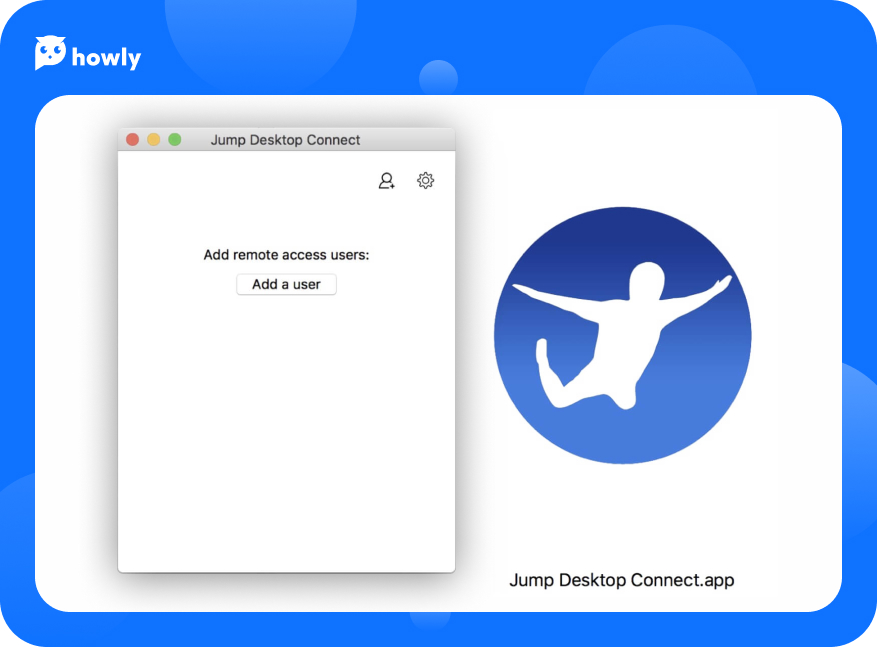 Download Jump Desktop on your iPhone, Mac, or any other device, launch the app, and log in to the same account.
Tap on your iPad icon to connect.
Screens
Just like the previous Mac remote app, Screens works well on different platforms, allowing you to establish a reliable and fast connection between your computers. What's more, it's really convenient to control your Mac or iPhone with simple trackpad gestures. And additional features such as curtain mode, hot corners, different shortcut keys, and AirPlay mirroring support provide you with an efficient desktop experience. The tool is also paid, and its price reaches $19.99. Want to try this remote app for Mac or iPhone control? Here's how you can use it:
Install the Screens utility on your iPad.
Open it and create your Screens ID.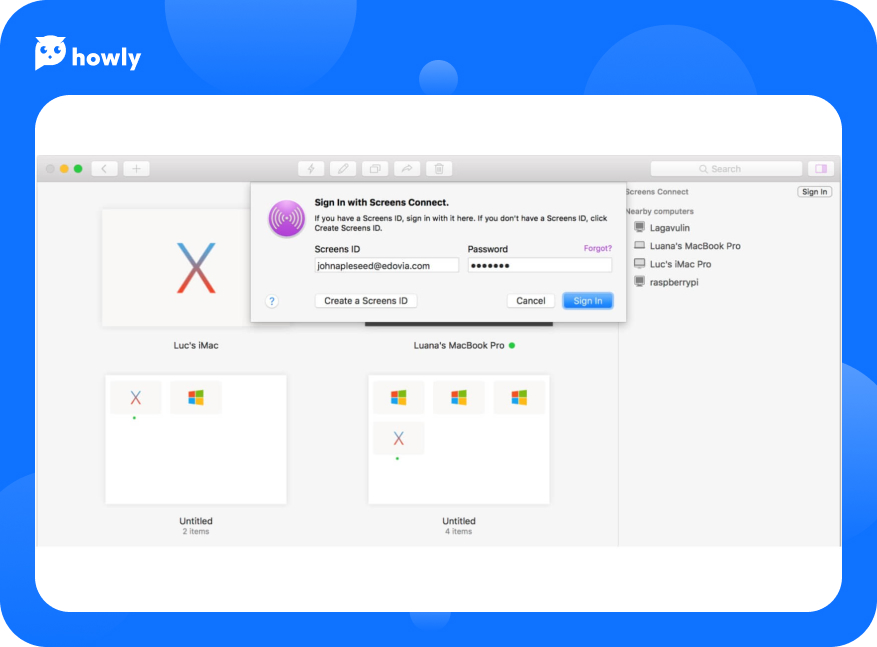 Install the application on the device you want to connect.
Log in to your account using the same Screens ID.
Select your iPad and hit the Connect button.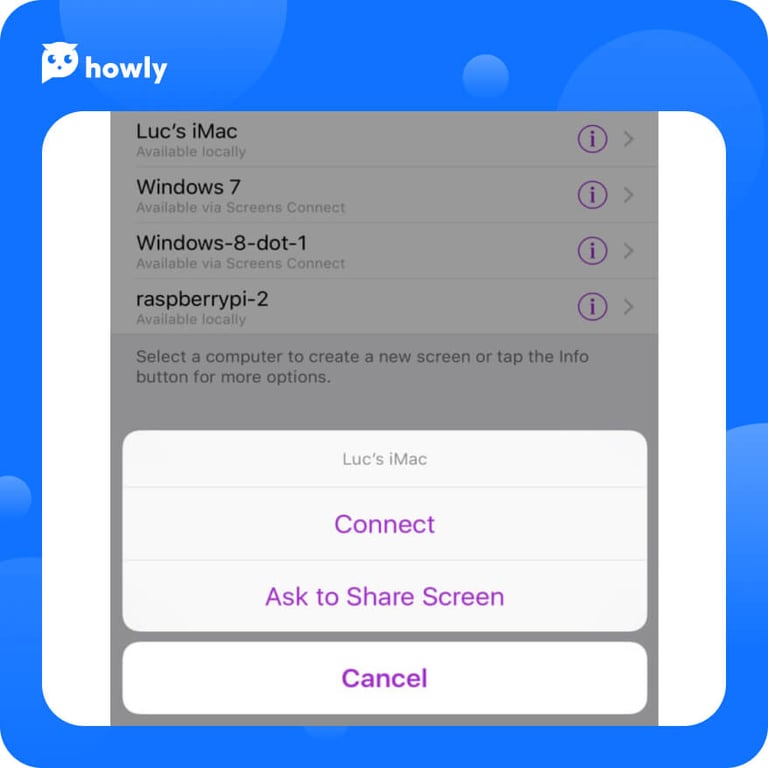 Apple Remote Desktop
ARD is a reliable and easy-to-navigate program designed for managing computers with no fuss. The utility offers sophisticated remote control functionality for Mac OS owners. Regrettably, the official version of the app isn't yet available for iPads, but you can still use the utility to control your iPad or phone via a MacBook. You should also know that the Apple remote desktop price is as high as $79.99. However, many users find it fair due to a large number of features the app offers. If the utility seems interesting to you, follow the explicit guidelines below:
Visit the App Store and download Apple remote desktop.
Permit remote connections on your iPad:Enter System Preferences and head to the Sharing tab.
Put a mark next to Remote Management.
Select your MacBook to allow remote access.

Go to the ARD Connection Center, tap +, and opt for Add PC.
Enter the username and IP address of your iPad and fill in other fields. Set additional options if needed.
Tap Save.
F.A.Q.
Is the Apple Remote Desktop available for no charge?
There is no free version of ARD. You can purchase the utility from the App Store for as much as $79.99. If this seems too much for you, use cheaper apps or opt for free remote control programs.
What is the most adventurous Apple remote desktop iOS application?
It all depends on the features you need, as each app provides different functionality. We recommend using the Screens utility, which comes with rich remote control options and an affordable price.
Can I manage my MacBook via iPad for free?
There are two best apps to control your Mac via iPad for free – Chrome Remote Desktop and AnyDesk. Both utilities are easy to set up and navigate. Moreover, their functionality is enough to establish a reliable connection between multiple iOS products.
Conclusion
Remote desktop control applications are proving to be very useful, no wonder they're gaining popularity in recent years. And you may have numerous reasons to initiate computer connections through a remote Apple application. But regardless of your personal or professional goals, the utilities presented in this article will serve you well. Do you have any questions about their installation, setup, or usage? Contact Howly via online chat for detailed instructions!
Summary
These days, there are dozens of apps to manage your Apple network via iPad. To save you from a time-consuming search, we've selected the top 5 most useful utilities, including:
Chrome remote desktop
AnyDesk
Jump Desktop
Screens
Apple remote desktop
The first two options are free, while the last one will cost you a pretty penny. What's more, we've covered how to use each program, so you won't have any trouble setting them up. Choose the app that suits you and manage your Apple devices remotely with ease!