Do you want to optimize your daily routine and simplify a lot of processes around the house? Then you should consider a voice assistant. Right now, there are two leading options on the market: Google Home vs Alexa. To understand which one to choose, you can read a detailed comparison of the two assistants and understand which one is right for you.
Before we start
Save your time and let trained experts in smart home assistants issue resolution resolve your case in minutes!
Choosing the right Google Home voice assistant or Alexa can be difficult and stressful. But what if you still can't figure out which one is right for you? Just contact a Howly specialist who will get to know your wishes and help you decide on the right one. They are available 24/7 to answer your questions about smart home systems: Google or Alexa.
The pros you'll get resolving your smart home assistants difficulty with Howly experts:
Professional help with smart home assistants

Quick advice right in your device 24/7/365

Expert reply within 60 seconds

Clear step-by-step guidance

Limitless number of follow-up questions

Understanding and empathetic help till your smart home assistants difficulty is fully resolved

All answers you need in one place
What are Alexa or Google Home assistants?
Voice assistants are your magic key to control your home or apartment. With them, you have access to all processes in your home and control them with your voice or your smartphone. At your command, the assistant can turn on or off the electrical appliances in the house, activate the necessary functions, turn on the music, etc. The main feature is that it is done in a second and without getting up from the couch. Therefore, for example, you do not need to get up from the couch to turn off the toaster or turn on the cooker hood. And you can do it with a few clicks using the app, or you can do it with a voice command.
The most popular voice assistants right now are Amazon Alexa and Google Home. They are very similar to each other, but they also have quite a few differences. Each of the platforms has its strengths and its weaknesses, which form the user experience. What's better, Google Home vs Alexa? Let's find out right now.
Do you need a Google Home or Alexa?
To figure out if you need a voice assistant for your home, you need to be guided by your needs and daily routine. For example, here are a few of the main functions that assistants perform:
Controlling your home automatically. You can set up functions and times to activate them so that your home processes take place without your intervention.
Adjust lighting, its intensity, and the number of light points using the app or your voice.
Easily adjust the temperature with one click and choose a comfortable value on the thermostat. You can lower or raise the temperature if you want.
Control your multimedia: make it louder, quieter, switch to the next one, etc.
In total, such smart systems (Google, Alexa) can support up to 50,000 different electronic devices. So you can take care of your home even over a long distance. This is very convenient if you often need to leave for work, a walk with the child, etc.
What is Alexa by Amazon and how to use it
Alexa is a much-loved software that provides home care and helpful features. Let's check out the main pros and cons of the device Alexa:
Ask Alexa to remind you of your business. Just tell him what to remind him of and at what time. That way, you won't forget to call a friend or write an important email.
Shop at Amazon. This feature is considered one of the most useful because you can use your voice to ask your assistant to buy you an item you're thinking about.
Turn on your favorite playlists at any time. If you've already started working out or cleaning and realize there's not enough music, you can easily ask the assistant to turn on a song or playlist.
But also this software has disadvantages, which we will now talk about:
Sometimes Alexa may not hear your query correctly, which will give you the wrong result.
Sometimes Alexa loses connection with your phone, which prevents it from working correctly. That's why you should always have a good, stable connection.
If there is a lot of noise around, conversations, or movies, Alexa may not always be able to hear you. That's why you need to remove all external noise to get it to work properly.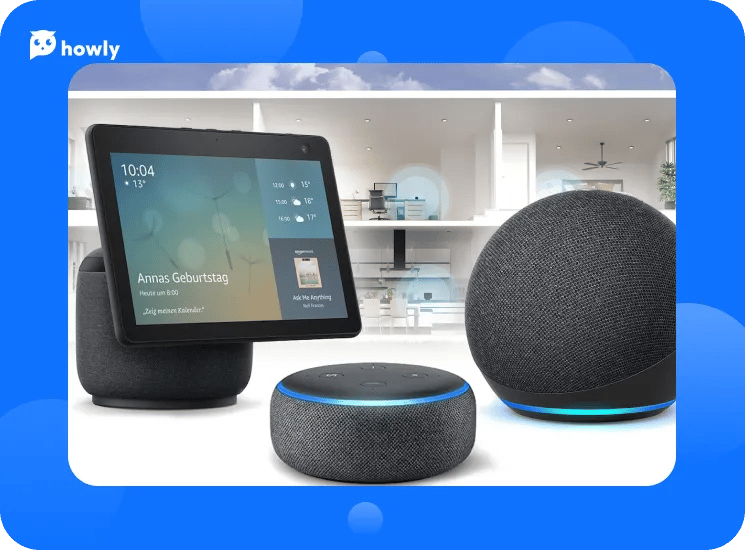 What is Google Home and does it worth it?
Google Home is a smart hub for your home that helps you control your home even from a distance. To use it, you need to have the Google Nest Mini. When connected, you can select devices and control them with your voice. Let's find out what advantages you get when you use:
The first advantage of this system is the affordable price. Although a lot of technical development is required to create this system, the company maintains a fairly optimal price.
Speak in a comfortable language. You don't have to know English at all to use the assistant. You can use your language because the assistant knows almost all the languages of the world.
Understanding multiple voices is a great feature of this device. The assistant will respond not only to your voice but also to the voices of all the members of your family.
Multitasking: the voice assistant can do hundreds of thousands of tasks. And after it helps you cook juicy chicken with a cheese crust, you can easily ask it to find the answer to buy a movie ticket.
Minuses that can be highlighted:
The need to always connect the speaker to the mains. This can be a problem for many homeowners. After all, not always in a convenient place there is a free outlet. Or the place where you can plug the device into the socket is not always convenient to use.
The device has a high-quality voice transmission, but for many people, it may seem too loud. It may wake up a sleeping child or scare an old person.
To use the assistant correctly, you need to have an stable Wi-Fi connection. If your Wi-Fi is intermittent or the signal is not strong enough, using Google Assistant will be very problematic.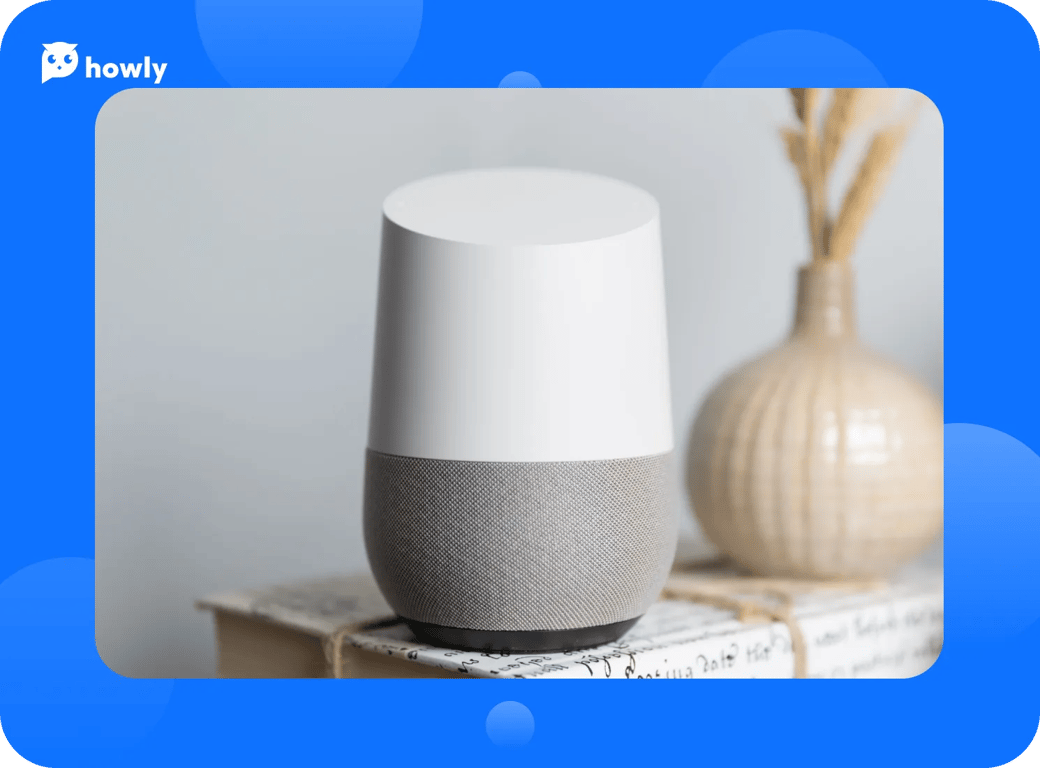 Amazon Alexa vs Google Home — let's compare two devices
To understand which of the voice assistants suits you better, we will compare ZaQ2. We will select standard criteria by which to compare the two systems and understand what they have in common and what is different.
Alexa vs Google — price comparison
To use the voice assistant, you first need to buy a smart speaker. We are going to compare their prices now.
To use a home assistant from Amazon, you should buy the Echo Dot. There are several generations of the speaker, the cheapest version of the 4th generation will cost $39.99. And the 4th generation speaker with improved features and a clock on the screen will cost $59.99.
To use the Google Assistant, you'll need to purchase the Google Nest Mini. Its price is $49.99.
So we can conclude that Amazon has many offers of different generations of Echo Dot, which are both more expensive and cheaper than the Google Nest Mini. So comparing Google Home vs Echo it is worth paying more attention to the availability of features more than the price.
Google vs Amazon smart home: automatic control of home processes
In general, the two voice assistants allow you to control electrical appliances, outlets, thermostats, and cameras. Alexa or Google are very similar in their principle of operation, but have a few differences:
Google Assistant has a large list of available brands that the company collaborates with, as well as many proprietary devices, making it much easier for you to add new devices.
As for outlets and outdoor, and indoor surveillance cameras, Amazon leads in the number of supported devices and control tools.
For routine home tasks, Alexa is more suitable. There are more functions available for activities that you do regularly. It's easier and faster to set up an automatic routine.
So in comparing Google or Alexa, if you have a lot of home appliances of different brands, Google is worth choosing. If you plan to form an automated routine of processes, settle on Amazon.
Alexa vs Google Assistant — what about private security
Many people refuse to use voice assistants because they can violate privacy. There is some truth in this because one of the tools for controlling assistants is voice commands. This means the device is constantly listening to your phrases to respond at the right moment. Let's find out how Google or Alexa for smart home is protecting your privacy.
In fact, both voice assistants claim that they do not process recordings of your voice, thereby not violating privacy boundaries. There is also a feature in both devices that allows you to erase any recordings the assistant has made.
Google vs Alexa smart home — how to get an answer to your question
Voice assistants are also valuable because they can answer your question at any time. Let's compare Amazon Echo with Google Home to see which one can answer your question faster and better.
After you ask a question, Alexa searches the Bing search engine for the answer. And google home assistant searches the Google search engine for the answer to your question.
The difference between the two systems is that Alexa gives a clear and specific answer, while Google Assistant will give a more detailed analytical answer with accompanying information. So in this question, the Amazon Alexa vs Google Echo race is won by Amazon's product.
Google Home vs Amazon Echo — compatibility with other devices
Before choosing a voice assistant, you need to find out about its compatibility with devices and understand which one will work best with your home devices. Now we will compare Google Home vs Amazon Tap compatibility with devices:
Google's device can be connected to almost all devices that are powered by Android and Wear OS software.
Amazon's device is compatible with third-party devices, but it needs to be updated and activated regularly to work properly. For example, you can easily connect this device to Sonos speakers or smart displays from other apps.
So when choosing Echo Dot vs Google Home, you should take a close look at the devices you have in your home and see if they are compatible with them.
Google vs Amazon Smart Home — let's play music
Voice assistants are especially popular because they can play media, which is to include movies on TV and music on streaming platforms. When you choose which is better, Alexa or Google, first find out what they can play and if you would be interested.
For example, an Amazon device will be able to include any track from Apple Music for you, as well as include a podcast from Apple's app of the same name. There are also tracks from Spotify available to choose from, and Alexa will start the radio if you want.
The device from Google also boasts a large list of selectable devices. For example, you can listen to music not only from the Apple app but also using YouTube Music. You can also listen to the radio or TuneIn.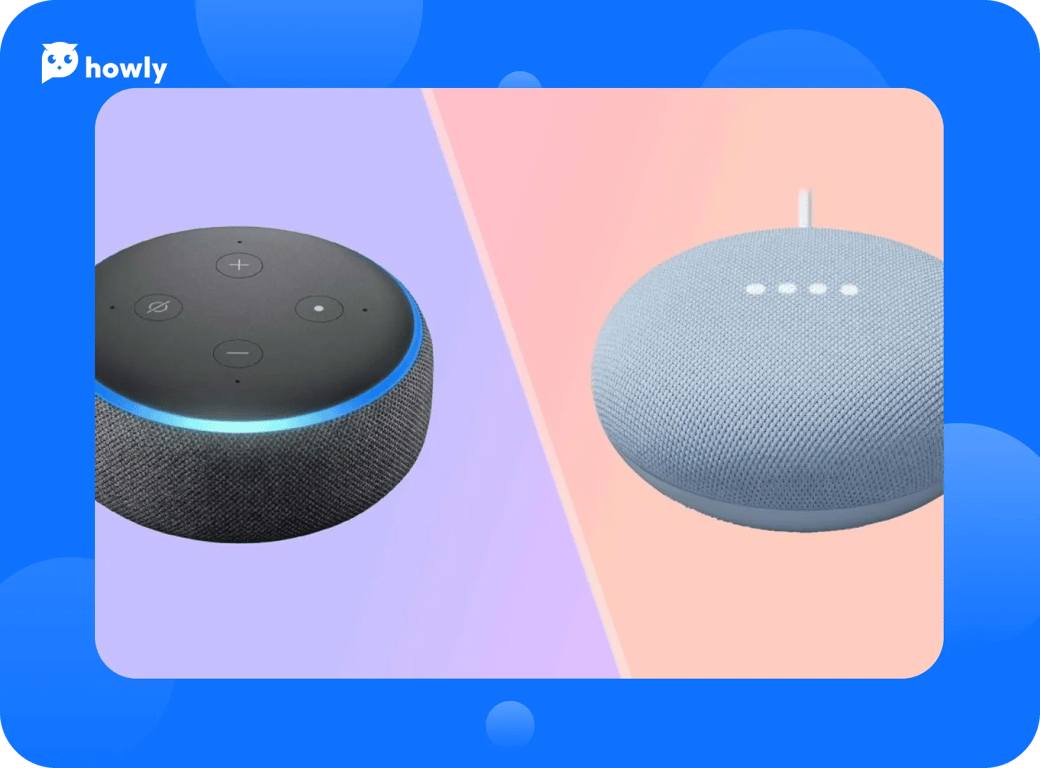 F.A.Q.
Which voice assistant for the home to choose?
There are two great voice assistant options on the market right now for the home: Alexa, Google Home. They help you manage your home processes, listen to music, answer your questions, and much more, and they're mid-priced, so everyone can afford them.
What is better: Amazon Echo vs Google Home?
Both assistants are worthy of your attention. But it's worth considering the compatibility of the assistant with your home appliances. For example, Alexa has a much larger selection of devices for use, and Google has a larger list of brands with which they cooperate.
Is Alexa better than Google?
You can't say one device is better than another. They are both of high quality and work effectively. And the differences are that Alexa is software that can be connected to different speakers, while Google Home works with its device. Their functions are similar and help manages household chores, turn on music, and answer questions.
What's better, Alexa or Google: final words
Cheers! Now you know what Google Home and Amazon Alexa are and how they can help you optimize your homework. Let's recap and final compare Amazon Echo vs Google Home:
Google Home is a whole system that connects to and syncs with other devices. Alexa is software that can connect not only to your Amazon speaker but also to other devices. Alexa supports a larger range of products than Google Assistant. That said, Google Assistant is much better equipped mechanically.
For single tasks, Google Assistant is great, but for building a routine, it's better to turn to Alexa.
Amazon Echo does a much larger range of tasks, and Google Home does it much better.
Which of the two assistants to choose is up to you. Check compatibility with your devices, and availability of features, and check each for comfort before you make your choice.