By subscribing to Disney Plus, you get the opportunity to watch the best films and cartoons of world cinema. When you sign up for a membership, you'll need to specify your payment method. If you want to change it over time, it's easy to do so. The Howly team has prepared a very informative guide to help you a lot when using Disney Plus.
Before we start
Save your time and let professionals resolve your issue in minutes!
Want to start solving your problem immediately? Experienced Howly troubleshooters can fix your issue ASAP. They're already waiting for you in the chat!
The benefits you'll get while troubleshooting your issue with Howly experts:
Qualified help with laptops HDD

Quick advice right in your device 24/7/365

Expert reply within 60 seconds

Clear step-by-step guidance

Limitless number of follow-up questions

Understanding and empathetic help till your laptop HDD issue is fully resolved

All answers you need in one place
What is Disney Plus and how it works?
Disney Plus allows you to watch thousands of cartoons, movies, and TV shows at home. By purchasing a subscription, you open yourself access to official Disney productions, as well as Marvel, National Geographic, and many others. The Disney+ membership includes thousands of interesting projects for the whole family to watch. There are movies and cartoons for families of all ages: children and adults alike. Watch not only cartoons, but also comedies, detectives, action movies, and more. By purchasing a subscription, you get access to exclusive movies and cartoons, and the ability to download products in 4K UHD quality.
Update Disney plus payment — step-by-step instruction
Once you've signed up for a Disney+ membership, you can adjust your billing information at any time. If you want to Disney+ update payment, it's very easy to do. You can use the handy instructions:
First, use your browser to go to the official Disney website. You can just click here.
Then Log into the account that you used to subscribe from. Then click on your account and in the menu open the Subscription tab.
Now click on the Billing details tab. This is where all your billing information is stored. To change payment method Disney plus, you need to click on Change the payment option.
Now enter the updated payment information. Don't forget to click on Save at the end.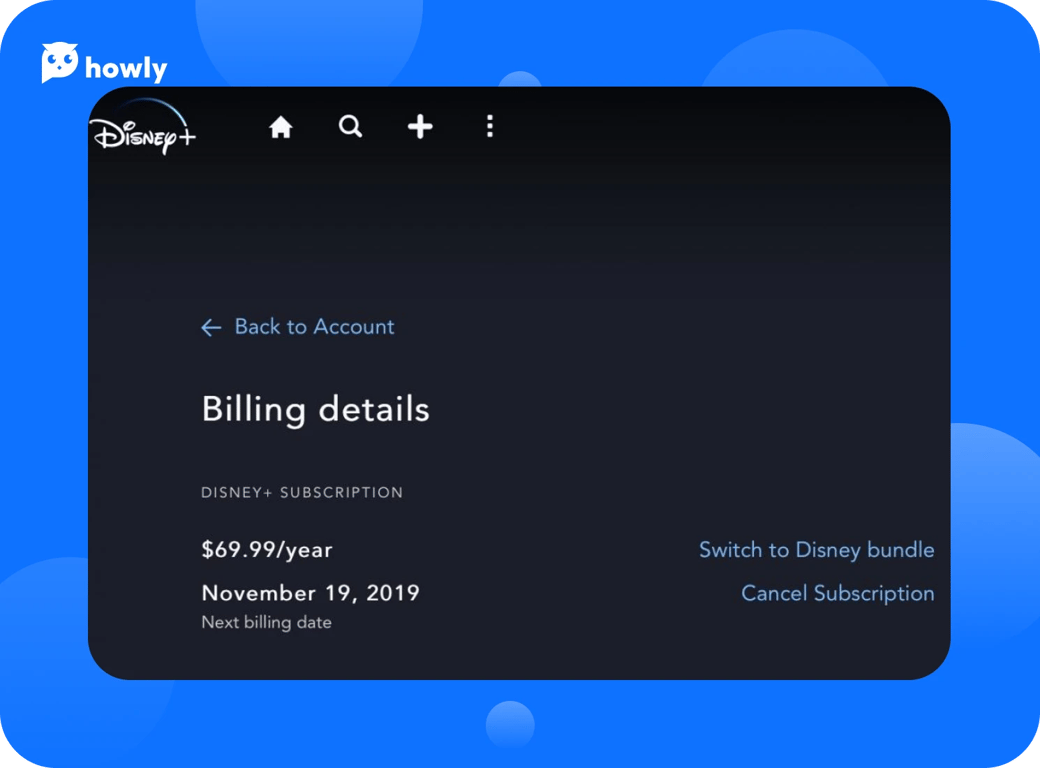 What if the update payment Disney plus not working?
Although the instructions for updating the payment data are very simple, some users may encounter problems. The most common one is that the Update payment button is not active. Here are some reasons why it happens:
Your card has expired
Be careful and watch the expiration date of your bank card. If it has expired, the update payment Disney+ plus button will not be available. So renew your card at your nearest bank branch and then do it all over again.
You entered the wrong data
You should be very careful when entering all the details of your card. If you accidentally mix up the numbers when entering the card date, then you won't be able to Disney payment update.
You are having trouble connecting
This is the most common problem that occurs with users. If your internet connection is unstable, you will not be able to update payment on Disney plus. You should find a stable access point and try again.
How to cancel Disney Subscription?
If at any point you decide to cancel your subscription, you can do so quickly and easily. Follow this short guide:
First, Log in to the account, and go to its Settings.
In the menu that opens, open the Subscriptions tab.
Scroll to the Unsubscribe option.
Confirm and Save the changes.
Done! You've unsubscribed in just a few clicks. But if you get the urge, you can always get your subscription back.
F.A.Q.
What devices do the Disney+ subscription support?
Most modern devices have a Disney+ subscription. For example, you can watch your favorite movies on smartphones, computers, laptops, and tablets. Subscription is also available on game boxes and consoles. And most importantly, the subscription is available for watching movies and cartoons on TV.
What payment methods can I choose for Disney +?
Disney has many options for payment, and everyone can choose a convenient one for themselves. Today, the following options are available for payment: debit/credit cards, and PayPal payment accounts.
Conclusion
Disney+ is a very cool and functional subscription that gives you access to hundreds of interesting movies and cartoons. When you pay for a subscription, you are presented with many different payment options. Don't worry, you can choose one payment method and then change your card on Disney plus if you want.