Earlier, Meta warned that we would soon need to create a Meta account in order to use Quest VR headsets, and now the day has come. It doesn't even matter if you're a novice or an already existing user; you must create a new Oculus account through the Meta website. Yes, the company leaves you no choice, but it's not that bad. After all, the upgraded structure of a new Meta account has a lot of advantages, offering a number of useful features for more convenient VR device control and app management. What's more, it's easy to create and set up an Oculus account, Howly will show you several easy ways to make a new Meta profile on PC, iOS, or Android with and without a Facebook account.
Before we start
Save your time and let professionals resolve your issue in minutes!
Want to start solving your problem immediately? Experienced Howly troubleshooters can fix your issue ASAP. They're already waiting for you in the chat!
The benefits you'll get while troubleshooting your issue with Howly experts:
Qualified help with laptops HDD

Quick advice right in your device 24/7/365

Expert reply within 60 seconds

Clear step-by-step guidance

Limitless number of follow-up questions

Understanding and empathetic help till your laptop HDD issue is fully resolved

All answers you need in one place
How to create an Oculus account – key points
The whole process of Oculus account creation takes little time and almost no effort – just a few clicks and you are done. However, novice Quest users may find it a bit tricky. And since we are here to make things clear, we'd like to bring to your attention some key points to know before you create and set up an Oculus account.
There are several ways to make an Oculus account: via email, Facebook, Instagram, and by separating a Quest account from a Facebook profile.
Whereas previously, you were required to use Facebook for the Oculus account creation, the situation has changed with the launch of Meta profiles in August 2022. Since that time, you are allowed to create an Oculus Quest account without linking it to Facebook.
In case you've previously made your Quest account via Facebook and now want to keep the purchased apps, you need to create a new Oculus profile using the same Facebook account.
If you've just purchased a Quest, a Meta account will be created during the process of its setup.
If you access your VR device via Facebook, you'll need to set up a Meta profile to keep using your Quest or Quest 2. Before you begin the process, ensure that your VR device is updated (at least to v43) and that you're logged into a valid account.
You can make several Meta accounts – up to 3 for your VR headset. Keep in mind that each profile requires a separate email address.
How to create Oculus account without Facebook
You can sign up to Meta both via a computer or your mobile phone. The process is completely the same. And if you don't want to register a profile using Facebook, there is a great alternative – create an Oculus account with email. Here's how to do it smoothly:
Head to the Meta web page and choose the option to open an account via email.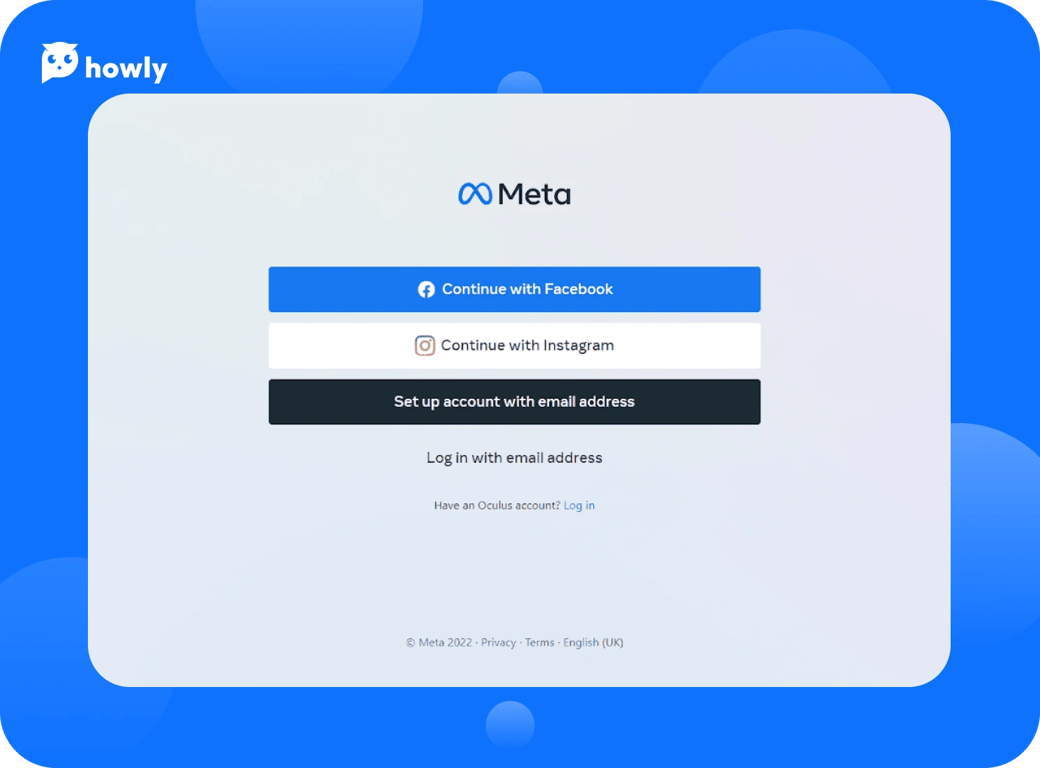 Type in your email address and hit Next.
Provide your first and last name and tap Next.
Choose your birthday and pick Next.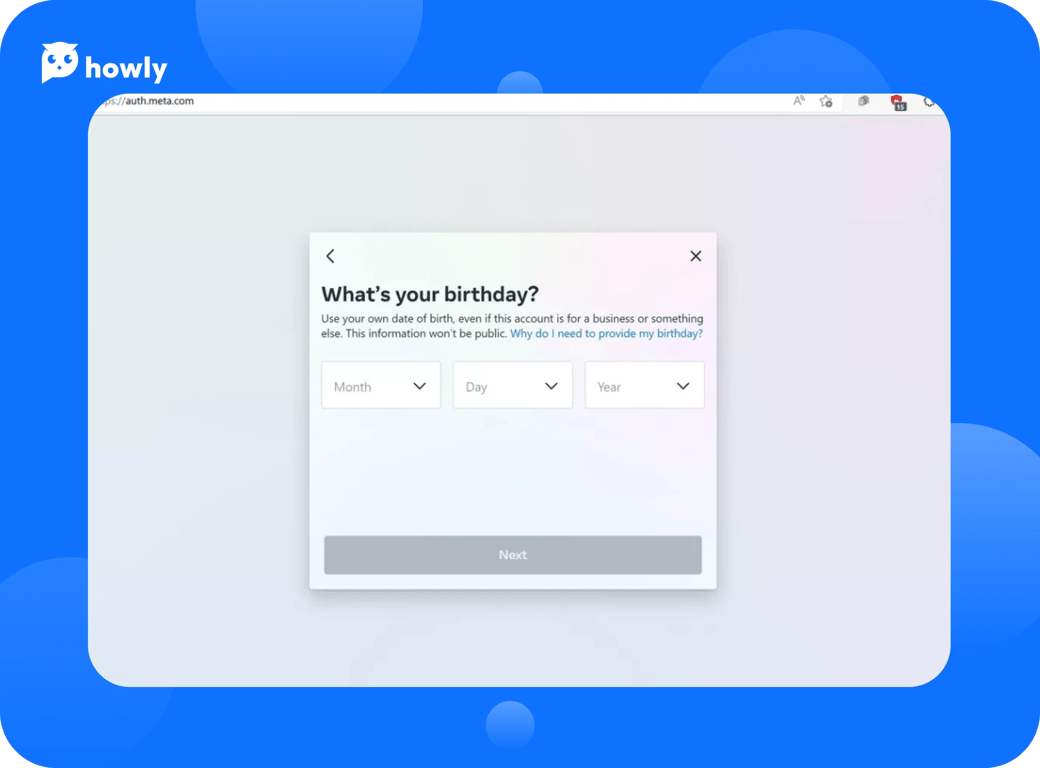 Come up with a reliable password and pick Next.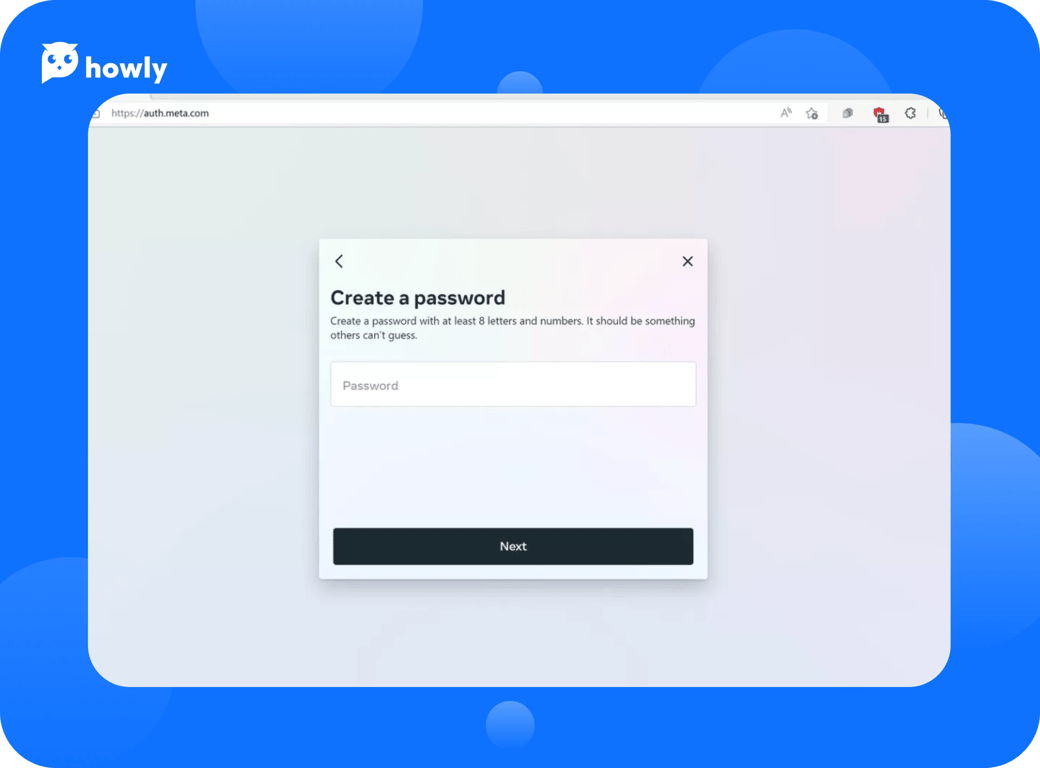 Check all the information you've provided and fix mistakes if any -> hit Create an account.
Check your mailbox for a verification code, copy it, and then paste in the proposed field -> hit Continue.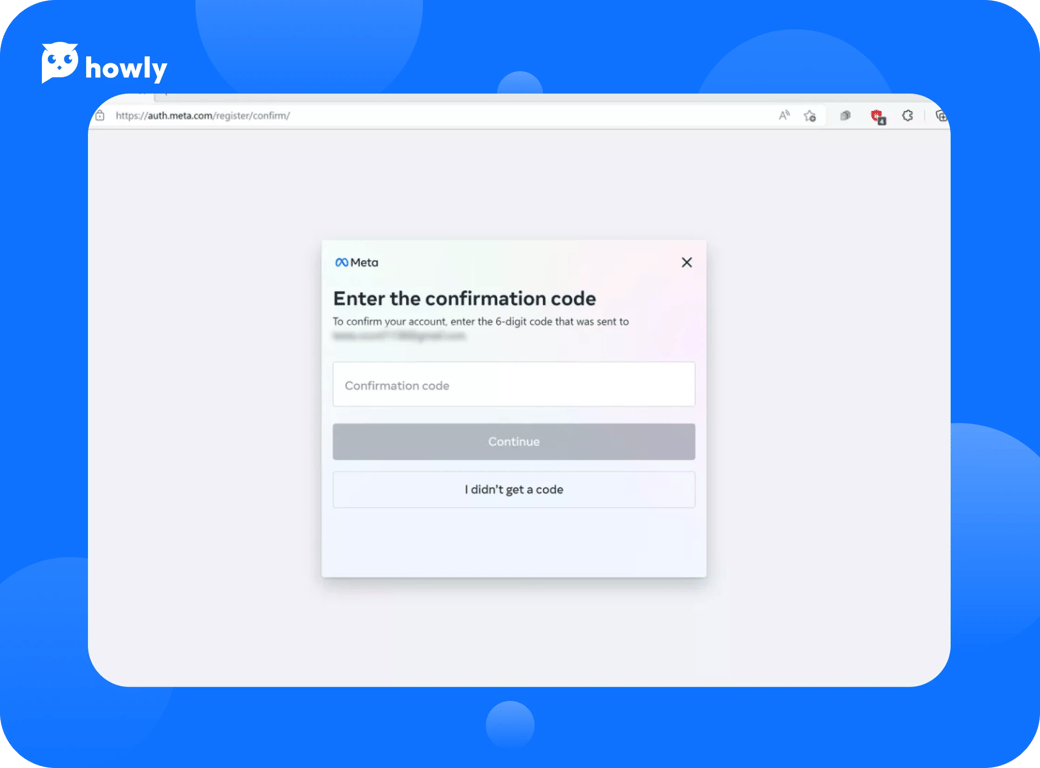 That's all. Once you make an Oculus account, you can use your credentials to log into the Meta Quest app via your smartphone.
How to make Oculus account with Facebook
If you've used your VR headset via the Facebook account, your Quest profile and all apps you purchased are already linked to that account. If you do not want to lose this all, creating an Oculus account using Facebook is your way to go. Our stepwise instructions will help you:
Head to the Meta web page and choose the option to open an account via Facebook.
There's only one button that suits you – Continue as (and here will be your name). But if you haven't accessed your account yet, you'll need to log in.
On the next window, you'll see a notification that Meta will synchronize all your data from the previous account, including apps. Just hit Next.
If your VR device hasn't received an update from Meta yet, you'll see a warning. Update the headset before continuing the process of account creation.
Now, the service gives you two options to choose from – set up an Oculus account with Facebook or without it. If you're willing to open an account without Facebook, hit the corresponding button, and follow provided on-screen instructions. All your downloads and apps will be kept. Keep in mind that you have an opportunity to add and separate your Facebook profile at any time by accessing your Accounts Center.
Read the outlined information about what you'll get while setting up an account using Facebook, make sure you understand everything, and tap Continue.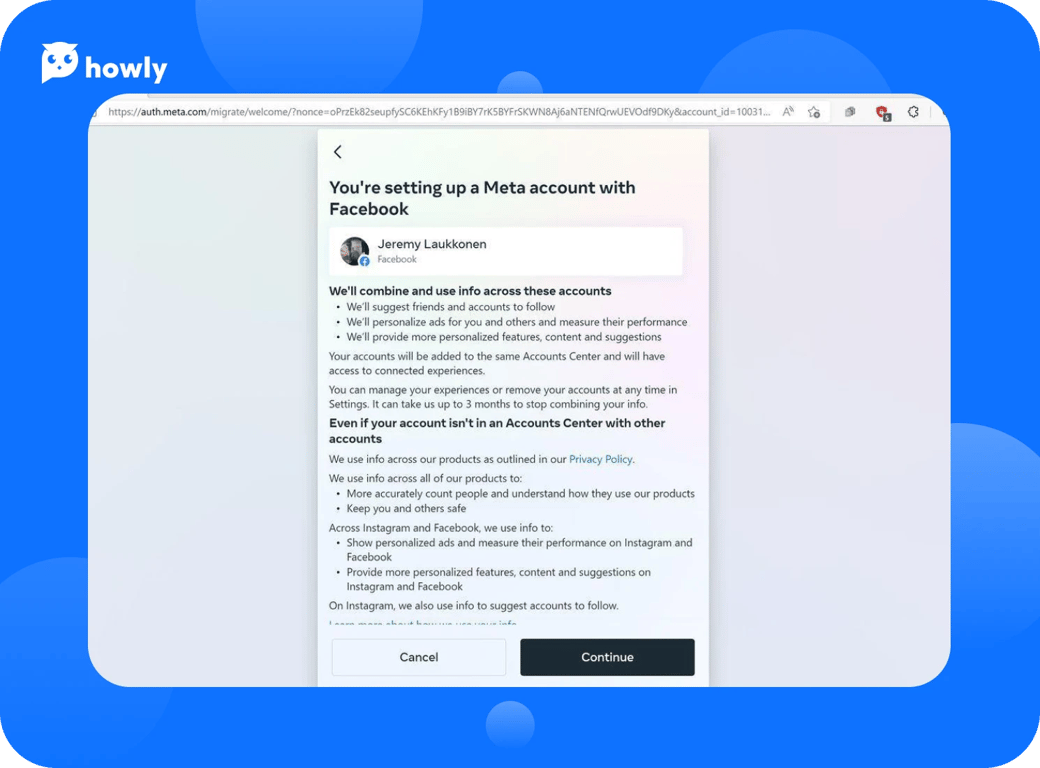 Check all the information you've provided and fix mistakes if any -> hit Finish account setup.
Here comes a time to set up your Horizon profile. To begin with, come up with a username.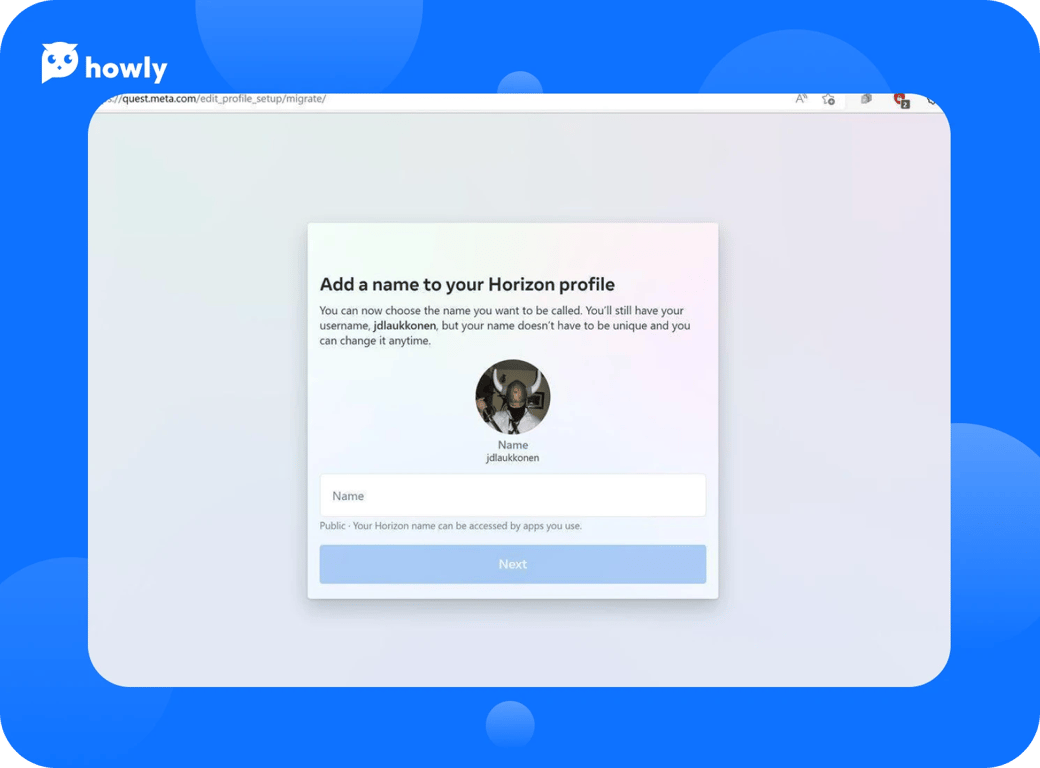 Explore the information about changes in the list of your friends and hit Next.
Choose a level of privacy for your new account and tap Review.
Review the account settings and adjust them to your convenience. However, you don't have to do it right now. Indeed you can always get back to these options by visiting the Settings menu. Once you're done, tap Accept and Continue.
Add the link to your Facebook profile if you find it necessary (just hit the toggle) and pick Next.
Finally, hit the Finish button. Congrats, you've done with it!
How to unlink Oculus account from Facebook
If you had an Oculus Quest before the launch of Meta accounts, your Facebook profile is linked to your apps, downloads, and VR headset. But now, you have an opportunity to separate these two accounts. At the same time, Meta will inherit all your data and games, so you have nothing to worry about. So, here's how to disconnect an Oculus account from Facebook.
Head to the Account Center web page and log in.
Spot the Account Settings tab and hit Accounts.
Find the account you'd like to disconnect and tap Remove next to it.
Explore what you lose by disconnecting your Oculus account and then pick Continue.
To complete the process, tap Remove (here will be your name)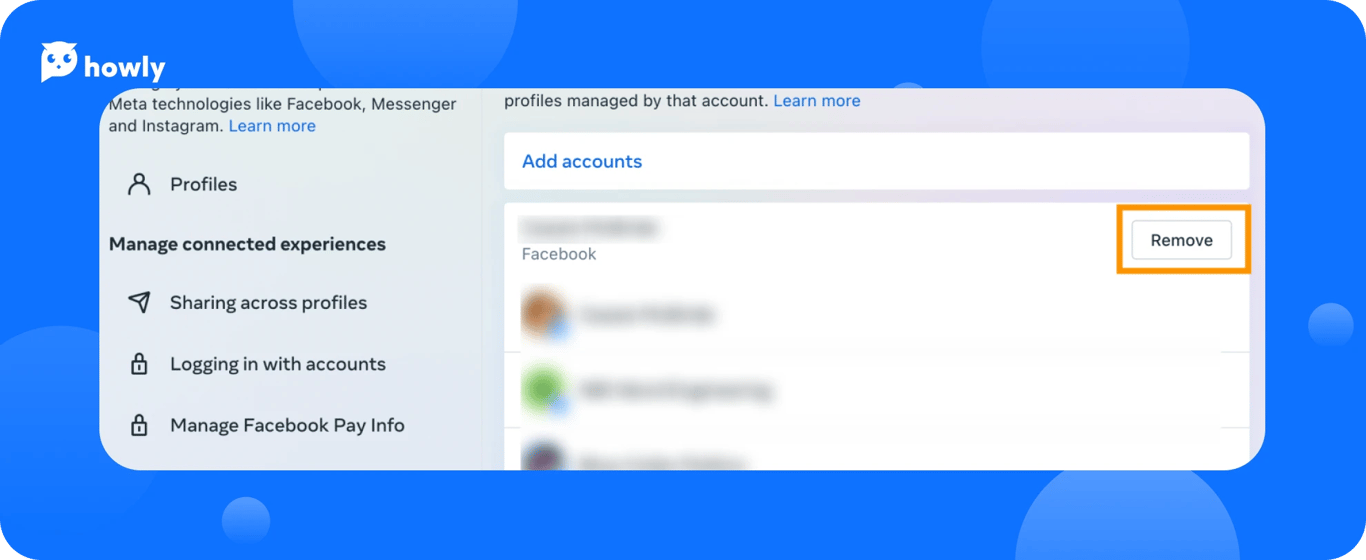 How to connect your VR headset after Oculus account setup
Once you make a new Oculus account, you need to connect your VR headset. The process is easily accomplished via the Meta website, and you'll deal with it quickly using either a computer or mobile phone. You can connect your Quest or Quest 2 immediately after account creation; no efforts are needed.
Put on your VR headset and remember the code.
Head to the Meta device web page, type in your code, and pick Connect your device.
Wait until the device is connected message appears on the screen.
The headset will reboot – wait a couple of minutes. Now you can use it with your newly-registered Meta account.
F.A.Q.
Is Oculus Quest already Meta Quest?
Mark Zuckerberg has confirmed the renaming of Oculus Quest to Meta Quest. The change occurred when Facebook Inc. switched its name to Meta Platforms in 2021.
How do I make an Oculus account additionally if I already have one for my Quest?
Keep in mind that you can have only three additional Quest accounts. And to add multiple accounts, head to Settings -> open the Experimental features tab -> hit the toggle next to Multiple Accounts. Now, you'll see a new Accounts option, pick it, tap OK, and choose Add Accounts.
Is it obligatory to use Facebook for Oculus Quest 2 account setup?
No, users are no longer required to use Facebook to either create or set up Oculus accounts. Meta removed this requirement back in 2022. So now you can create an Oculus Quest 2 account and adjust your profile without the need to use Facebook.
Conclusion
Oculus Quest owners are obliged to make Meta accounts to use their VR headsets, but luckily, the process is simple. What's more, it's great that you are no longer required to use Facebook to create a new Oculus account, although such an option is still available. Moreover, you can sign up via email, Instagram, and by unlinking your Quest account from a Facebook profile. All the methods presented in this guide work well on multiple devices, so you may use not just a PC but also your phone or tablet to create an Oculus account.
Despite the simplicity of the process, it can hardly be called problem-free. Indeed, VR owners often face multiple types of issues when trying to create and set up a new Meta account. Howly experts have long-term practice in solving such problems and offer twenty-four-hour solutions to save you any trouble. Rest assured, our proficient technicians will help you either way, no matter what VR headset you have or what way of account creation you choose. Leave a chat message and get step-by-step solutions immediately!