Audible is part of Amazon's services. It is mostly known as an audiobook service, but you can find thousands of podcasts, sleep sounds, and lullabies there. And all this content is available under the Audible membership. But what should you do if you don't need it anymore?
Before we start
Save your time and let professionals resolve your issue in minutes!
Want to start solving your problem immediately? Experienced Howly troubleshooters can fix your issue ASAP. They're already waiting for you in the chat!
The benefits you'll get while troubleshooting your issue with Howly experts:
Qualified help with laptops HDD

Quick advice right in your device 24/7/365

Expert reply within 60 seconds

Clear step-by-step guidance

Limitless number of follow-up questions

Understanding and empathetic help till your laptop HDD issue is fully resolved

All answers you need in one place
You have 3 options to stop an Audible membership: via the website, via email, or by calling its support.
Note that you can't end membership right in the app, so you need to open the website on a PC or smartphone.
Alternatively, you can call the hotline.
Also, you can cancel your membership via email, but in this case, prepare to wait for an answer for 2-3 days.
By the way, if you don't want to end your membership, you can pause it for 1-3 months. During this period, you won't need to pay a subscription fee, but you will still have access to your credits (internal currency).
Check out more detailed guidelines for every case on how to cancel the Audible membership. They will help you to leave this service in the most comfortable way to you.
Why is it so hard to cancel Audible?
Audible does everything to keep you subscribed to the service, creating labyrinths to tire you through the unsubscription process. But don't worry –  it is still possible to cancel the Amazon Audible account quickly.
Beware that your credits will disappear the moment after you cancel the Audible subscription. Spend it on the books because you won't get a refund.
Also, you won't get an Audible refund after canceling your membership. If you don't like the audiobook, ask for a refund while you are still subscribed.
How to pause Audible subscription in 3 steps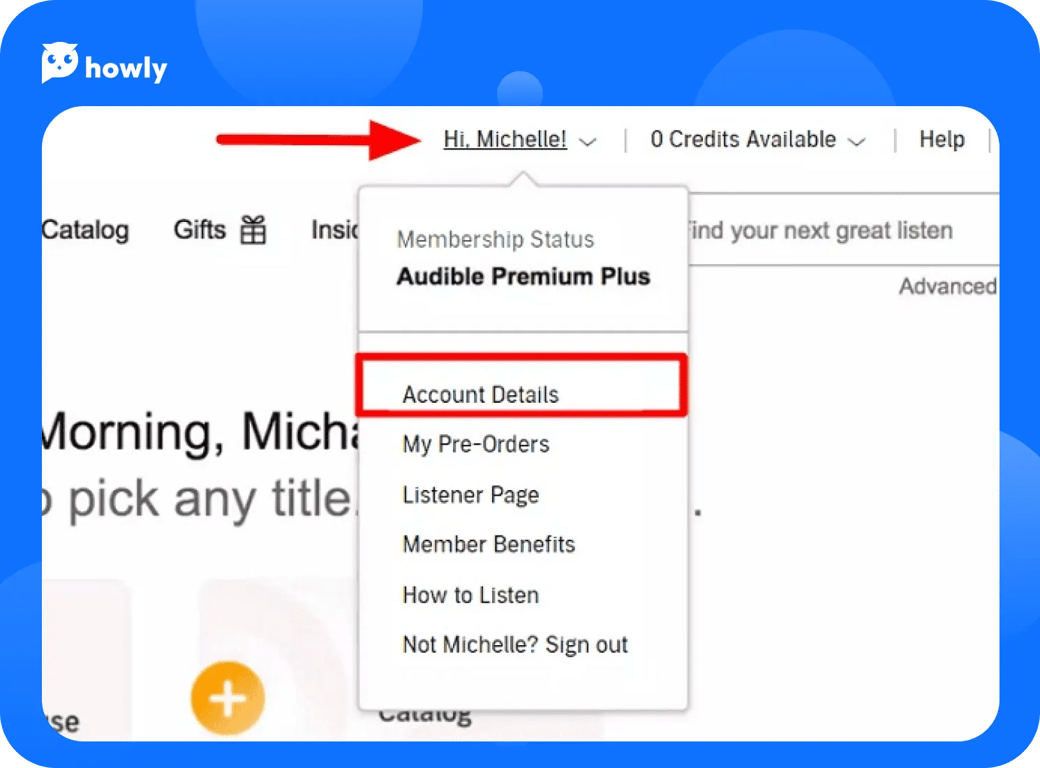 You can pause the subscription for up to three months. It won't cancel the Audible membership, so all your credits will still be available to you. Here is how you can put it on hold:
Open the Audible site.
Find a menu in the top right part of the screen.
Go to the Account Details → Pause Membership.
How to cancel Audible manually: 3 easy methods
You have three ways to cancel the Audible membership: via browser, phone, or email. We sorted them from the most user-friendly to the most tricky ones.
Cancel Audible via browser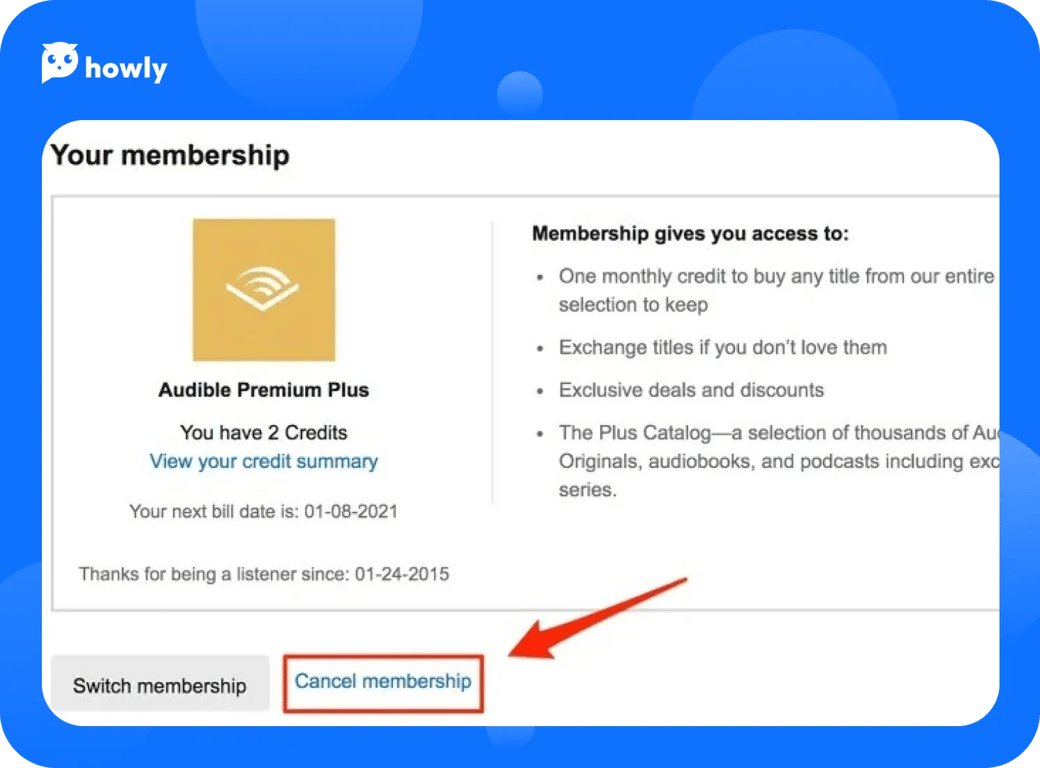 Canceling Amazon Audible membership from a PC is the easiest and most common way to do it:
Go to the browser and sign in to audible.com.
Then, follow this path: Account Details → Details → Cancel Membership.
You will see two options: Keep and No, thanks, continue. Select the second variant.
After this, you will see a We are sorry… notification, and a confirmation letter will be sent to your email address.
Cancel Audible via phone
Call support if you don't want to spend an eternity tapping buttons. But this option is available only for the residents of the countries that have official Audible Customer Service. If you are one of them, that's what you should do:
Find the number of Audible support and call it.
Tell the support your login credentials and ask them to cancel the Amazon audible subscription.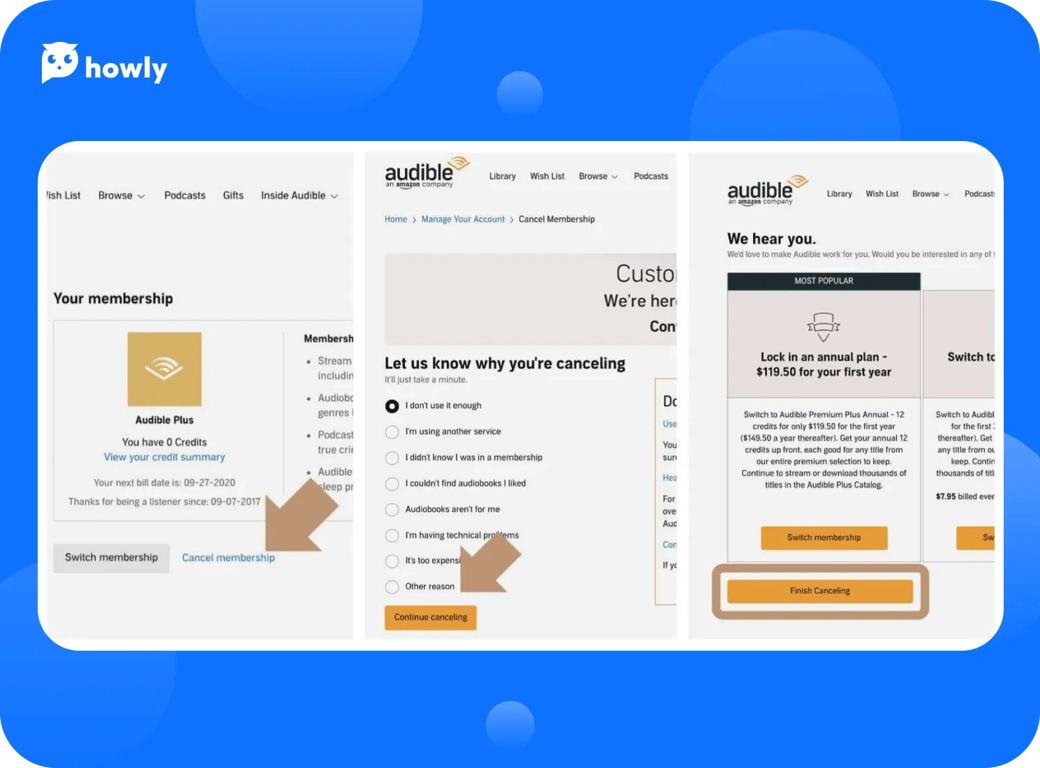 If you don't have phone support in your region, stick to the same browser instruction. Open the website, request a desktop version, and cancel your membership through the account settings on the site.
Cancel Audible via email
It's the third way to unsubscribe from Audible. Send the letter to social-support@audible.com with your name and login credentials and ask support to unsubscribe you. They reply to you in 1-3 days.
Delete the Audible account
You have two alternatives to cancel audible subscriptions: standard and permanent. Choose the first option if you want to keep access to previously bought books.
Select the permanent option to remove your data from Audible servers. Beware that it will also delete the Amazon account that is related to Audible. Send an email to social-support@audible.com and ask the support team to close the account and remove your data.
4 clever ways to trick the Amazon algorithm
We told you that Amazon does everything to keep retaining users. Trick the algorithm by showing you want to leave. Audible service will offer you a few benefits to make you stay.
1. Pretend to end the Audible membership to get a discount
Stick to the browser instructions to get this offer. Go to audible.com and follow this path: Account Details → View Details → Cancel Membership.
Choose the Cancel button, and wait until Amazon offers you a book or a discount for the next month.
2. Unsubscribe and rejoin to get a free credit
Do this trick only when you've spent all your credits and are ready to unsubscribe from Audible.
Cancel the membership as usual and rejoin shortly later with the same account. Amazon will give you one free credit.
3. Downgrade or upgrade your plan
In some cases changing the membership plan could be the most effective option:
Choose the downgrade if you are using the Platinum Plus plan.
Choose the upgrade (annual subscription) if you like your plan but don't want to spend that much every month. It will save you $20-40 in a year.
4. Download free audiobooks  before quitting
Amazon has dozens of free audiobooks that are available for Audible members. Add them to your collection before you end the Audible subscription. There are dozens of books on this list, so you will definitely find out interesting literature.
F.A.Q.
Can I buy books after canceling the Audible subscription?
Yes, but you will pay the full price for it. The Audible subscription gives members discounts from 20% to 70%.
What happens to my purchased books after I unsubscribe from Audible?
They will stay available on your account until you delete them. You have a lifelong right to listen to the books you purchase.
What happens to my Audible credits?
The moment you cancel Audible on Amazon, all credits will disappear. Make sure you've managed to use all of them. If you don't want to lose credits, pause the account.
What do Audible's charges can look like on my statement?
The payments from this company will have the Audible or adbl.co/bill in the description field. It can be a $1 temporary authorization charge, membership charge, single book purchase, or narration of the Kindle e-book.
Final thoughts
Amazon made a non-friendly unsubscription interface to keep users with them as long as possible. However, with a good guide, you can cancel the Audible subscription in a few minutes. If you have a stable Internet, select the web browser method. It's the fastest way to end the membership. If you prefer talking to the person and hearing their voice back, call the Audible hotline. Also, you can send them an email.Still have some questions? Contact Howly experts: we will give you step-by-step instructions that suit your situation.