It's hard to find someone in the US who hasn't heard of HelloFresh. This is, so far, one of the best services in the meal kit delivery business. But even if getting about 3-5 meals each week sounds great, some people still decide to cancel HelloFresh membership, no longer finding the service useful or right for them. Most of the subscribers don't want to pay for deliveries anymore or simply choose to spend money on other purposes. If you share their opinion and seek ways to stop receiving food boxes, Howly offers easy steps to discontinue your HelloFresh subscription on an app or desktop computer. So, let's move on.
Before we start
Save your time and let professionals resolve your issue in minutes!
Want to start solving your problem immediately? Experienced Howly troubleshooters can fix your issue ASAP. They're already waiting for you in the chat!
The benefits you'll get while troubleshooting your issue with Howly experts:
Qualified help with laptops HDD

Quick advice right in your device 24/7/365

Expert reply within 60 seconds

Clear step-by-step guidance

Limitless number of follow-up questions

Understanding and empathetic help till your laptop HDD issue is fully resolved

All answers you need in one place
Main HelloFresh how to cancel account issues users have
Canceling subscriptions might be a bit tricky, so Howly understands your struggles. You're not the only one having problems with HelloFresh account termination. Our customers report various issues, including:
continuation of money charges;
service errors when trying to skip weekly deliveries;
untimely subscription cancellation;
inability to cancel HelloFresh on the app;
troubles when deleting the HelloFresh account;
lagging/crashing HelloFresh app;
problems canceling a particular plan.
Your case isn't on the list? Don't worry! You'll have no stress fixing your problem with Howly. Our experts aren't afraid of difficulties, so your issue will be resolved quickly.
Things to know before canceling HelloFresh from app or PC
Cancelation won't take much of your effort, but there are some crucial things to know to make it right and avoid additional charges. So take this information into account before saying goodbye to HelloFresh.
If you choose to cancel your HelloFresh subscription, you must do so at least 5 days before your scheduled delivery (by 11:59 PST). If you do this later, when your order is already being processed, you are obliged to cover all the charges.
You have an opportunity to pause your order so as not to be charged for weekly delivery.
You can always adjust and modify your delivery frequency to fit your budget and schedule.
How to cancel HelloFresh account on desktop
Now that you know all the nuances of membership cancellation, you can proceed to the process itself. Check out how to cancel a HelloFresh subscription through your computer:
Visit the official website and sign in.
Tap the arrow near your name in the upper corner.
Click the very first option – Account Settings.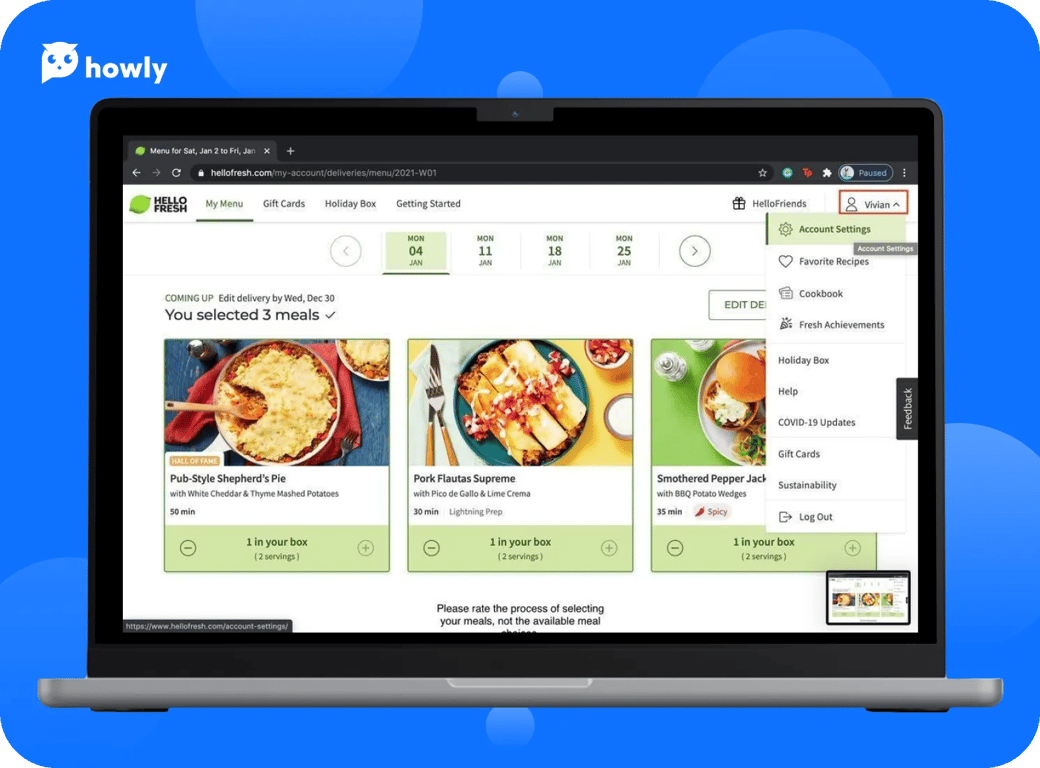 Find the Status subsection and hit the button to cancel your plan.
Once doing that, you'll get to the next page – just choose Cancel Anyway.
Pick a reason for your decision and tap Cancel Anyway once again.
How to cancel HelloFresh on app
The process for unsubscribing from HelloFresh in app is almost the same as on desktop. These steps are suitable for both Android phone and iOS users:
Download the HelloFresh app for your OS and launch it.
Open your profile settings and hit Edit next to the Plan Settings.
Scroll until you spot Cancel Plan -> hit it.
Next, hit Cancel Anyway.
Pick a reason for your decision and tap Cancel Anyway once more time.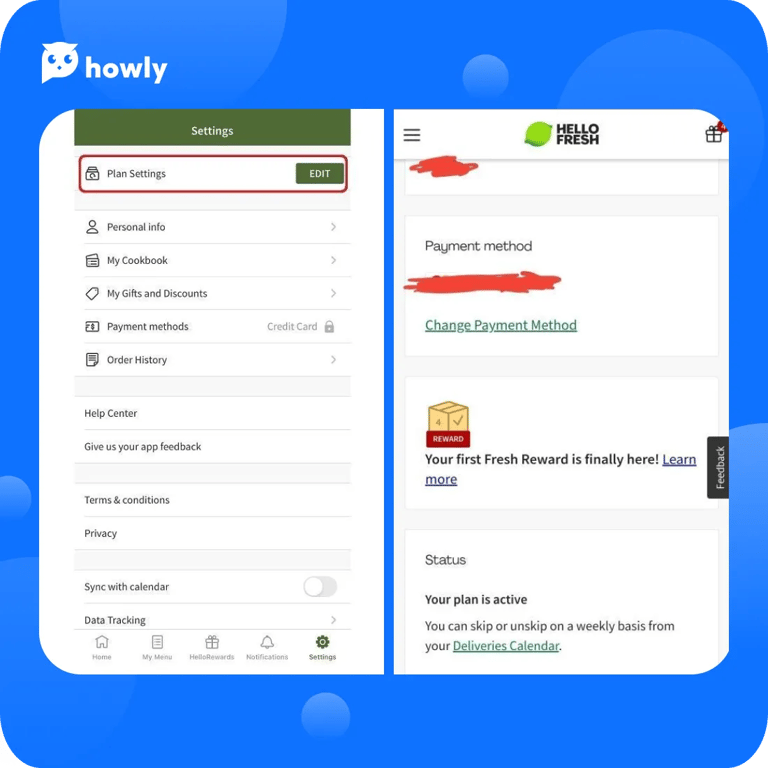 How to cancel HelloFresh order

If you aren't yet ready to terminate your subscription or need some time to settle the servings and recipes, the option to cancel a HelloFresh order will benefit you. Consider these guidelines to skip a week easily:
Click Menu while you're on the home page.
Choose the scheduled day of delivery you're willing to skip.
Hit Edit Delivery.
Pick Skip this week.
FAQ
Is there an alternative method to cancel HelloFresh from phone if I have no access to the app?
You can unsubscribe easily via Google Play/App Store, depending on your device. Find Subscriptions after tapping on your account icon. Then pick HelloFresh and hit the corresponding button to cancel your membership.
How to reactivate my HelloFresh subscription?
Enter HelloFresh settings via a preferred device and head to the Plan Settings section. Click the cog icon telling Edit and then hit Reactivate. The steps are the same whether you cancel HelloFresh via app or desktop.
Why does the service keep charging me even though I've canceled HelloFresh on my app?
Even though you can cancel HelloFresh forever at any convenient time, the service imposes some cancellation rules regarding your active orders. Thus, you must unsubscribe no later than 5 days before the delivery is made. Otherwise, HelloFresh will charge you for the order and then deliver it on schedule.
Conclusion
HelloFresh is a useful service for those who don't want to bother with grocery shopping and menu planning. It provides you with ready-made food boxes filled with pre-portioned, fresh ingredients and informative recipe cards to make your meal prep much easier. Although the service is great, there comes a time when you no longer need it, and this is when our instructions on how to cancel HelloFresh 2022 will come in handy. The process should be smooth, but if some problems arise, don't hesitate to ask Howly for help. Our tech geeks respond immediately!