Don't know how to obtain remote control over your Apple computer from other devices?
Before we start
Save your time and let professionals resolve your issue in minutes!
Want to start solving your problem immediately? Experienced Howly troubleshooters can fix your issue ASAP. They're already waiting for you in the chat!
The benefits you'll get while troubleshooting your issue with Howly experts:
Qualified help with laptops HDD

Quick advice right in your device 24/7/365

Expert reply within 60 seconds

Clear step-by-step guidance

Limitless number of follow-up questions

Understanding and empathetic help till your laptop HDD issue is fully resolved

All answers you need in one place
This article will help you to find the easiest way to do that.
For some tasks, it is necessary to control a computer remotely. Imagine that you are creating some project with your colleagues, and you need to manage someone else's Apple computer for some time as if it was standing in front of you. Or you need a local network and don't know how to set it up. Or maybe you have two computers with different OS installed and need to share pictures, documents, etc., between the screens.
You can start googling "remote control mac" or read this article. Here we will show you the easiest way to obtain remote access to a Mac from a Windows PC.
Set up an Apple computer
If you are looking for the best remote access to a Mac, we will surprise you. You don't need any remote management software! Mac already has a built-in tool for such tasks. So, grab your laptop or computer and go to settings. First, сlick on the Apple company logo, then find System Preferences and select Sharing.
Next, find and open the "Screen Sharing" tab. After that, search for the numbers on the right side of the screen. You need to find something like this: vnc://10.0.11.132/. This combination of numbers is your IP address. It will help you with the Windows computer connection.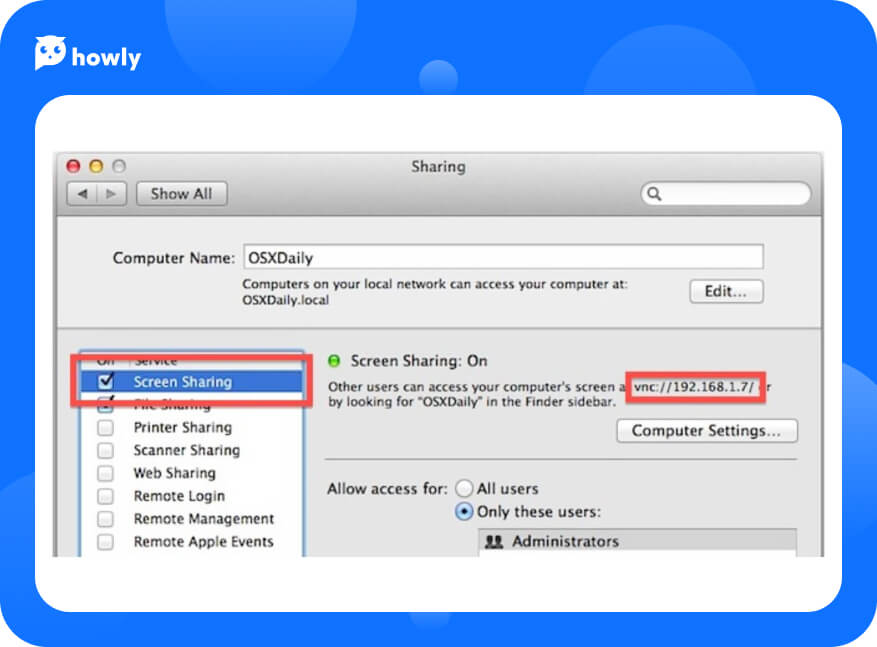 This unique set of numbers protects you from scammers and hackers and ensures that no one gains access to your computer without your allowance.
Next, click on the "Computer Settings" and check the box "VNC viewers control screen with password." Enter secret numbers and letters, which you used as a password, and click OK.Then select who will have access to your Mac "All Users" or "Only Administrators."
Now close Preferences and go to the next step.
Prepare your Mac for remote control management
The next thing you should do is to close all windows, apps, and documents you don't want to be seen by somebody. Because when you allow the Mac remote control software to connect, the Windows user will immediately see everything on your screen.
Be careful with giving remote access to others. Give it only to people you can fully trust because the remote control is a key to your computer. So if someone knows your IP and password of your Mac, this person can control it.
Start the remote control over Mac on Windows PC
First, you need to download and install one of the VNC Viewer programs. You can find a lot of them on the Internet.
We will check how these programs work on the example of one popular app for Apple remote access called UltraVNC Viewer. It is elementary.
Firstly, do all steps which we have described in this article before.
Then install and launch this program.
After that, enter the IP address of the Apple computer you want to access and click on the "Connect" button.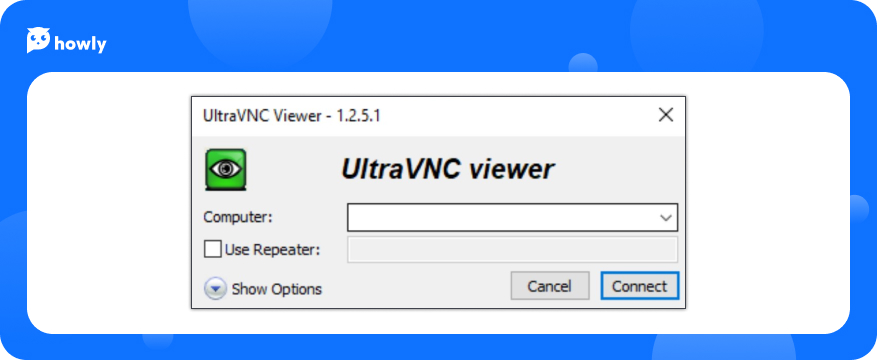 Wait a few seconds until the program asks you to enter a password. Enter it and click "Log On".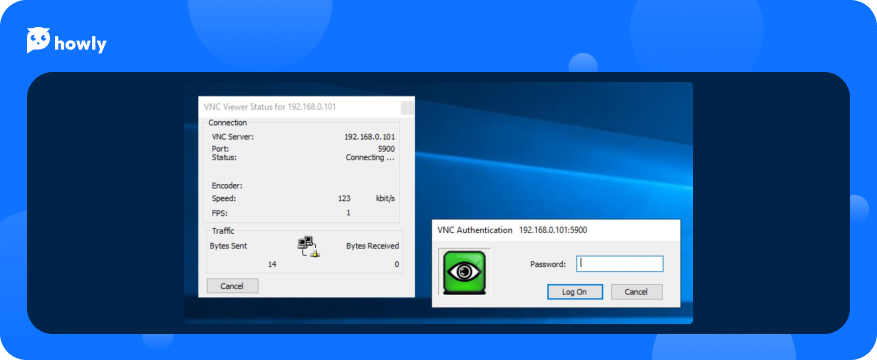 After a few minutes, you will be able to access your Mac screen and start the remote desktop management of the Macbook. That means you can open programs and documents, share them between screens and use all features of the Mac from your Windows device.
F.A.Q.
Does Apple Remote Desktop work with Windows?
You can use the Remote Desktop client for Mac to work with Windows apps, resources, and desktops from your Mac computer.
Does Apple Remote Desktop have to be installed on both computers?
To use Remote Desktop, your administrator and client computers must meet these requirements: Mac computers must be running OS X 10.10. 5 or later. Mac client computers must have version 3.6 or later of the Remote Desktop client software for full control.
Does Remote Desktop work from anywhere?
Remote Desktop is a client application that allows a "client" computer to connect to a "host" computer from a remote location. Users can then control and use the applications and files on the host device from anywhere. You only need an internet connection.
Conclusion
This method will help you access your Apple device from Windows PC quickly and easily. Of course, you can choose other options to make an Apple remote desktop for Windows. But this is the easiest. Use it for your work or projects with your teammates.
That's it! Share these instructions with your friends. And if you need more useful guides, contact Howly experts. They are always happy to help you.